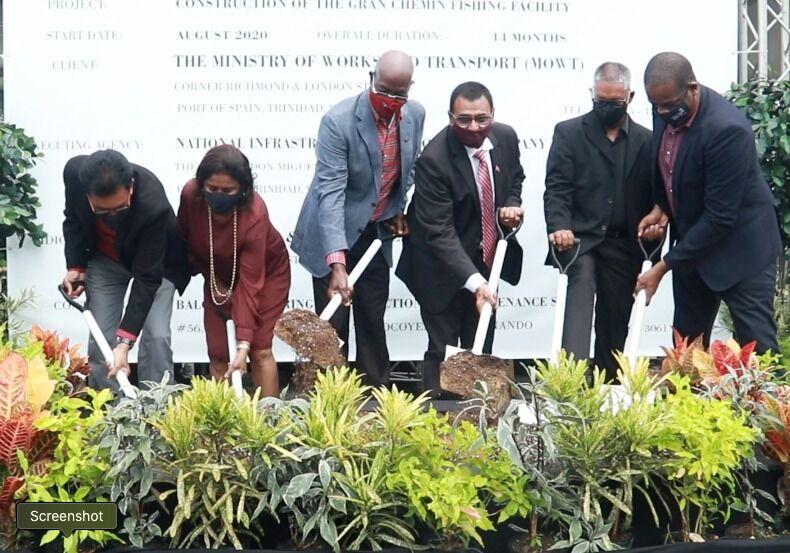 Residents of Moruga and environs are finally getting a modern, state-of-the-art fishing facility.
After years of clamouring for the long-awaited structure to be built, Government finally delivered on its promise yesterday.
The facility will cost over $62 million. The contract for the project was awarded to Balou Engineering Construction and Maintenance Services Ltd. Construction for the multi-million-dollar project starts next month and has a tentative completion time of 14 months.
Addressing a small audience at the sod-turning ceremony for the Gran Chemin Fishing Facility located at La Lune, Road, Gran Chemin, Moruga, Minister of Works and Transport Rohan Sinanan revealed that the project was mentioned back in 2003 during a budget presentation.
Sinanan said, "After coming as a budget statement in 2003, it started to take shape in 2007."
"Between 2007 and 2009 some work went into the project. Unfortunately beyond 2010 after some preliminary documents were submitted to the EMA, there was no follow-up on the project. Between 2010 to 2015, this entire project was shelved," he said.
According to Sinanan, the project came back "on the drawing board" in 2015.
He said, "By 2017, the project was transferred to the Ministry of Works and Transport. We immediately went out to ensure that we had all the statutory requirements. We engaged a new consultant, we did all the designs, and fulfilled all the requirements to ensure that during the term 2015 to 2020, the people of Moruga will get that long awaited fishing facility."
"When this project was tendered out. We had about six companies' tendered, foreign companies and local companies. A local company won the bid."
Sinanan said though engineers initially put a price tag of $80 million to have the facility built, he was not prepared to pay more for almost the same facility he had built in Carenage in 2018.
He said, "We were able…NIDCO was able to renegotiate down close to $62 million."
"We have started the upgrade of the Moruga Road—and we are about 80 per cent completed. We have started the fishing port. It is being done by all local contractors," Sinanan said.
The fishing facility being constructed in Moruga will provide countless opportunities for everyone—and will not only be for the fishermen, he said.
"I urge the people of Moruga to take advantage of the opportunities. This facility will be on par with the Chaguaramas facility. You will have opportunities here for restaurants; for fish-fries—and it is important for you to put yourself in a position that once this is completed that you can take advantage of this facility," he said.