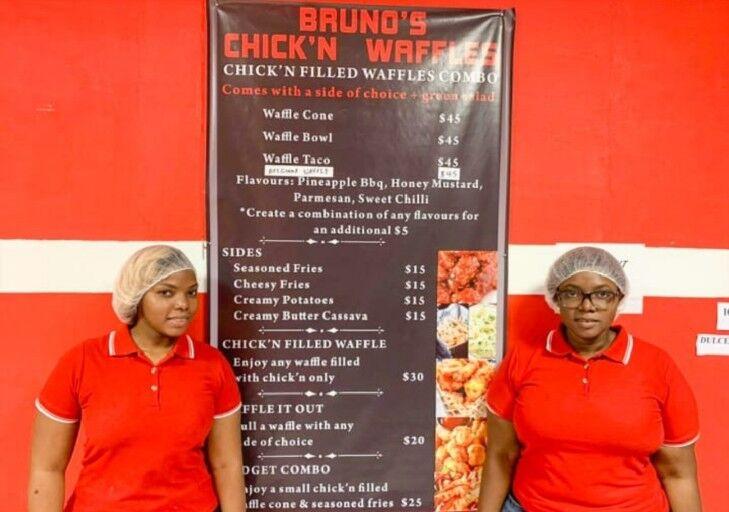 For sisters Shadai and Siane Bruno, 2020 has been a period to reset for them after what has been a wave of fear, confusion and disappointment.
Since the Covid-19 pandemic came to our shores earlier this year, many working people have faced huge challenges caused by job losses, major salary cuts, closure of businesses and an overall slowdown of the economy.
At 27 and 24, the siblings never saw unemployment in their future. They both held jobs in the banking and educational sectors and had solid careers. Working and going to school, they saw their lives moving in an upward trajectory.
Trinidad and Tobago recorded its first Covid-19 death on March 28, followed by an imposed lockdown by the Government a day later. Continued health restrictions to mitigate the spread of the virus have resulted in many people losing their jobs across various industries.
The Bruno sisters represent only a small fraction of the hundreds of people in the creative, daycare, banking, events management, entertainment, catering and domestic sectors, who are now on the breadline.
The sisters told Express Business that with no jobs and no incomes, the only thing they really had going for them was time.
Their sisterly bond would prove to be the backbone of support each needed as they both hit rock bottom. They would not stay down for long.
The Bruno sisters explained how they moved from being unemployed to the owners of their very own food business called Bruno's Chick n Waffles.
The fast-food joint located in Ste Madeleine recently celebrated its three-month anniversary and gave back to its customers by providing them with free homemade ice cream. The sweet confectionery was so successful it has become a permanent fixture on the menu.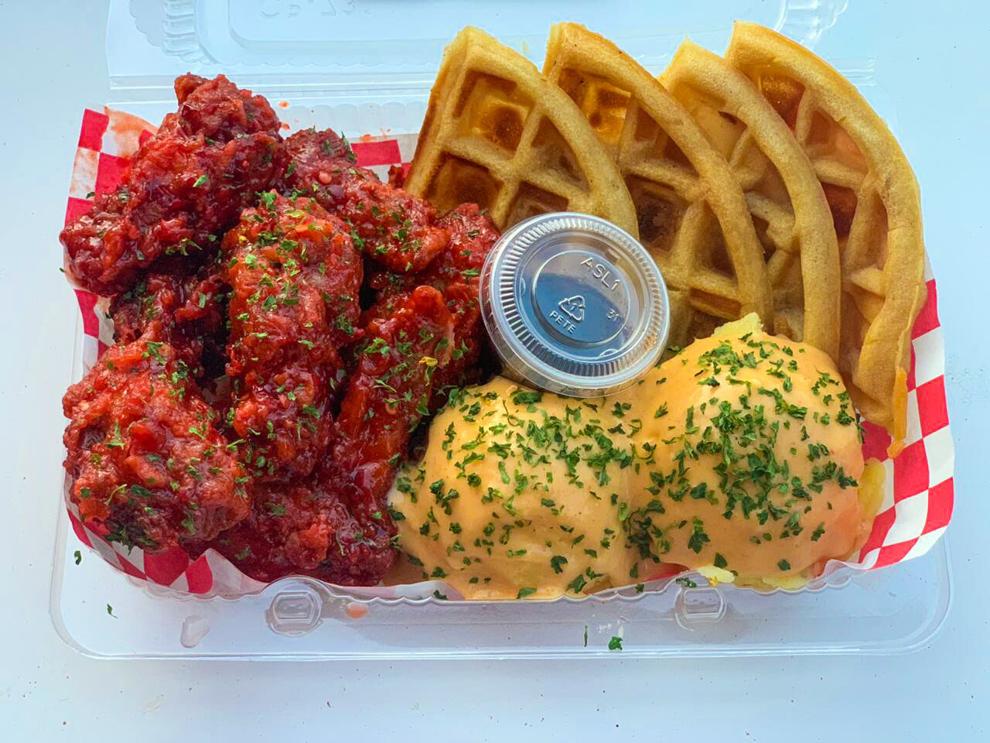 Shadai Bruno, the elder sister, explained how differently her life has turned out from what she had originally planned.
She attended Ste Madeleine Secondary School and later furthered her studies at St Joseph's Convent in San Fernando, where she pursued A level studies. She then attended The UWI St Augustine, receiving a BSc in Psychology and graduating with first-class honours.
She said, "I then pursued an MSc in Criminology and Criminal Justice at UWI St Augustine as well, graduating with a master's with distinction.
"Siane would have attended Gasparillo Secondary where she discovered her passion for cooking through food and nutrition classes. Following this passion, she later pursued food preparation at the Multi-Sector Skills Training (MUST) programme. This led to her being employed at UTT's canteen where she started as a meat cutter and worked her way up to kitchen supervisor.
"When the lockdown came into effect, sadly my job did not survive. My sister also suffered the same fate. We were both home and unemployed. We always had aspirations of opening our own business, but never really had the time to turn our thoughts into action until now."
With nothing to do and nowhere to go, the sisters said they could not give in to despair, though the uncertainty of the economy and the plans for their lives moving forward seemed bleak. The one thing they held to be true is the power of prayer.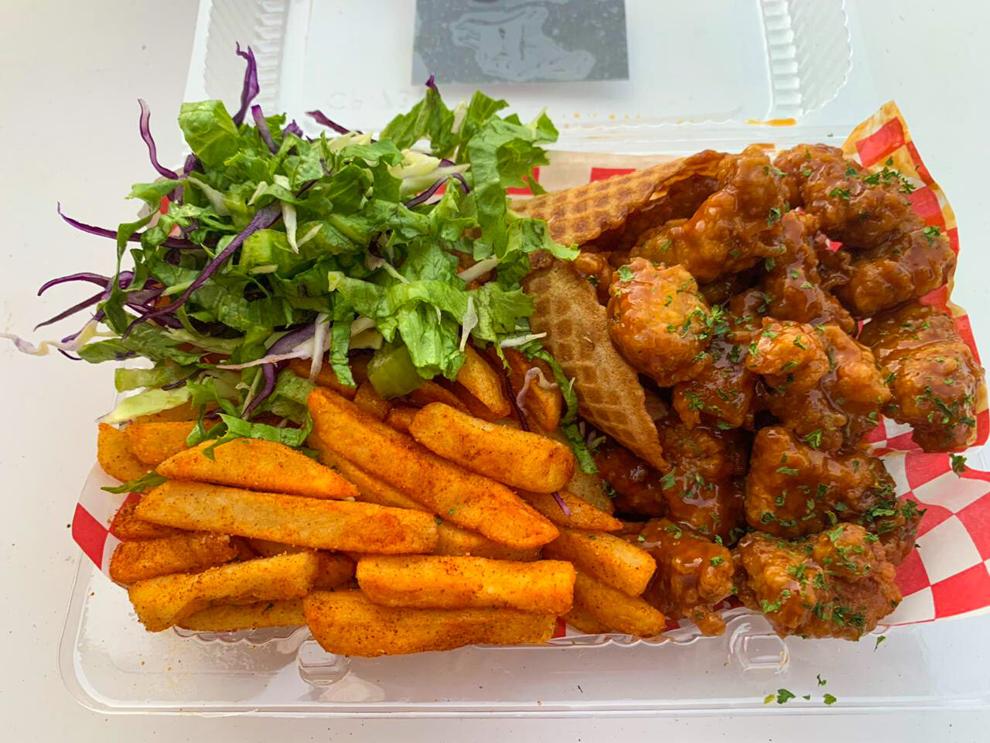 Shadai said, "During the Covid lockdown, my sister and I were brainstorming ideas for a business. We thought about opening a bakery, a clothing shop, so many different ideas until we finally decided on chicken. I had tried chicken and waffles previously when I had visited New York some years ago, and it was good.
"While starting a restaurant was a natural progression for Siane, this venture was completely new to me as my academic and professional ambitions was to work in probation services."
Hoping to take this favourite American-style comfort food and put their own twist to it, made Bruno's Chick n Waffles move from concept to creation.
This classic American dish usually comprises chicken, buttermilk waffles with maple syrup or sprinkled with powdered sugar. The combination is enjoyed by customers who like sweet and savoury flavours at the same time. The siblings have elevated this dish to include waffle cones, waffle bowls, and waffle tacos. Customers can still have the American classic too, but the sisters are constantly tweaking their menu to cater to the tastebuds of customers.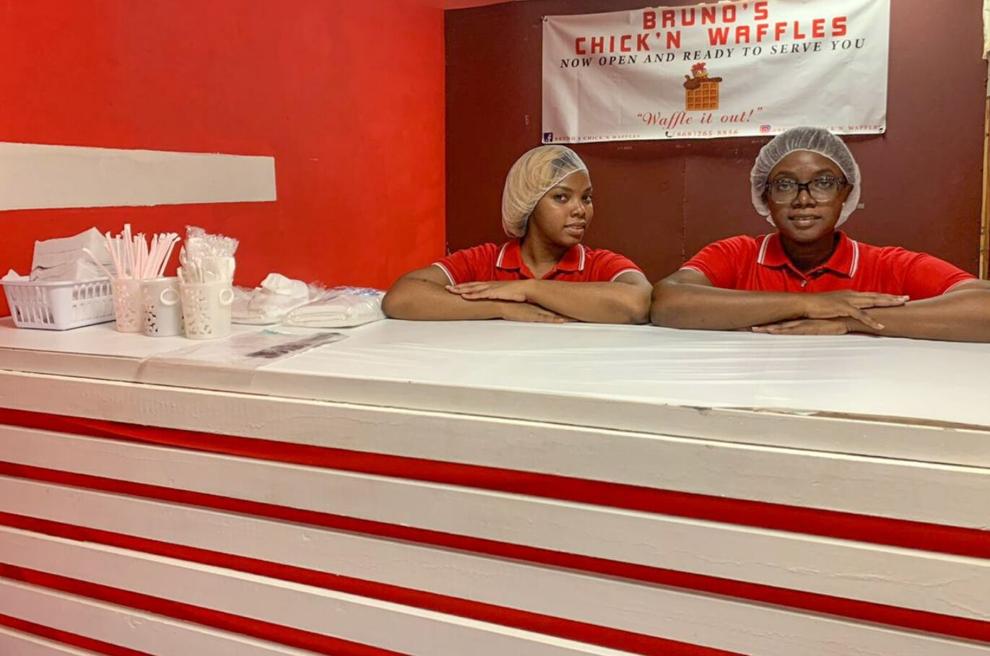 From boneless fried chicken to chicken wings, the sisters say nothing completes the meal without one of their signature sauces or tasty sides.
Customers can slather on their sweet-chili sauce, honey mustard, parmesan, or their crowd-favourite pineapple barbecue sauce. The bosom-besties say their side dishes are just as delicious and customers can delve into their seasoned fries, creamy butter cassava, mashed potatoes or cheesy fries. With a price range from $15-$45, customers can have a chicken-filled waffle cone and seasoned fries for $25.
"What sets Bruno's chicken aside from the rest is that we use natural green seasoning and with a lot of prep allow the chicken to be well marinated so you end up with flavour to the bone."
Located on the corner of Bellvue Street in St Madeleine, Bruno's Chick n Waffles is more than just a business for the two women, it is a sign of hope and an opportunity for betterment and success.
Shadai said, "My sister and I are very close. It is actually four of us. Three girls and one boy. I have a sister who is one year older than me, and I am three years older than Siane.
"We are a tight-knit family from Marabella, but Ste Madeleine is my father's hometown, so it is familiar to us. Becoming an entrepreneur has been an eye-opening experience. It is not easy. You are in a situation where you are constantly learning."
"Chicken and waffles is still a new concept in Trinidad, and one of the questions we constantly get asked is, what are waffles?
"Some people have never seen waffles and often ask us if the waffle cones, bowls, and tacos are edible, which they are."
According to Shadai, not everyone would believe in your dreams, and as such, you must find a way to tune out naysayers.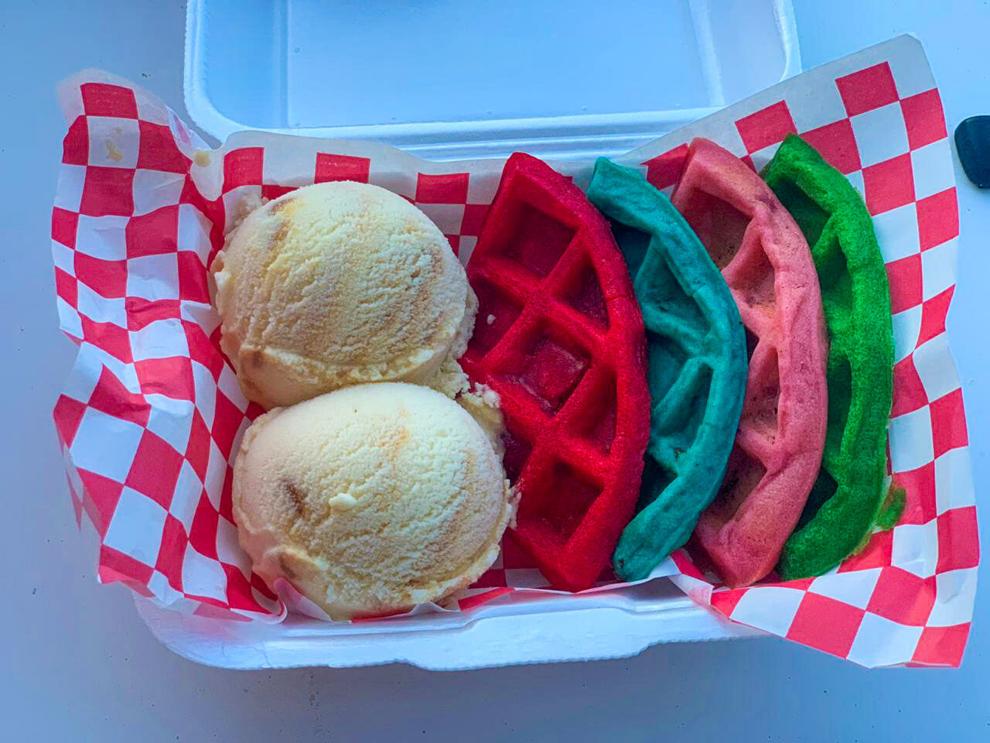 She said, "When some people I knew heard I was about to open a food business, they scoffed at the idea. You have a Master's degree in Criminology, what would make you open up a food business? They could not see the connection.
"When life happens, sometimes you have to shift your priorities and change paths. You might end up on a road you never thought you would travel, but that does not mean you can't end up at a beautiful destination. Overall, we hope to continue growing and establishing our business and become a household name. We want to continue adding to our menu to offer more variety. Hopefully, we could expand and open more branches soon."
According to younger sister Siane, despite what the circumstances are, God has his hand in everything.
Bruno's Chick n Waffles is open Thursdays and Fridays from 3 p.m. to 10 p.m. and on Saturdays and Sundays from noon to 10 p.m.