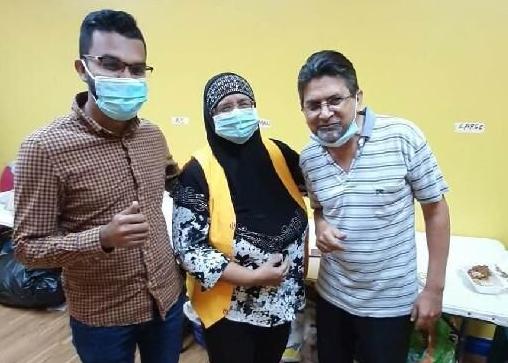 Wearing a yellow coat, the colour of the United National Congress (UNC), former People's National Movement (PNM) deputy political leader Nafeesa Mohammed made her first appearance on a UNC platform Tuesday night.
At an online meeting in her constituency of Barataria/San Juan, hosted by former sport minister Anil Roberts, Mohammed publicly endorsed the UNC candidate for next Monday's general election, Saddam Hosein.
She also appealed to all constituents and members of the national community to go out early and put their X next to the Rising Sun, the UNC symbol.
To a cheering crowd, she delivered a fiery address explaining why she resigned from the PNM.
Mohammed is the niece of the late Kamaluddin Mohammed, a PNM founding member and deputy political leader.
She is the daughter of the late Sham Mohammed, host of television show Mastana Bahar.
'I feel very clear in my conscience that what I have done (resigned from the PNM) is something they have taught me to do, which is to stand up for principle and for what is right,' she said, referring to her relatives.
'For years I have had to live in a situation where my own relatives said to me, why are you still with the People's National Movement. And for those who know me, you know what a loyal, faithful person I have been to the PNM.'
Mohammed said the police raid on five families in El Socorro and the invasion of a masjid was the turning point.
Her nephew, Tariq Mohammed, was among those arrested in connection with an alleged Carnival terror plot two years ago.
'What we endured here two years ago, I said judgment day is on August 10 and we have to let our fingers speak.'
She said PNM Government officials painted constituents of El Socorro with a brush of terrorism.
'Do we look like terrorists? We are people who helped to build this community, helped build this country.'
She said the terrorism plot was a fabrication and it affected young people in the community who could not get jobs because 'their names were called on CNN and BBC and all over the world'.
'Five families in El Socorro, their homes were raided. Worst of all was the invasion in the Nur-E-Islam masjid.
'They scaled the walls and went in with dogs in the masjid.
'This is a democracy under threat,' she added.
What finally tripped her off, she said, was when a senior PNM politician recently said on a political platform that she became a senior legal adviser to the Prime Minister because she could not feed her family.
'You see that statement, that is the most demeaning, disgraceful, disgusting statement. As if I was begging for the job of senior legal adviser.'
Mohammed likened it to 'political abuse'.
'Enough is enough,' she said.