PRIME MINISTER Dr Keith Rowley has advised the public to call the police if they are offered money in return for their votes on August 10.
Speaking during a PNM meet ing in the constituency of La Horquetta/ Talparo on Friday night, Rowley suggested that some political aspirants were paying for votes.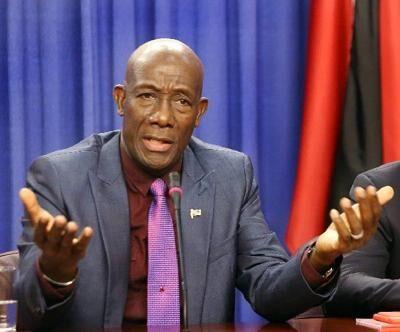 He said this is against the law.
'If anybody gives you money with the intention of asking for your vote, you can call the police. That is a crime,' Rowley said.
'Buying somebody's vote is unlawful. Don't let anybody make you feel that when it's elections they could bargain for your vote. That is the lowest of the low.'
Rowley said those who accept such payments are contributing to 'corrupting and criminalising the country.'
Rowley further claimed potential voters were being given old cotton hundred dollar bills that are no longer legal tender since the changeover to polymer notes, and promised they would be able to change it after the elections.
'Giving you old money Central Bank don't want..telling you when they come into power they will change it for you,' he said.
Rowley urged the public to reject these attempts at buying their votes.
Speaking on the PNM's plans
for La Horquetta/Talparo, Rowley said a new library is in the works if the party returns to government.
PNM candidate for the area,
Foster Cummings, said the constituency has asked for a new library and he would ensure that they receive it.
Rowley added that there would be a stronger focus on agriculture with a $500 million allocation in the next budget should the PNM win the election.
He said young people would be trained in agriculture and assisted with land, housing and the tools they need to successfully engage in farming.
Speaking on the country's Covid- 19 situation, Rowley acknowledged that there has been a spike in cases in recent days.
He urged the public to 'stay the course' and follow the advice of medical experts who have been guiding the country through the pandemic.