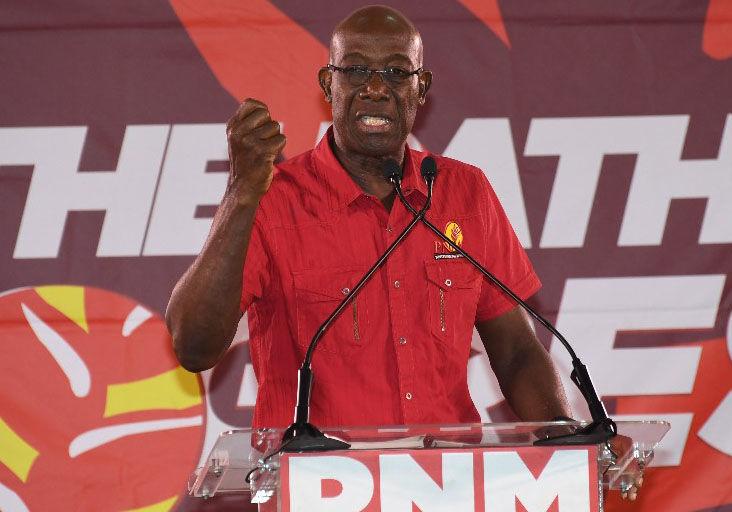 Ridiculing the United National Congress (UNC) proposal to build a dome around Trinidad and Tobago, Prime Minister Dr Keith Rowley has joked he now understood the UNC's job creation plan.
'All the time I hear they saying they going to create 50,000 jobs...today ...I got the job list: dome builders, dome operators, dome inspectors, dome janitors, dome developers, dome managers, dome painters, dome attendants, dome support officers and general dome service,' he said, causing laughter.
Addressing a People's National Movement (PNM) virtual meeting in La Brea on Tuesday night, Rowley said the UNC had to put out 'something' (a document on Covid) because of 'their bad behaviour'.
Tongue in cheek, the Prime Minister said: 'And, of course, the piece de resistance (of the UNC's Covid plan) is item number seven, creating a dome around Trinidad and Tobago.'
'Yuh know when yuh bake a cake, there is a round thing that yuh put on it...or butter in a butter dish with a cover... that is a dome. So Kamla and the UNC going to build a dome over us so that no illegals could come in and no virus could come in. Well, brother, I am not on social media but I hear they roast dey behind with this,' said Rowley.
'When the dome light a fire, they print it (the Covid plan) over and they change number seven from (create) the dome to 'create a virtual safety net around Trinidad and Tobago'.' He said the UNC also added an item number eight called 'Covid compliance in conformity with the health guidelines'.
'Eh? They sued (CMO Dr Roshan) Parasram 17 times,' the PM said.
He said it was the UNC which opposed the closure of bars, opposed the wearing of masks and tried 'to upset the country undermining all the efforts' to deal with Covid.
'With respect to the treatment of Covid, they on record in the Parliament that puncheon and lime going to cure it, they joined North American people saying use hydroxychloroquine, while the CDC (Centres for Disease Control) and WHO (World Health Organisation) were advising against the use of this drug.'
'Who are these mad people...?'
He said point one of the UNC plan was border closure.
'Since when?' he asked. 'You really believe that Kamla Persad-Bissessar, who has spent (time) since January opposing the border closure, will tell you that UNC action number one will be to close the border?' Noting that point two of the UNC's plan was assisting stranded nationals overseas, the Prime Minister said his Government had done that already. He said the Government had just sent money to its embassies overseas to help persons who were genuinely having hardship while they are waiting to come home. He said the Government had sent money to students at The University of the West Indies (UWI) campuses in Barbados, Jamaica and also students in Cuba, before bringing them home safely.
Point three of the plan states that 65 per cent of hospital beds would be reserved for in-country Covid cases and 35 per cent to incoming nationals, he noted, asking: 'Who are these mad people who think up these things?' Item number four was to introduce rapid response testing, the PM said. But, he added, the healthcare professionals had warned the Government from day one that in order to manage the pandemic, the test with the highest ability to give accurate results should be used, and not quick results which are largely inaccurate. 'We use the gold standard in tests. They (the UNC) coming to tell you they are doing rapid tests,' he said.