"He was an excellent prison officer." 
Assistant Commissioner of Prisons Carlos Carraspe made this comment while paying tribute to his late colleague Wayne Earl Jackson at his funeral service at Bethel Outreach Ministries, Arima, yesterday.
The church was packed to capacity. People overflowed out into the church's courtyard and another seating area was created at the back entrance to the church. Even people, including maxi taxi drivers, who could not attend the farewell expressed sadness at Jackson's untimely passing.
Carraspe added: "He was no rogue. No vagabond. He is a hero." Carraspe's "hero" description earned him a standing ovation. Carraspe also said Jackson saw inmates as "humans in a prison."
Among those present were Jackson's widow Cheryl and his children Stephen Lee Baynes, Jason Jackson and Caressa Jackson. Arima mayor Lisa Morris-Julian, Tumpuna councillor Brennon Patterson and a slew of Arima residents also attended the service.
They were joined by Police Commissioner Gary Griffith, National Security Minister Stuart Young, Supt Dion Emmanuel, ASP Assistant Supt of Prisons Training, Ricardo Edwards, Assistant Commissioner of Prisons Hayden Forde and Senior Prison Officers including Geopersad Ramoutar, Sherwin Bruce, Felix Alexis and Ferdinand Biddy. Both scripted and unscripted prison officers labelled him a dedicated gentleman and a patriot who was committed to his career, and also the advancement and improvement of inmates and prison officers.
Jackson's first assignment was at Carrera Convict Prison, while former postings were, Golden Grove Prison Discipline, Prison Administration and his last posting at the Maximum Security Prison.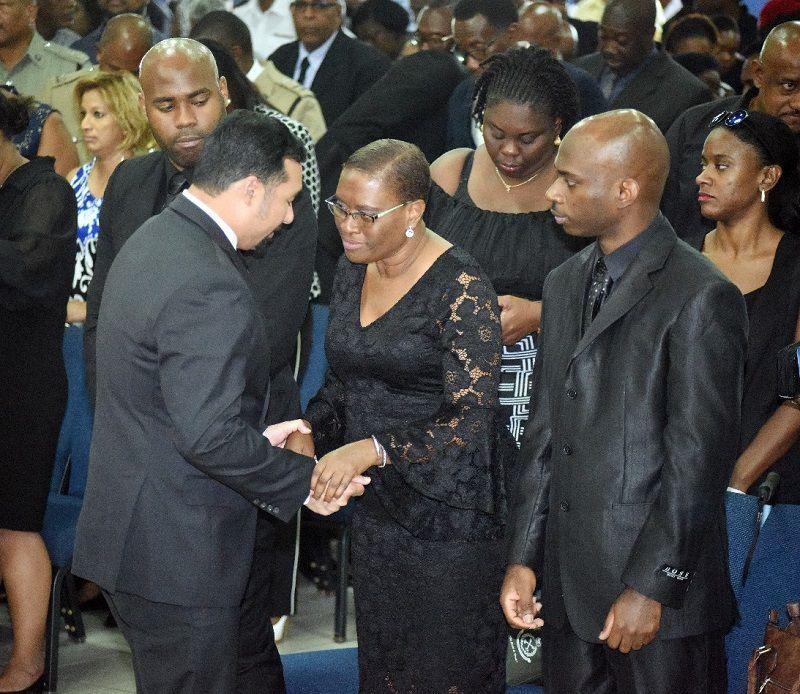 Demonic powers will not attack T&T
Reverend Gentle Phillip delivered the sermon 1 Corinthians Chapter 15 verse 55 and Bishop Dr Irvin Smith prayed for the family.
Phillip said: "Jackson was a man who loved his wife and children. Honest and friendly. Hardworking. He wanted to do his best. He was a good guy. We need more change agents like him."
He added: "No demonic powers will rise up in T&T. They will not attack this land. We had a Prime Minister (Patrick Manning) who said "We will beat them in the North, South, East and West. We will have the victory (against bandits). It is not God's will people should die premature deaths."
Phillip gave the congregation and country the assurance, "When God shows up. the battle is over. It is how we respond to crisis. Look at Job in the Bible. In the midst of anger, it is easy to forget God. We need anchors in the midst of crisis. There is hope for T&T."
Phillip had a word of advice for Jackson's loved ones and colleagues. "Don't handle it alone. Trust in the Lord. Arm of the Lord is not shortened. When God goes before us, we can't be defeated. T&T will not go down. God will help us."
Contagious laughter
On a more personal note, Cheryl Jackson said she loved his contagious laughter. St Stephen's College posse said he organised fundraisers. Jackson's tenor would ring out and he emerged victorious in a Cultural Exchange Programme with Psalm 21. He loved T&T culture and competed and won calypso competitions. Nedra Jackson said he was a "warrior" and, she reciprocated he was her "sweet lump of sugar." Even Young said he treasured the photographs he had taken with Jackson when he toured the prison. 
The programme featured an avalanche of black and white photographs and there was a montage of his milestones including his marriage and family gatherings. After the service, pallbearers tenderly bore his body to Industry Cemetery, D'abadie. Others signed the condolence book. Queues including law enforcement and civilians expressed condolences to Cheryl Jackson and her family at the loss of their patriarch and hero.