A few years ago, Madavi Sawh could have summed up her entire life in a few words, "my life sucks!"
Sawh found herself in her early 20s, broke and unemployed.
Hoping the situation was only temporary, and her dream job of becoming a teacher would be right around the corner.
One year turned into two, and moving from one dead-end job to another did not raise Sawh's spirits.
Before she knew it, five years had passed.
With few prospects and constantly being told she was too qualified for yet another job, Sawh said she became anxious, and that anxiety turned into depression.
For Sawh, it felt like a never ending cycle of bad news. Never going forward but unable to go back.
Instead of feeling sorry for herself, Sawh decided to take the lemons life threw at her and made lemonade.
Though still unemployed and broke, Sawh can proudly say that her life now sucks a whole lot less.
Sawh has a B.A. Literatures in English with a minor in Linguistics.
She has embarked on a new career path and decided to become a writer.
Utilizing her life as a canvas to tell her story, Sawh in her first book, Light of God shares her struggles with unemployment, and her daily thoughts and situations through free verse poetry, daily entries and inspirational quotes.
She said, "All of us at some point in time has probably experienced some form of anxiety. I thought if I wrote about it, people would be more aware and know that they are not alone."
For Sawh, writing was therapeutic.
Initially, she started writing mainly motivational quotes and posting it on social media.
She said, "When I wrote these quotes, it was not just to give me hope but to also give hope to others.
Comprised of 143 pages, Light of God is an inspirational poetry book that focuses on a journey from 'darkness of anxiety' to 'the light of hope'. It is divided into four sections: Darkness, Breakthrough, Awakening and Light of God.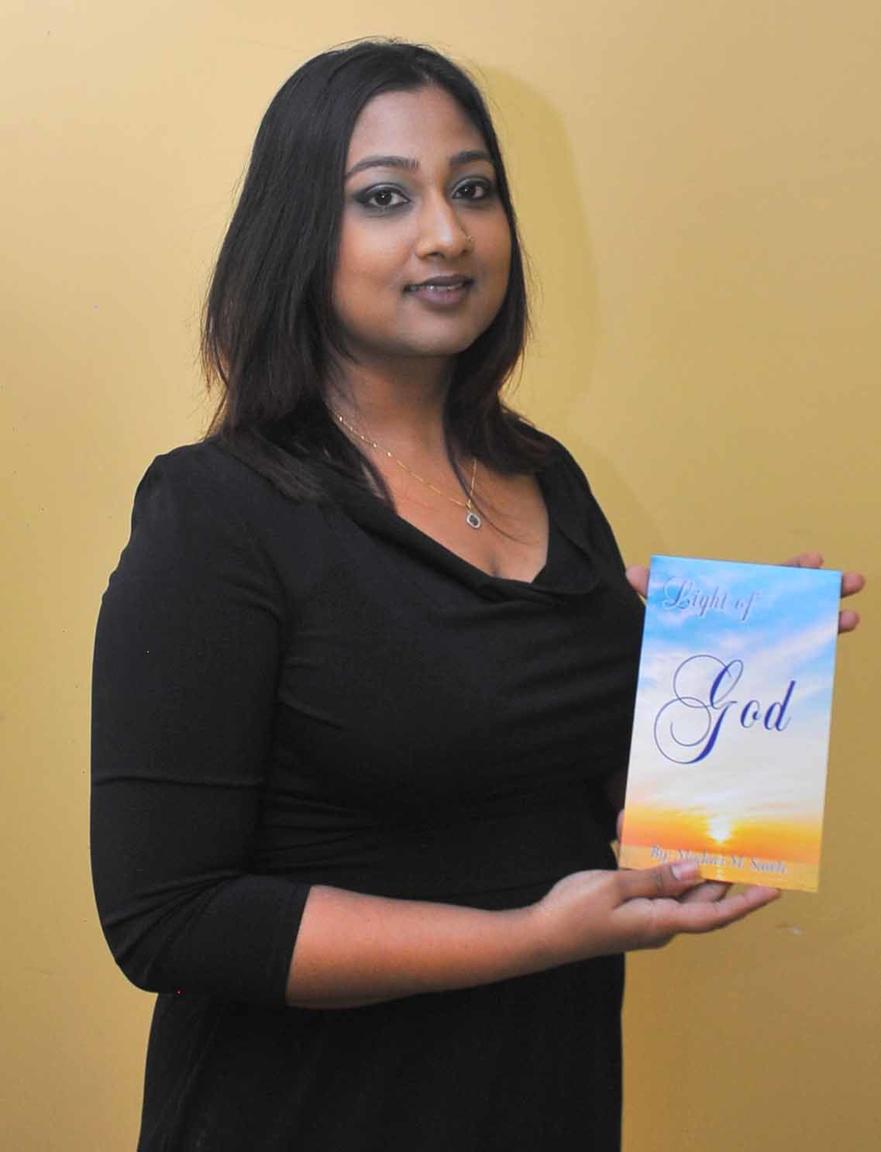 Sawh launched the book earlier this year, and sees it as an instrument to inspire others.
She said, "This book took me nine months to write so I refer to it as my first born."
Sawh admits it is embarrassing and frustrating to hear people make snide remarks about her being unemployed, however it is not for a lack of trying to find a job.
She said, "I thank God for having such a loving and supportive family, but at the end of the day I cannot lean on them forever."
"I am very goal-oriented, so in order for me to achieve my goals, I would need a job and money to do so," she said.
Though she still has dreams of becoming a teacher, Sawh says life does not always go exactly the way you planned it.
She said, "Writing this book has taught me a lot about myself. Even in a place of darkness I saw light. I realised you cannot really appreciate the positive moments without ever having gone through negative ones."
"I realised that I am very resilient. I am also a very spiritual person. Though some people might think the book is a religious book, I more think of it as symbolic," Sawh said.
"This book, Light of God is to give people hope. If you look around not just in Trinidad but around the world, somebody is fighting for something. Everybody has a battle. My battle might be internal but it can be different for someone else," she said.
For those who think they are failing in life, it is never too late to turn it around. Failure is not a death sentence, it is a get out of jail free card, Sawh said.
Light of God is available at all RIK Book Stores, Nigel R Khan and can also be pre-ordered from Scribbles and Quills in Chaguanas.
For more information send an email to madavisawh@yahoo.com