TRINIDAD is shrinking. On every coast, the ocean is clawing at the land.
A dramatic example of this unstoppable force was the collapse in February of the cliff face in Cedros that consumed almost five acres of land on a peninsula that the experts say is losing as much as two metres of land every year.
But long before Cedros, coastal residents have been watching the sea with unease.
Coastline erosion is something that often happens imperceptibly slow, over hundreds, thousands of years. But people are seeing landforms reshaped in mere decades.
On Trinidad's rocky north coast, village elders can tell of the stacks and arches, islets and caverns erased in short years, of sand beaches swept away to reveal long buried rock formations, and of seafront homes undermined and lost to a conspiracy of wind, waves, currents, tides and a rising sea level linked to global warming, melting the ice caps and glaciers.
On the island's east coast, the roads to the old cocoa plantations and beaches in North Manzanilla now end abruptly at precipices, and the sea takes chunks of fertile land with every high tide.
The bathing beaches between Manzanilla and Guayaguayare are losing the coconut trees and seawalls. Tidal surges have made brackish swampland out of cropland. Beachfront home owners spend a fortune protecting their investment, defending with boulders, tyre revetments, tree trunk groynes, rock cages and concrete embankments. The Atlantic always wins, in the end.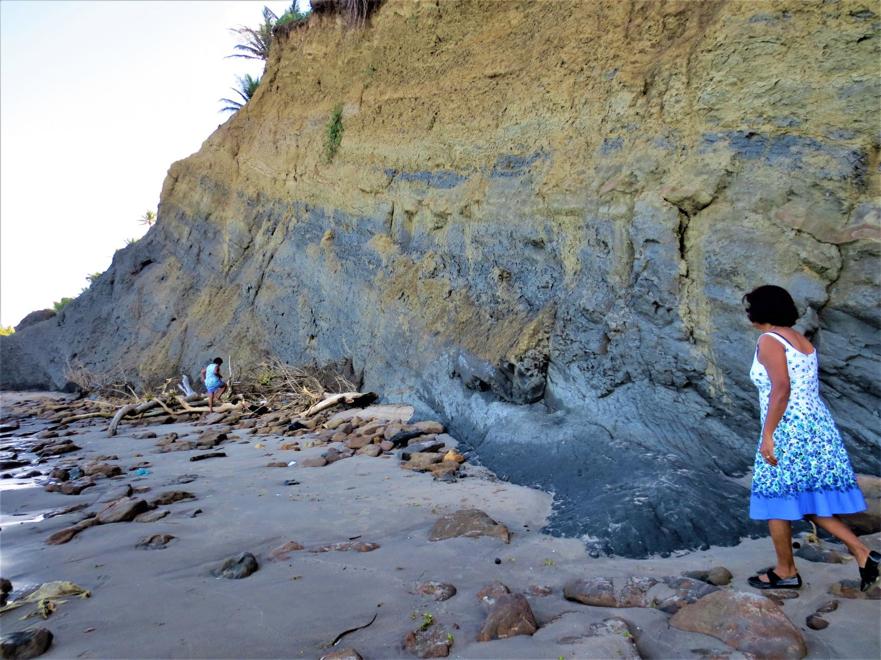 In the natural harbour that is the west coast, the battering swells in the Gulf of Paria have been taking back the land reclaimed along the King's Wharf, San Fernando, at Waterloo's cremation site and the Temple in the Sea, and overtopping the Mosquito Creek road with increasing frequency. The Shore of Peace Cremation Site would have been lost if not for a $60 million coastal stabilisation, that also stopped the advance of the sea in the Cocal, Manzanilla.
But nowhere is the evidence of Trinidad's losing battle more striking than on the south coast with its retreating clay and sandstone cliffs. Here is it recorded that up to twelve metres of land have eroded in a single year in areas between Los Iros and Quinam Bay- the location of south Trinidad's most visited beach, which no longer exists.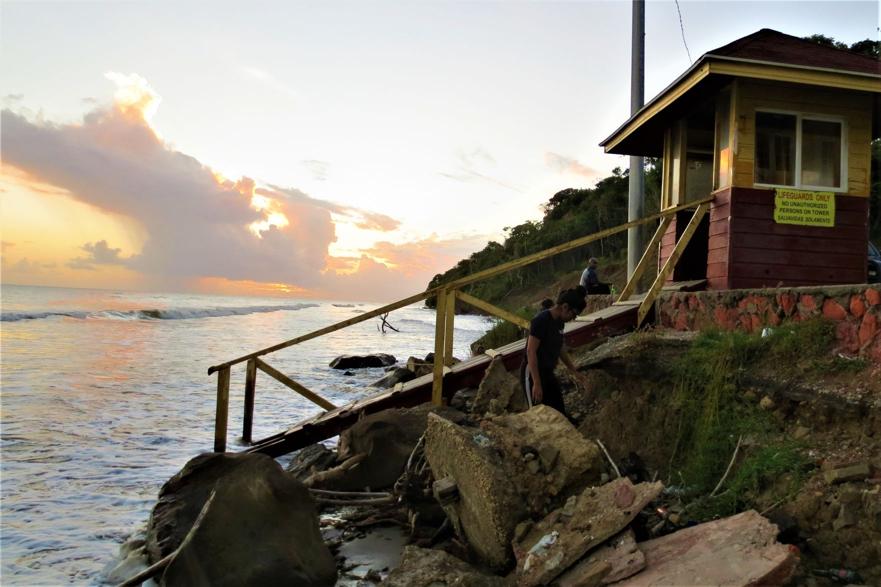 A similar rate of erosion has taken place along Moruga's south coastline where at the once popular La Retraite Beach, a visitor must descend a cliff to get to the shore.
Moruga is also where you will find more worrisome evidence of what is happening - concrete abutments of flood gates and fishing boat landings now sitting out at sea, the staircases of houses embedded in the sand littered with uprooted forest trees and bamboo groves.
At Gran Chemin, Moruga's main village, the St Peter's statue erected by custodian of the area's history Eric Lewis, is now threatened. Its foundation is being licked by the waves finishing off the nearby fisherman shacks and derelict port facility.
But it is this very coastline destruction in Moruga that has revealed a piece of Trinidad's history buried for so long that, when the waves exposed it some weeks ago, few knew what it was.
Its presence was brought to our attention by Moruga building contractor and community activist Loretto Miguel who himself wanted to know what the thing was, and whether the State had a plan to stop to damage being done to the fishing facility.
If you visit the village coastline at low tide, you will find a thick metal cable emerging from the muddy sea, snaking along the sand, and disappearing into the land near the Moruga Roman Catholic Church.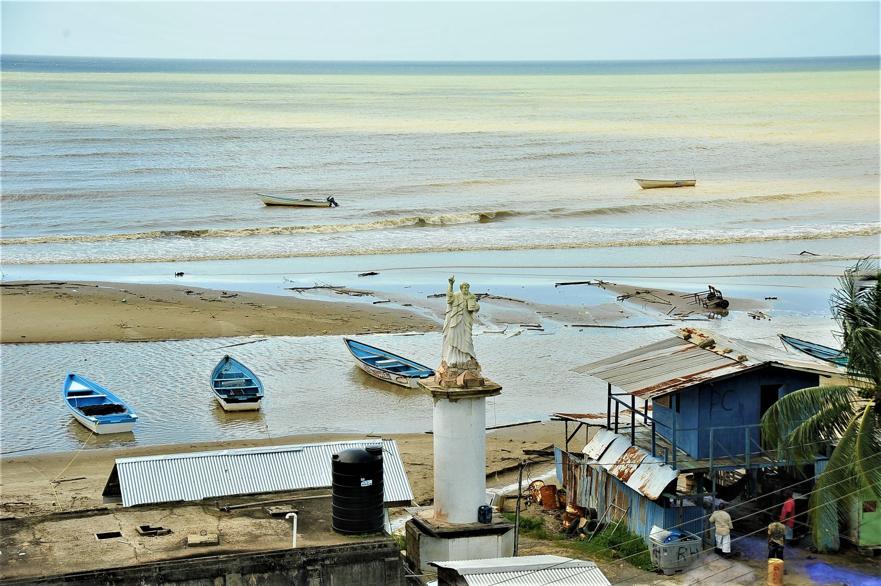 That telegraph submarine cable has been there since 1871, and when it came, it surely changed the course of Trinidad's history.
Before its arrival, Trinidad's only means of communication with the world was by mail. The telephone was not yet invented. A letter to Europe went by ship and a reply would take months.
That is, until the invention of the electric telegraph in the 1850s, when morse code could be transmitted through copper wires over long distances in order to communicate by telegram.
This would lead, after many failures, to the development and laying of a transatlantic submarine cable in 1858 connecting the United Kingdom with North America, considered one of the great feats of the time.
"It is a triumph more glorious, because far more useful to mankind, than was ever won by conqueror on the field of battle" US President James Buchanan messaged Queen Victoria in the first telegram to be exchanged in 1858.
The telegraph cable network would expand to include a connection to Cuba, Panama, Jamaica, Puerto Rico, St Thomas, St Kitts, Antigua, Guadeloupe, Dominica, Martinique, St Lucia, St Vincent, Barbados, Grenada, Trinidad and Demerara (now part of Guyana). It is that Trinidad to South America cable connection that has been exposed in Moruga.
In the journal of chief engineer and electrician Sir Charles Tilston Bright, the man who oversaw the laying of the cable system for the West India and Panama Telegraph Company, his visit to Moruga examines the proposed landing site is reported as September 9, 1871.
Within months of his visit, the island was connected, with it being recorded: "At Trinidad, the Demerara cable was landed at the south-east corner of the island; while the continuing section northwards to Grenada was taken from Macqueripe Bay. The connection to Port of Spain (the capital) on the west side, was made by means of a long land-line A great part of this was erected through dense forest of more than fifty miles, which had to be cleared by a small army of wood cutters for a width of at least forty feet, for a considerable distance".
By 1910, the major countries of the world were connected, and messages that took months to send, could be transmitted in mere minutes.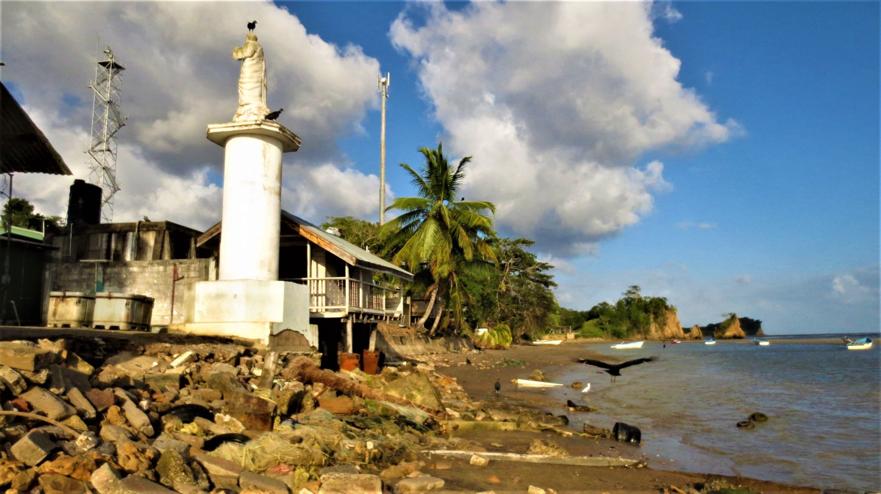 What can be seen in Moruga is part of the thicker section specially designed to withstand the surf at landing sites – a cable with a core of seven copper conductor wires insulated with a type of natural latex called Gutta Percha, bound by an outer layer of steel, and encased in silica and tar, weighing sixteen tonnes to a mile.
In all, 4,200 miles of cable was laid by the West India and Panama Telegraph Company, which would come to be known as Cable and Wireless.

Richard Charan is CCN's Multimedia Editor. He can be contacted at richcharan@gmail.com