The Hart family is as strong in their love as they are in their faith.
And as head of the household, Pastor Lloyd Hart leads by example.
Positive moral values are important, and having a strong family life and a relationship with God allows you to have an overall feeling of peace and joy. Through this recipe, the Hart family has flourished both personally and professionally.
These core values have also transcended to their church Revival Time Assembly located in San Fernando.
With their ministry celebrating its 63rd anniversary this year, Pastor Hart and his wife Norma celebrated their 64th wedding anniversary on November 2.
The two lovebirds tied the knot in a small wedding in 1955 at St Clement's Anglican Church. Though it might seem like a lifetime ago for some people, if you ask the couple about their wedding day, they both light up with broad smiles on their faces, and even after several decades still seem smitten with each other.
In romantic movies, love can seem almost instantaneous with a fairy tale ending, but in real life, it can often be a different story.
Though it was not love at first sight, Pastor Hart says he found his fairy tale in Norma.
He said, "We grew to love each other. We loved going to the cinema – beaches – writing and simply liming at the San Fernando jetty, when it was indeed a jetty. Conversations centred on ourselves and our plans."
Hart said, "I was not a Born-again Christian when I met Norma. Let me state quite honestly, I had no thoughts about this new life people talked about. I drank - smoked - and did everything expected of a radical. But then I met this girl. I became greatly attracted to her. She made certain demands - the drinking stopped - for a while. She was the first girl my mother accepted - and that was good enough for me. Thoughts of marriage came to my mind - but I was twenty-one. I realised that age had nothing to do with this - It was simply that I was in love with this girl - my Mother and Father accepted her and that was it."
"Both our parents were simple people. Hers was a popular and large family in Princes Town – The Blackmans' – Her father was a bakery proprietor while her mother tended home. My father was a transport contractor and later a soft-drink manufacturer. He returned to transport contracting, assisting his brother – Henry Hart with his hardware on King's Wharf Hart and Huggings Ltd. My mother was satisfied to be a housewife," he said.
The couple lived with Hart's parents shortly after their marriage, and later moved into a house they could call their own. The young couple had the added bonus of not having to worry about a mortgage and having family support nearby since the home belonged to Harts' parents, which was located next door.
Bonded by love, faith, and a passion to help others, Hart's calling to full-time ministry revealed itself through one of the couples' favourite pastimes - a movie.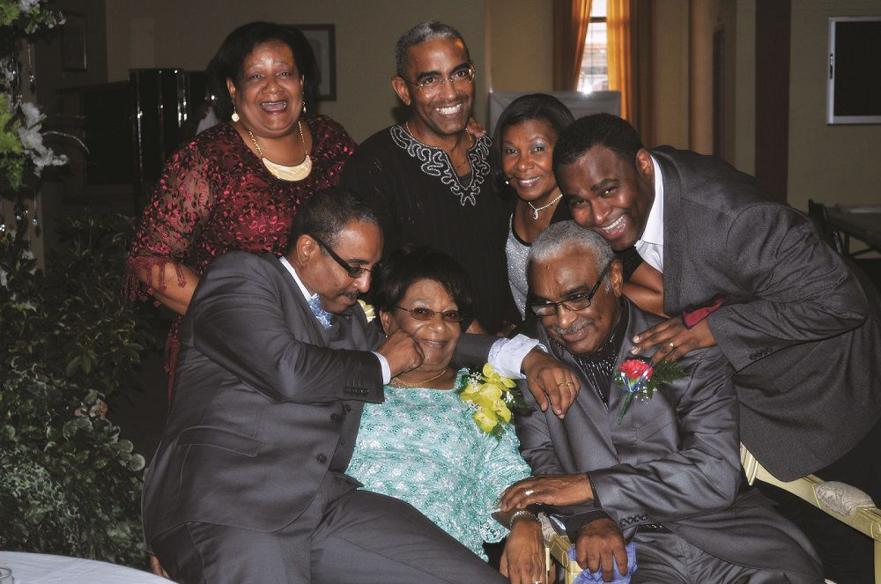 He said, "I joined the church after viewing a film called "Driftwood Set Afire" by Reverend Oral Roberts. From the time we (my wife and I) were baptised in 1954, I hit the ground running. I was already a published and local award-winning playwright. I took up the challenges of being the Sunday School Superintendent, assisting Roland Dee as Choir Director. I was also the Drama group leader. I entered full-time pastoral ministry in 1973. Joined the singing quartet of Revivalaires and together with Rev Mel Weibe, who is still alive and living in Canada, Rev Nelson Sammy-Guilarte, Wilfred John, Basil Ayres (all deceased) we made, I believe, the first long-playing Gospel record. Before assuming the Senior Pastoral role in Revival Time Assembly, we completed a Christian Counselling Course at the Christian Counselling and Educational Foundation at Laverock, Pennsylvania, USA."
The Revival Time Assembly has been dubbed "The People's Church", and for years has served as a haven for many seeking biblical preaching and teaching.
The robust ministry many see today may be unware of the church's humble beginnings.
Explaining the history of the church Hart said, the ministry began at the Friendly Society Hall on Chacon Street under the guidance of a Canadian missionary, Larry Ulseth.
He came with his family to our twin-island state in 1956 and decided to settle in San Fernando. The new church, with just about eight (8) persons, was known as The Evangelistic Centre. One year later they moved to lower Chacon Street to another bigger facility. After a series of crusades they moved again in 1962 to an even bigger facility on Lady Hailes Avenue, he said.
It was through one of these crusades Revival Time Assembly was born, and the fledgling church moved to the Steel Building, which was also called the steel shed, on King's Wharf in 1962.
The congregation grew, and the church established branch works in several areas. Some parishioners were even planted in different ministries overseas.
Under the directorship of Pastor Lloyd, and his wife, the church moved to St Vincent Street, and has become a permanent fixture that has been ingrained in many people's minds when they think about the city of San Fernando.
One of the churches' main activities is its feeding programme called The Waterfront Relief Center. It was started 20 years ago to help the destitute and the homeless, who often slept at King's Wharf.
On Mondays, over 120 people are fed, and, hear the word of God. During the Christmas season hampers are given out to those in need.
According to Hart people can view their sermons on YouTube at youtube.com/RevivalTimeAssembly.
Despite the many hats, Pastor Hart often wears; none is probably more challenging or rewarding than husband and father.
He said, "We have five children – two girls and three boys – they are all married and involved in some aspect of Christian ministry. Nineteen grand-children and eleven great-grandchildren. Amen!"
While Pastor Hart could not give a definitive answer on what it takes to have a long and happy marriage, he did say the one ingredient that could assist all couples is good communication.
He said, "Too many couples speak AT and TO each other rather than with each other. So I say the major problem is communication. In communication, the decibel factor must be considered. Talk one at a time. Listen then respond. Then we need to consider trust. In the Book of Proverbs Chapter 31 Verse 11 states in the Amplified Bible – The heart of her husband trusts in her confidently and relies on and believes in her securely, so that he has no lack of honest gain - or need of dishonest spoil. The Bible is God's blue-print for a successful and healthy marriage. Obedience to the word of God will keep marriages."
"One of things that marriage has taught me about myself is that I am human – subject to mistakes. I ask for forgiveness –and give forgiveness. We need to take the Word of God seriously," he said.
The couple has headed Revival Time Assembly for the past 62 years.