On September 5 Trevor Hart died. He was among those who could not survive the ravages of the Covid 19 coronavirus. He passed on at a hospital in Florida. The Express wrote about Hart a few years ago, and his connection with the famed Ali's Doubles of Trinidad. You can read it HERE
THERE is a man selling doubles out of the back of a Mercedes-Benz near the village of Buccament on the big island in St Vincent and the Grenadines.
His stall is roadside on one of the few pieces of flat land on that jagged, serpentine place.
Many of his customers are first timers to the curried chick peas sandwich that so puzzled the late great international foodist Anthony Bourdain during his visit to Trinidad in 2017.
But from eyewitness reports (mine), it appears the Vincentians and their visitors love it. How Trevor Hart ended up with his Indian bara business in a place better known for its fish, provisions, breadfruit and mutton is an unlikely journey.
Equally amazing is where he learned the art of the perfect doubles – and it happens to be from a direct descendant of the man who invented Trinidad's number one street food.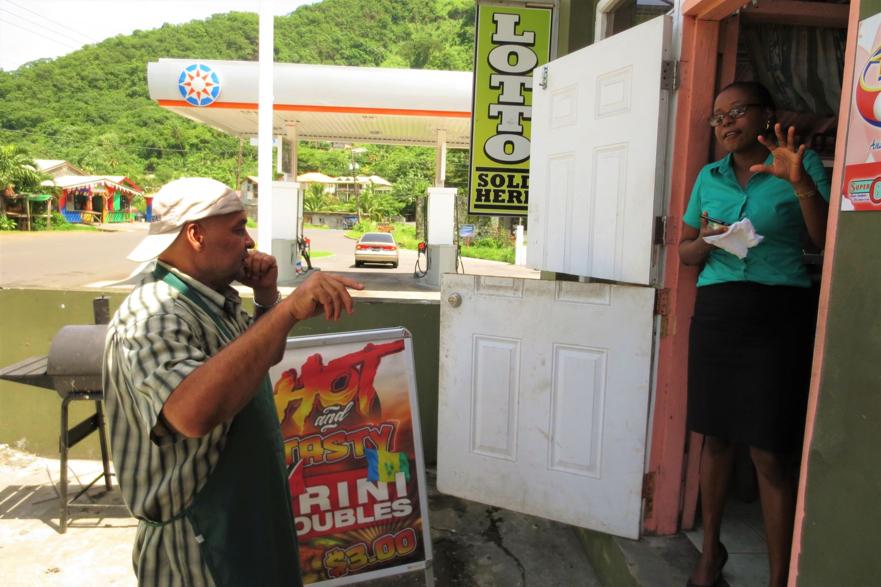 Back in the 60s, Hart's father Egbert was a travelling salesman for Guinness Company and went to St Vincent to look for new business. His father found love, too, in Vincentian woman Aneta Knights. Hart was born in St Vincent in 1962, and his parents returned to San Fernando, Trinidad, where they would have six more children.
Trevor Hart wraps doubles at his place of business in the village of Penniston, St Vincent and the Grenadines.
At age 18, Trevor Hart and four sisters would move to the US, as part of the Great Migration of Caribbean people happening at the time.
He told us: "I eventually settled in the San Fernando Valley of Los Angeles and started a family, with three lovely girls. I worked as a postman for 25 years and as postal supervisor for the last five years of my service before I took an early retirement."
By December 2016, he was back in St Vincent on the family's ancestral lands on the island's leeward side, in an area least likely to fall victim to the rock slides, flash floods or the occasional pyroclastic blast from the active Mt Soufriere volcano to the north. Hart spent some time contemplating his future and winding down from the pace of California to that of SVG, where everything slows down…except the taxis and banana trucks.
"I woke one day with this crazy idea to do delicious doubles that I remembered from my youth," said Hart, who by then had reconnected with his family in Trinidad. That family included famed mas man Edmond Hart, who died at age 92 earlier this year, and cousin Ken Budhooram, a retired UWI open campus lecturer.
In February 2018, Hart flew to Trinidad and shared his doubles dream with the Budhoorams. They helped him make it a reality. Lessons from the Alis Mustapha Ali.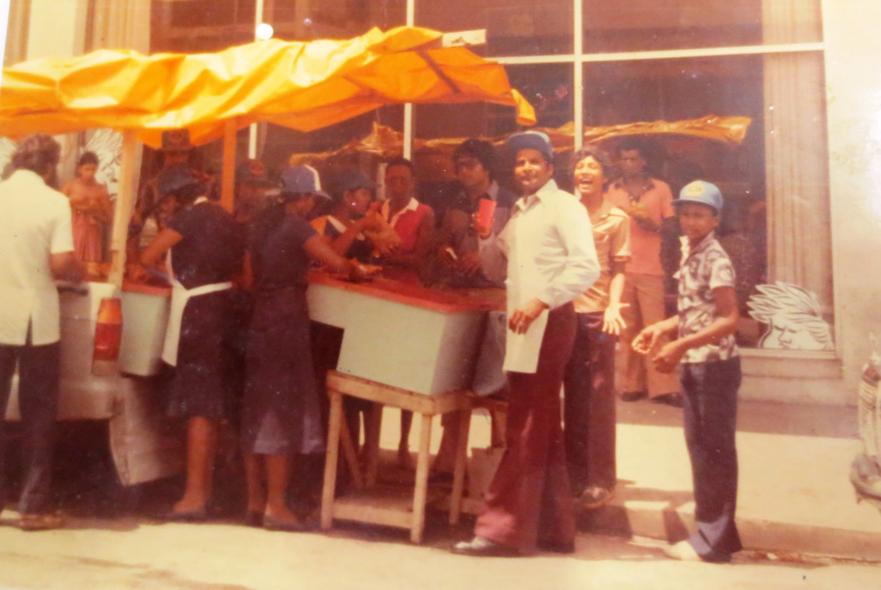 In the kitchen of the Budhooram house overlooking the Gulf of Paria, they went about experimenting, following some cookbook recipes for bara and channa.
Hart said: "We also travelled all over Trinidad and tasted as much doubles as we could and picked up as much tips on the business of doubles."
But in the end, they would find themselves in a master class of San Fernandian Mustapha Ali, of Ali's Doubles pedigree. Ali is the son of Asgar Ali, who is credited with introducing the doubles to San Fernando, and the relative of Emamool Deen, the Craignish Village, Princes Town, man considered the inventor of the doubles in the 1930s. Mustapha Ali, 71, was not a man known to give many interviews (journalist BC Pires got one in 2015) and not known to share the recipe.
But with the help of businessman Victor Edoo, who is from another prominent family in the city, the hook-up was made at the "doubles factory" at Harris Street, where the Alis have held on to their residence while others sold out to the law firms and big business. '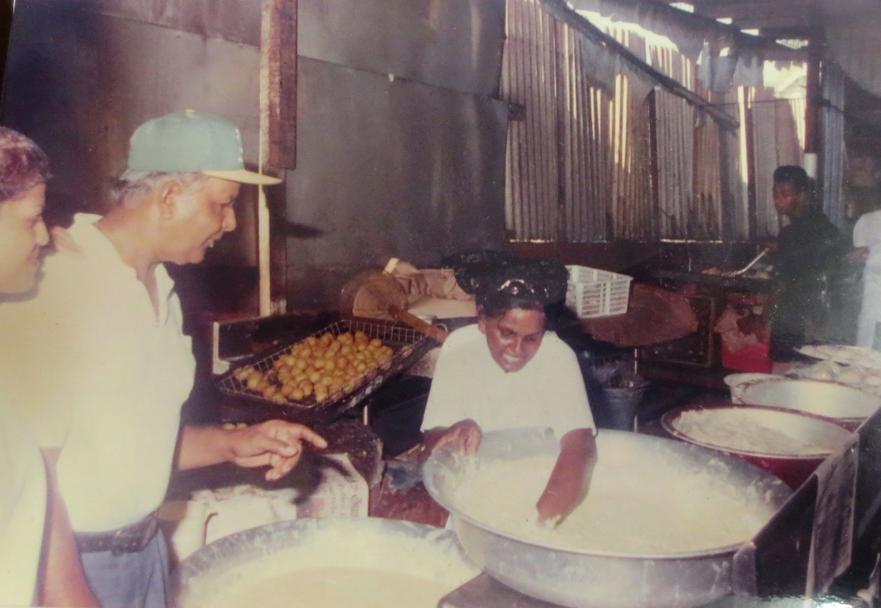 "I felt very privileged to have spent many hours with Mr Ali, from 5 a.m. over two days," said Hart. "I met a very energetic, fun and smart person. His employees adored him. At 71, he was still cooking his bara, approximately 4,000, to be sent all over Trinidad. I thought, since he could do this, so could I. Mr Ali is highly motivated and encouraged me. He told me that if even one thing was off, throw the batch away and start over. He also said by keeping high standards I was sure to keep and grow my customers.
The first few baras I made in front of him were disastrous but he kept encouraging me. But after I did my first batch, I was certified by my Trini family as an authentic doubles maker. No easy feat."
Then Hart went home.
Hart said from St Vincent: " I've been selling doubles to Vincies and loving it! This is now my new life's calling and I am having lots of fun. I remembered asking him if I could use the Ali's brand in St Vincent and the Grenadines. He said we would talk. We never did (but) I have authentic Trini doubles and my culture also right here in SVG! Thank you, Mr Ali. I will continue to honour your memory here."
Mustapha Ali died on October 22, 2017, at his Harris Street home.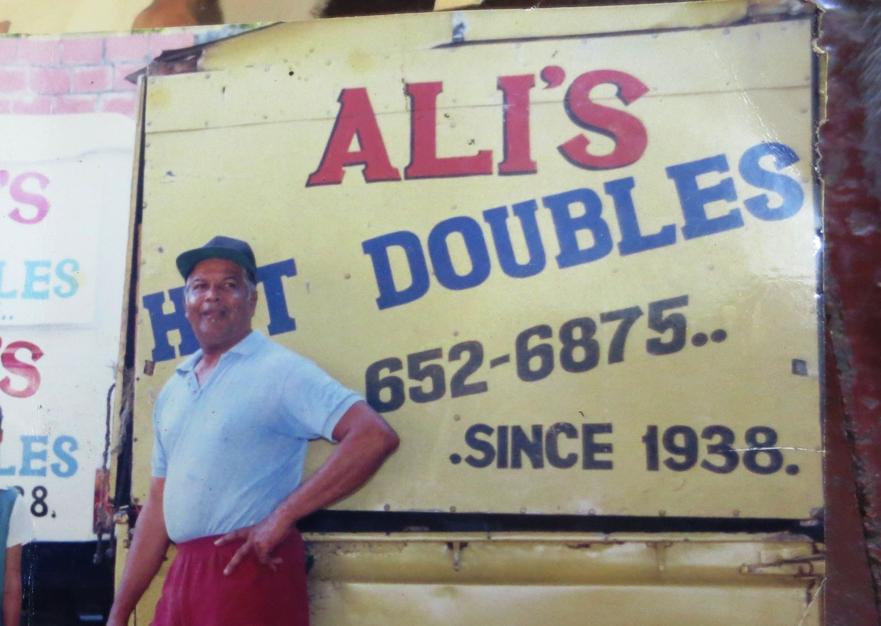 The father of five outlived his two wives and two siblings.
His sister Halima told us that Mr Ali, generous with his time and his money, was beloved by family and his employees (at the height of the doubles operation he had 90 workers and several doubles depots across the country), and lived a full life without regrets.
The family's doubles business is now being operated by his children.
NOTE: We are told that Hart's ashes will be returned to St Vincent when international travel resumes, and his relatives will meet there for a memorial service.
Richard Charan can be contacted at richcharan@gmail.com