Forget the highway enquiry, the one-foot man in Oropune, and the detention centre escapees.
The country is interested in, and deeply divided over the actions of 'Mustard' the albino Burmese Python.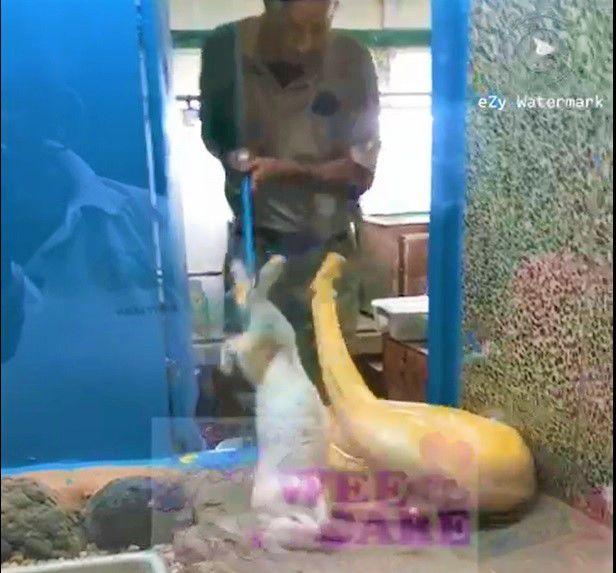 Some defended the snake, saying it was just following its instincts. Some said the snake should not have been locked away in the first place, and was born to be wild.
Others compared the action of the snake to their loved ones. More than a few people quoted Bible scripture and said snakes were evil.
Others reminded that 'Mustard' would often be taken to events and interact with people.
During feeding time at the Emperor Valley Zoo in Port of Spain on Wednesday, the snake took a bite out of zoo keeper Walter Bonyun.
And it was captured on video, and shared on social media.
The video shows Bonyun open the enclosure containing the very long, very large snake, and dropping a dead rabbit dinner.
The snake went for Bonyun's belly instead of the rabbit.
The video shoed Bonyun recoiling, with the snake's mouth attached to his abdomen.
A 'buddy' zoo keeper out of view as able to get the snake off and back into its enclosure.
Boyyun was taken to hospital for treatment.
In a statement, the Zoological Society of Trinidad and Tobago said it took place just after the Zookeeper placed food for the python.
"With the door still open, the python grabbed the mid section of the Zookeeper. In keeping with the protocol of always having two Zookeepers present during feeding, the second Zookeeper was able to intervene, pull away the python and secure it, and assist his colleague in getting medical attention. A full investigation is underway".
The Emperor Valley Zoo said there was no danger to the public. The Zoological Association of America of which the ZSTT is a member has been notified and would also review the incident.