Businessman Gary Couri has been installed as the new president of the Rotary Club of Maracas/St. Joseph.
At the handover over ceremony at Tropics Restaurant and Cocktail Lounge in June, outgoing president Cheryl-Ann Jordan said apart from the club's usual community service activities and projects, she was particularly pleased with the robust strategic plan and three new initiatives undertaken in the past year.
The Primary Schools Signage Project assisted nine schools sending a positive reminder to parents to show their children love, she said.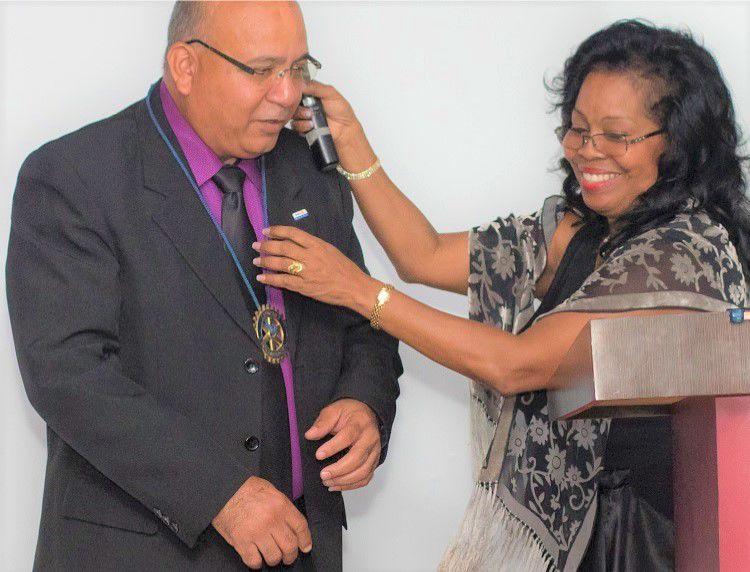 And the club had also undertaken Community Plant-based Nutrition Workshops, done in partnership with the University of the Southern Caribbean. Participants from the Maracas Valley were given live demonstrations of how to prepare and cook healthy, tasty vegetarian meals using a variety herbs, spices and plants. "We believe that this project is one that will positively impact the eating habits of the attendees, leading to their overall improved health," she said.
Jordan said the club participated in a joint service project with the Rotary Clubs of Central Port of Spain, Le Grange Texas and Blacksburg Virginia – The St. Dominic's Children's Home Veritas House Project. "This is a first for our Club and I am very pleased to announce that we have achieved our goal of submitting a Global Grant application to the Rotary Foundation for the purpose of transforming the Veritas house into a multi-purpose facility for the furtherance of work with the less fortunate and disadvantaged children in our society. This is a significant project that would keep on giving for many years to come," she said.
Under Youth Services, the club re-introduced the 'Shoeboxes of Joy' project and received a resounding show of support by organisations, individuals and Rotarians. "We received over 350 "Shoeboxes of Joy" to treat the underprivileged children in the Maracas Valley and environs. With the extra Shoeboxes of Joy and party bags, we were able to treat the Paediatric Cancer Clinic and Paediatric Ward of the Mount Hope Hospital and many others," she said.
Jordan said Rotarians provided relief for the flood victims in the Warren Road area and environs as well as Bamboo Village during the recent floods. She said the Board approved $20,000 for flood relief, members pledged another $6,300 as well as personal donations of mops, buckets, cleaning materials, foodstuff and truck transport. Mattresses, were bought, beds were built, food supplies, water and other items were delivered in short order, she said.
Couri thanked members for their confidence in him, outlined some of his plans for the new Rotary Year and introduced his Board Members.