When Petrotrin closed its doors in 2018, it became apparent that many Trinbagonians weren't aware that the state owned oil company also supported a historically important, and still relevant, oilfield community in the south west peninsula of Trinidad.
This community, because of the centuries old oil industry, has a comprehensive infrastructure of roads, bridges, water and electricity plants, residential housing, schools, medical centres, hospitals, farms (beef, dairy and citrus), family focused recreation clubs with attendant sporting fields (football, hockey and cricket), cycling velodromes, basketball, tennis and squash courts as well as swimming pools - and all of this faced the solemn circumstance of closure.
In all fairness to Petrotrin, for years, attempts had been made to hand many of the non oil assets over to the community but an exercise of that magnitude takes time and time ran out.
Thus began the drive to save Beach Camp Community School also known as Beach Camp Private School.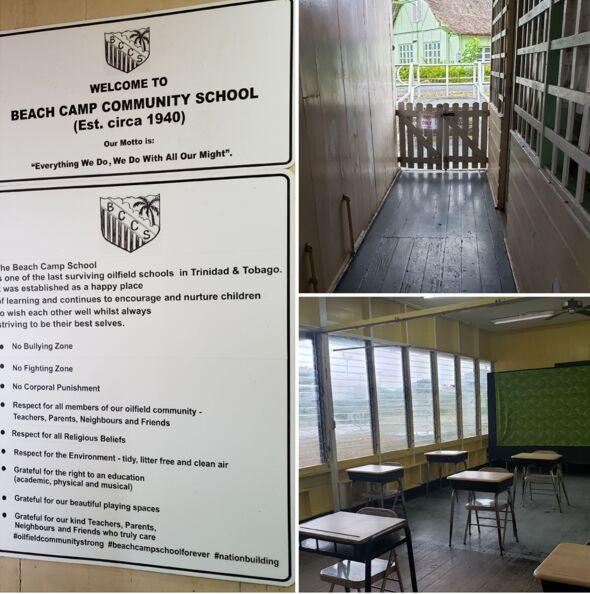 Originally built circa 1940 for the children of the expatriate oil workers from England, Canada, Australia etc… the primary school began admitting the children of local senior management staff from 1962 when Trinidad & Tobago became independent. From 1998 the school was opened up to the wider community.
With its motto, "Everything we do we do with all our might" – the Beach Camp School has always been a testimony of the standards of excellence upon which the energy sector in post independent Trinidad & Tobago used to pride itself.
The school secured prizes in both the art and essay writing competition hosted by Angostora Ltd. in 1976 to celebrate 100 years of operations in this country.
Then in 1978, one year after installing its science room, the school was adjudged the overall winners of the national science competition hosted by ASETT (Association of Science Education Trinidad & Tobago).
Most recently, in 2019 (one year after the closure of Petrotrin), the school again made history, this time in sport when it won both the Under 15 and Under 12 titles of the national primary school football championships sponsored by Atlantic LNG.
The school has also successfully hosted two Heritage Days in 2018 (China) and 2019 (Spain) with the support of the respective Embassies.
The Beach Camp compound was one, of approximately 15 self sustaining residential neighborhoods built with military precision in the midst of the tropical jungle, by the early oil pioneers who would have served in the British Military and Allied Forces during World War I and II.
This explains why these compounds were called camps. Beach Camp is situated on the southern coastline of Trinidad at the very end of Beach Road, Palo Seco.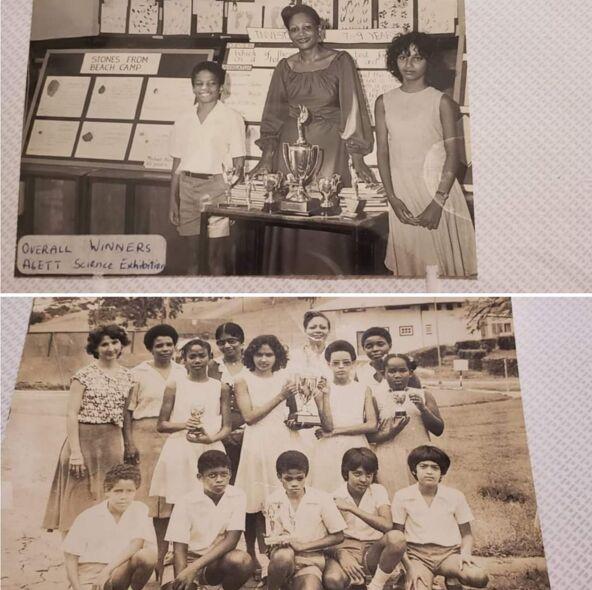 When we met up with Michele Celestine, Senior Consulting Attorney at Law and Chair of the Beach Camp School Board since January, 2019 her reasons for putting a committee together comprising of past pupils, parents, teachers and members of the community, to save the school, were rooted in preserving the positive aspects of oilfield heritage.
Her sense of patriotism and love of the oilfield community were clear as she explained, "Something had to be done – this school nurtured generations of young people who went on to make positive contributions both locally and internationally. This space matters."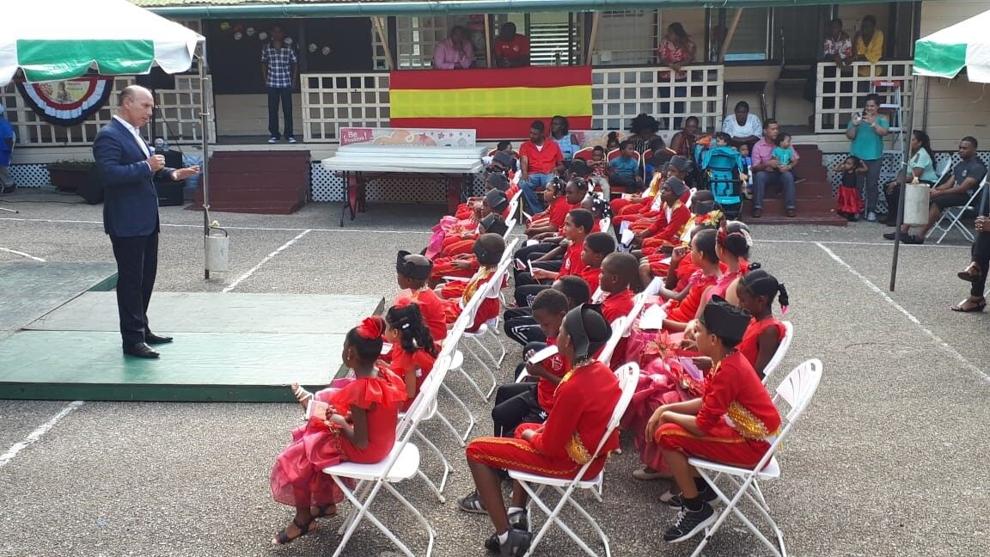 She explained. "It is a dream for every environmentalist and the best place for a child to receive their early education. Beach Camp has idyllic vistas, and expansive green lawns for playing. Flowering and fruit trees, clean fresh air, nature sounds of – ocean waves, birds singing and tree leaves rustling in the breeze are part of the daily ambience. Which child could ask for more?"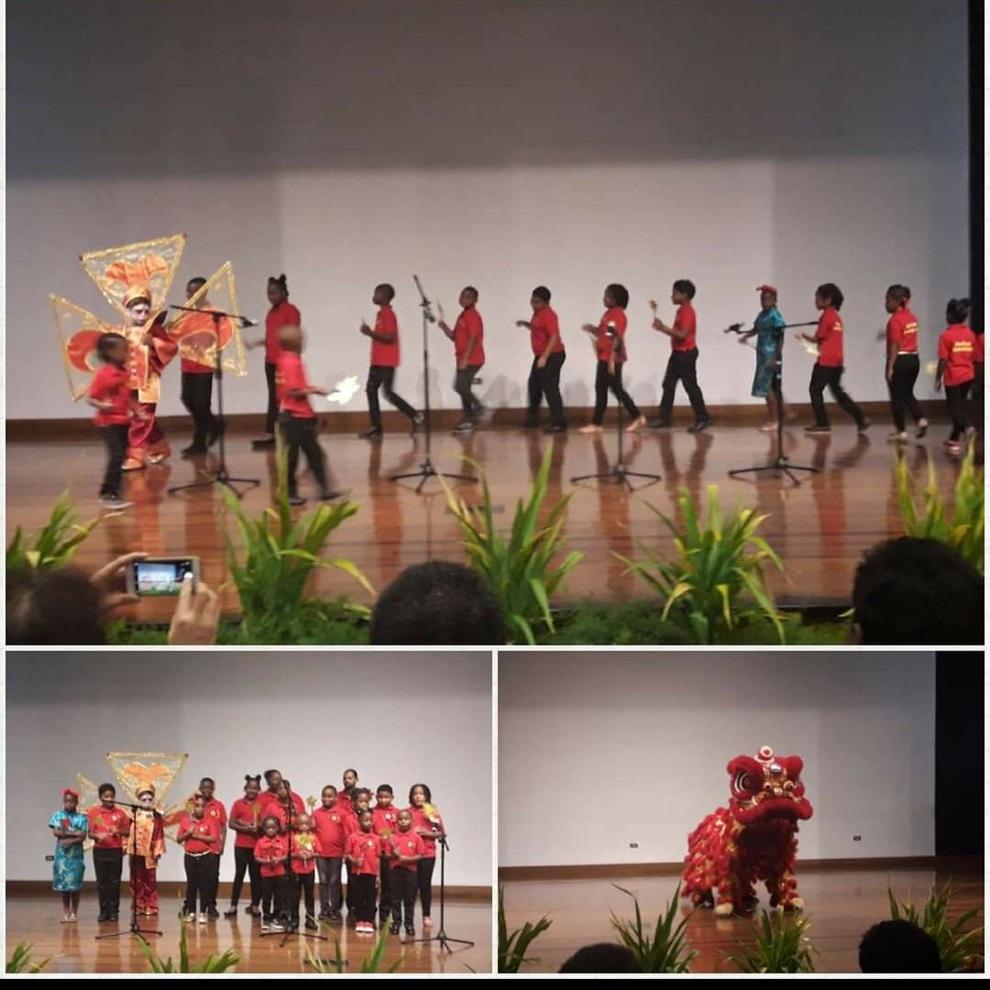 Michele's mother, Kathleen Celestine was the first local Principal of the school with a teaching career there that spanned 40 years.
"I wouldn't have been able to sleep at night if the school had just closed down and future generations of children didn't get to benefit from the legacy of the Beach Camp School with its uplifting oilfield community core values, state of the art library, science room and well developed sporting and music programmes", she said.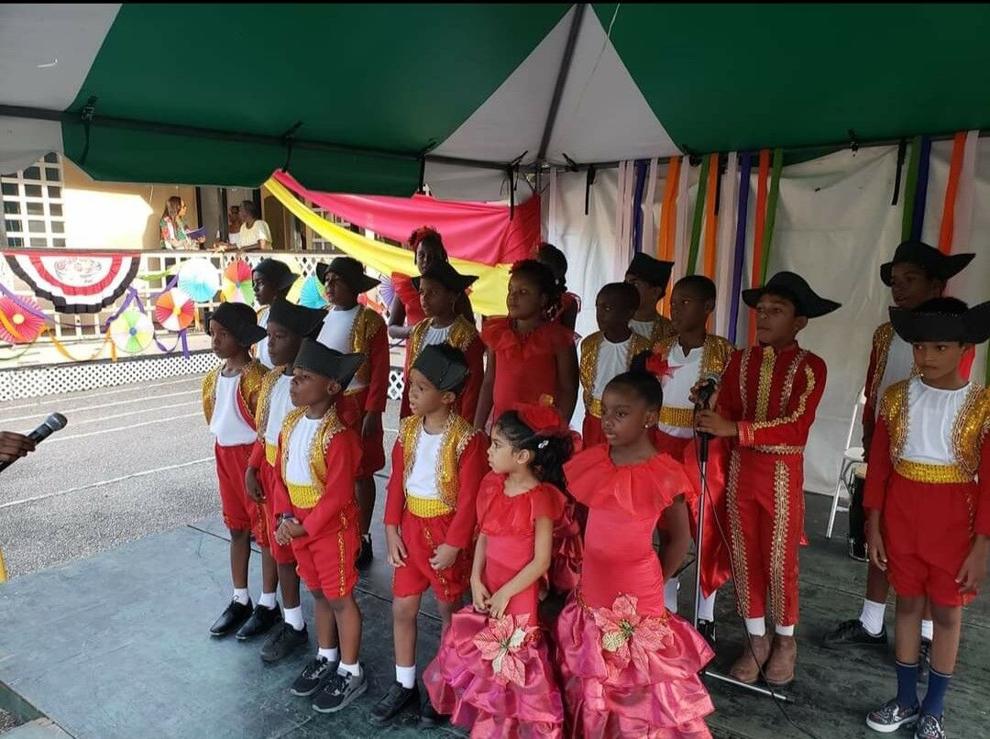 Carolyn Paul, Accountant FCCA, the school's Treasurer is also a past pupil and the daughter of Clive Paul (dec.) who was the Senior Production Superintendent at the time of his retirement.
Together, they formed an Alumni Association and drafted a business proposal for submission to the Petrotrin transition board which was approved and accepted. The proposal cited the United Nations Sustainable Development Goal No. 4 – Quality Education, as the tenet upon which the school was founded and upon which it should be continued.
Since then, the Beach Camp School Alumni Association has had no difficulty attracting members since all past students have nothing but fond memories and are happy to give back to the community that nurtured them. Interestingly, past pupils of the school had already begun researching its history since 2012 when Chips Reid now based in Canada visited to compile some research for his mother's memoirs.
The alumni members have made tremendous financial sacrifices to help meet the operational and maintenance costs of the school. Local contractors and suppliers have also assisted. CEPEP cuts the grass. It is indeed a community school. In 2019 the school received a visit from two of its many noteworthy past pupils – Ian Porter (retired Vice President of World Bank Asia) and John Porter (retired Professor of International Health at the London School of Hygiene and Tropical Medicine).
They were hosted by: Michele, Carolyn, past student Nicholas Jackman (Group Chief Financial Officer, ANSA McCal Limited) along with Board members Rosabelle Nibbs (Accounting Technician) and Coach Dennis Cox.
Ian left them with these inspirational words, "Never hesitate to build and safeguard strong institutions. Every successful developed country needs them".
John reminded them that for many generations of global citizens, Beach Camp will always be home so it is important to keep the home fires burning.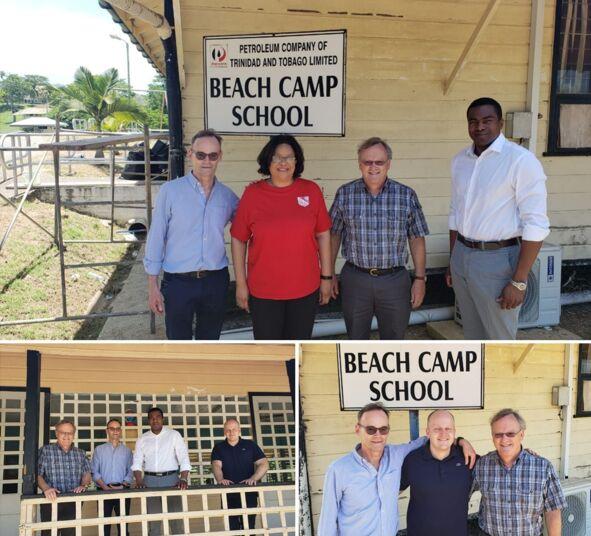 Although a small school, with a maximum population of just 120 students, it is no secret that Beach Camp School boasts a long list of past students who have earned international acclaim in almost every professional discipline as well as the armed forces, information computer technology, the energy sector, academia, theatre and creative design.
The school is affiliated with the Cox Football Academy, the other social enterprise permitted to continue its operations in Beach Camp following the closure of Petrotrin. Coach Dennis Cox, a former oilfield policeman has a long association with Beach Camp School as its football coach and is currently a member of the school board. Joining Coach, Michele and Carolyn on the board are also past pupil Elred Anthony Vice Chair (senior petroleum engineer), Randall Dipchan– parent (Ansabank) and Rosabelle Nibbs– Accounting Technician (School Trustee and Secretary).
As with all small businesses, the school has felt the adverse effects of the novel Coronavirus pandemic but managed to stay afloat and presented candidates for the local S.E.A. examination in 2020, 2021 and 2022.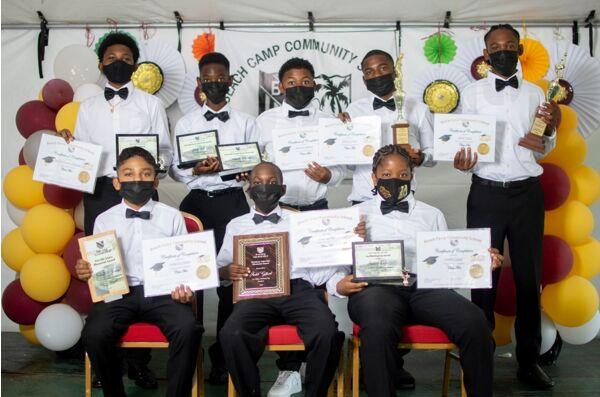 Both Beach Camp School and Cox Football Academy adhere to the same vision of continuing to build a strong oilfield community as a place of belonging for children and adults alike.
As an industrial and agricultural community where the work is innately hazardous, key phrases to live by have always been "wishing each other well" and "work hard; play hard".
For the community, it was a tragedy to witness the state oil company which had been strategically well managed for so many years by the sweat of the brow of this country's best and brightest citizens, forced to close down due to recent mismanagement.
In tribute to the contribution of these hard working men and women, which is a national story that must be told, the school's offering is being expanded to include an Oilfield Community Museum.
Bookmarks with short inspirational Bios of the oil pioneers such as Greville Jones, Ken Birchwood, David McKnight, - first local Petroleum Engineer, Geologist and Administrative Manager respectively.
Randolph Corbie (Finance Manager) was renowned for his contribution to the sport of football. Napier Thompson (Head of Public Relations), Dykes George (Public Relations), Angus Khan (Administrative Manager), Jagdeo Maharaj (Manager of Field Services), Eddie Jardine, Rim Mohammed and many others… are being printed for distribution amongst the children at the school as well as surrounding schools. This initiative, along with a series of children's books, are planned for the future.
Stories of the oilfields targeting children will complement the works of "Point Fortin The Shell Company and a Trinidadian Village" by Ellis Lewis and "A History of Trinidad Oil" by George E. Higgins.
The school's current Principal (Ag.) is Ms. Marion Bereaux, the daughter of well known educators Carlton and Beryl Bereaux. At the beginning of the new school year September, 2022 the school will be rebranding itself as "Beach Camp International School" to accommodate the requests of international students wanting to be a part of the Beach Camp experience.
The Beach Camp compound was recently vested in the Ministry of Youth Development and National Service and past residents and members of the oilfield community are extending every support, using their lived experience there, to ensure the camp can be reactivated as a self sustaining green living community and sporting complex, for the benefit of this nation's youth. Their prayer is that this invaluable resource should never face closure again.
*Michele Celestine is a Senior Consulting Attorney at law, lifetime member of Citizens for Conservation, founding member of the San Fernando Heritage Trust, Chair of the Beach Camp School Association, Founding member of the Beach Camp School Alumni Association and Beach Camp Sustainable Resource Utilization Company ("BCSRUC").