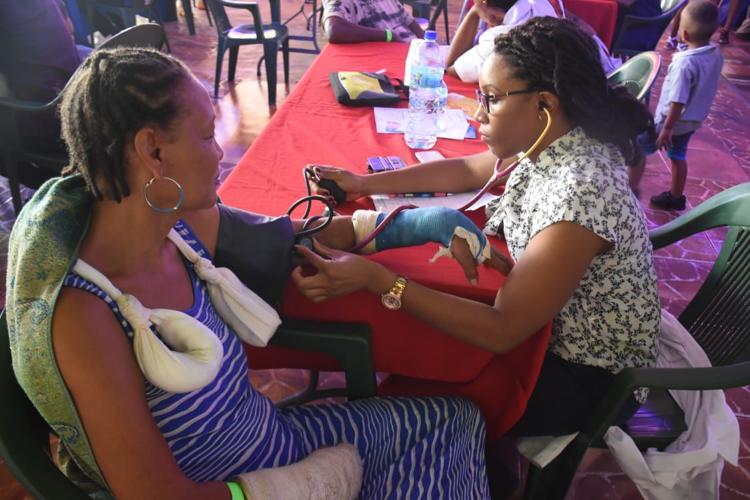 HUNDREDS of people have received medical attention arising from the USNS (United States Naval Ship) Comfort mission to Trinidad and Tobago.
The boat arrived last Thursday.
Apart from approximately 100 free medical surgeries done on the ship, which docked off the coast of La Brea, a wide range of medical services have been offered at Cedros Community Centre and Point Fortin South West Regional Sports Arena.
Medical attention was also given at the NESC Campus, La Brea, and Fun Splash Water Park, Debe between Friday and Saturday.
At Debe on Saturday, deputy public affairs officer at the United States Embassy, Naureen Nalia, said: "It's part of the Comfort mission. It's a partnership with the Trinidad and Tobago Government, the Delaware National Guard and the US Embassy. We partnered with local medical practitioners and we created these extra three clinics for people to use. It is in relation to the ship and it is part of the same larger project that we have, and the idea is to reach as many communities as we could."
At Debe, there were services for women's care, dentistry and general health, including information on diabetes. Eye tests and testing for HIV and depression were also conducted. A pharmacy was also on site.
Nalia said this clinic was opened from 9 a.m. When media visited after mid-day, she said at least 300 people had received attention.
She said there will be follow-up attention for patients and information was also given to them which can be useful for the rest of their lives.
Signs of the services being offered were in English and Spanish and there were several Spanish-speaking people present.
Nalia told members of the media that a wide range of surgeries were expected to continue on board the ship.
"The hospital (ship) can perform about 90 per cent of what an operating room in the US can do, so they have quite a bit of capacity… The surgeries have been every day on the ship from the 5th (of September) through the 10th but that is a specific system, that's by referral because nobody can show up and get a surgery the same day. There's screening that has to be done so we are working very closely with the Ministry of Health to get the people screened for that and there's been a list that was provided to us ahead of time," she said.