It is said there is no free lunch, so is China expecting anything from Trinidad and Tobago in return for 100,000 free Sinopharm vaccines?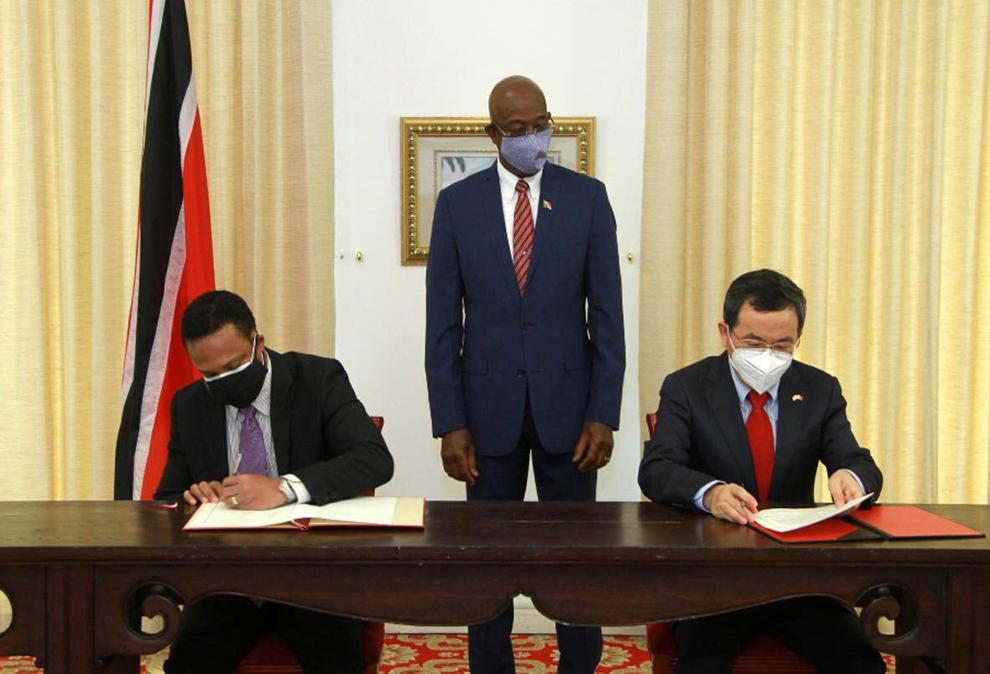 In this exclusive interview with the Express, Chinese Ambassador to Trinidad and Tobago Fang Qiu responds to this question, saying, "When China carries out foreign aid and development cooperation, we treat each other as equals and extend a timely helping hand when most needed. China has never interfered in others' internal affairs, attached any political strings, or lectured on others."
Following is the ten-question Q&A with Ambassador Fang Qiu:
Q. Your Excellency, when did you assume your post as Ambassador of the People's Republic of China to Trinidad and Tobago and what has been your impression of the country since then?
A. It has been over seven months since I arrived in Trinidad and Tobago last October. As a nature lover, I found T&T a lovely twin-island nation boasting rich flora and fauna with amicable climate. I am often awakened by chirps of birds in the morning. Despite the pandemic, I had interactions with people from all walks of life online and face-to-face with all protocols observed. All are vivid demonstrations of the long-standing friendship and robust partnership between China and T&T. I am especially impressed by the fact that many people have been to China or have quite good knowledge of China, though China and T&T are far apart geographically. Just as an ancient Chinese saying goes, bosom friends make distance disappear.
Q. Have you taken the Sinopharm or Sinovac vaccine?
A. China has been one of the pioneering countries in developing coronavirus vaccines. Before I travelled all the way from Beijing to T&T, both inactivated vaccines Sinopharm and Sinovac were rolling out for front-liners and oversea travellers on a voluntary basis. I had two Sinopharm vaccine shots to protect myself from the virus. I am feeling well. Taking vaccines is not only protecting oneself, but also protecting one's loved ones and the community.
Q. China is vaccinating around 14 million citizens a day and crossed the 400-million mark in vaccinations recently. How has the People's Republic of China been able to convince citizens to take the shot?
A. Actually while we are talking now, China has administered over 600 million jabs of Covid-19 vaccines, around 20 million shots per day. From 500 million to 600 million, it took only five days. I think the reasons why vaccination in China is so efficient are as follows.
Firstly, the Chinese people believe in "one for all, all for one", which is deeply rooted in China's 5,000-year civilisation. They are well-disciplined when protecting both themselves and others for the greater good, especially in face of public emergencies. One example is that, to protect the most vulnerable groups including the elderly, most young people strictly followed the government's advice and stayed home, obeyed complete social distance and wore masks without enforcement.
Secondly, the Chinese people are proud of China's world-leading strength in science and technology including medicine research and development. They have high confidence in the home-developed vaccines.
The most important reason is that, the people-centred philosophy and outstanding governance of the Communist Party of China have won the trust and support of the 1.4 billion Chinese people. A latest survey conducted by an American institution and published on Washington Post shows that 98 per cent of the Chinese citizens are satisfied with the Chinese government.
Q. What is your response to criticisms of the Sinopharm vaccine's effectiveness and safety?
A. The World Health Organisation has done same thorough review on Sinopharm vaccine as any other vaccine it approves. On May 27, the Journal of the American Medical Association published a complete data of Sinopharm Vaccine Phase 3 clinical trials, showing that 14 days after second shots, the vaccine is 100 per cent effective against severe cases and 72.8-78.1 per cent against Covid-19 infection. Any person who respects science and reason would have a fair judgment on the efficacy and safety of this vaccine.
I noted that the "criticism" is either applicable to any other vaccine, or misinformation spread by irresponsible media or entities, with the hidden agenda of politicisation and stigmatisation. As I just said, about 600 million Chinese people and nearly 100 countries have used the Chinese vaccines, no severe case or after effects have been reported so far. I don't need to mention another certain Covid-19 vaccine caused severe side effects and was suspended by some countries. Do always check the facts and conduct independent thinking. Don't be misled by the distorted reports.
Q. What advice would you give for people to get past vaccine hesitancy?
A. A sad fact is that the ruthless Covid-19 virus has been and is taking tolls. No one is safe until everyone is safe. Vaccines are potent weapons against the virus. It is a scientific truth widely recognised by the international community that getting enough population (around 70 per cent to 80 per cent) vaccinated is the only way to final reopening. So take the virus very seriously, follow the science and protect yourself, your loved ones and your country.
Q. It is said there's no free lunch, does China expect anything in return from T&T for the free 100,000 does of Sinopharm vaccines?
A. The 100,000 doses donated vaccines is a concrete action of fulfilling President Xi Jinping's commitment to making China's vaccines a global public good and building a community of health for all. This is another demonstration of the China-T&T friendship and partnership which shines even brighter against the pandemic.
If we expect anything, we expect that this lovely country T&T will defeat the virus soon, safeguard its people, restore normalcy and recover its economy; we expect that other major countries could follow suit and take real actions, instead of lip service, to assist developing countries with vaccines to eliminate the "immunity divide".
Amid global challenges and disasters such as the Indian Ocean tsunami, the Ebola epidemic and the Covid-19 pandemic , "China Aid" has never been absent. When China carries out foreign aid and development cooperation, we treat each other as equals and extend a timely helping hand when most needed. China has never interfered in others' internal affairs, attached any political strings, or lectured on others. China-T&T cooperation over the years is a good model for this. We honour commitments and deliver solid outcomes. We have offered vaccine assistance to over 80 developing countries and exported doses to over 50 countries. As we expected, our assistance to these countries played an important role for their battles against the pandemic. At the ongoing World Health Assembly, dozens of countries expressed their recognition and gratitude to China's sincere and generous assistance.
Q. Is the recent China loan of US$204 million to T&T announced by the Finance Minister on May 11 a departure from the norm, in that only 15 per cent is mandated to be spent on Chinese "elements"?
A. It has been more than 70 years since China started its foreign aid and international development cooperation. Over the seven decades, China has provided various types of aid to over 160 developing countries, undertaken thousands of projects, implemented over 10,000 technical cooperation and human resources development programmes, and trained over 400,000 people in different professions for other developing countries. China fully respects the will and need of the recipient countries. As requested by the T&T side, the loan this time is aimed at supporting the public spending. As agreed, a portion of the required US$204 million could go to acquiring vaccines, which is most needed here and now. I believe this will help T&T fight against the pandemic and achieve economic recovery soonest.
Q. Is China donating vaccines to countries out of a sense of responsibility given the coronavirus originated in China?
A. This is simply a fake proposition. No scientific evidence shows that the Covid-19 originated in China.
According to reports and researches, the Covid-19 virus was spotted around the world early in the second half of 2019. After the outbreak of the pandemic, China took the lead to support the WHO in origin-tracing on a global scale. From January 14 to February 10 this year, the WHO international expert team carried out an in-depth study in Wuhan together with the Chinese experts. They jointly made field trips, analysed statistics and issued a joint report clearly stating that "a laboratory origin of the pandemic was considered to be extremely unlikely". This is an authoritative and official conclusion based on science.
Lately, some countries have played the old trick of political hype on the origin tracing of Covid-19 in the world. Smear campaign and blame shifting are making a comeback, and the conspiracy theory of "lab leak" is resurfacing. While the pandemic is still causing great damage in today's world and the international community is expecting greater coordination among countries, some people are turning to their old playbook. We hope these countries would also follow what China has done and invite the WHO team to conduct a thorough research on their soil.
Out of a sense of responsibility towards the health of mankind, we support a comprehensive study of all early cases of Covid-19 found worldwide and a thorough investigation into some secretive bases and biological laboratories all over the world. Such study and investigation shall be full, transparent and evidence-based, and shall get to the bottom to make everything clear.
Q. The Economist magazine has reported China describing its Belt and Road Initiative as a way to show developing countries a new way toward transformational development. How do you feel about American and other international critics suggesting it is way of entrapping poorer countries with debt?
A. The Belt and Road Initiative is an initiative of "extensive consultation, joint contribution and shared benefits" aiming to realise common development through connectivity. So far over 100 countries including T&T and dozens of international organisations have signed more than 200 BRI cooperation documents, and a lot of major cooperation projects have flourished.
Despite the global pandemic, the growing BRI cooperation demonstrates resilience against risks and plays an important role in helping relevant countries fight the virus, stabilise the economy and protect people's livelihood. People with a sense of justice can easily tell right from wrong. Not a single BRI partner country has agreed with the claim of so-called "debt traps". Actually, the Chinese government has cancelled interest-free loans owed by African countries due to mature by the end of 2020, which makes it the biggest contributor to the G20 Debt Service Suspension Initiative. As the debt structure shows, developing countries owe most of their debt to multilateral financial institutions and commercial creditors in developed countries, who should join the debt relief efforts.
The debt issue, in essence, is an issue of underdevelopment. We believe the BRI cooperation will help address the root cause of the debt issue as it contributes to infrastructure construction and industrialisation in the countries concerned.
Q. What is China's total lending to T&T and how much of those loans have been tied to the procurement of Chinese goods (naval vessels) or services (such as construction)?
A. The amounts of lending to T&T could be easily found at the websites or reports of the T&T government. China's lending to T&T is always based on T&T's own will and needs, otherwise agreements would not be signed. I believe the T&T people could see with their own eyes that relevant projects including the naval vessel, and NAPA have brought about tangible benefits.
Q. Is the press ever going to be free in China? What of unrestricted internet access?
A. First we need to clarify what "press freedom" means. Let me give you some facts.
In the name of "press freedom", some western media have spread large amount of false information about Xinjiang, Hong Kong and Covid-19, seriously deviating from the objective, balanced and fair position of media reports. They reported the riots in Hong Kong as "democratic protests" to smear China's governance, while admitting that those storming the US Capitol Hill were riots. The BBC's documentary on Wuhan, which was aired in January 2021, used footage of a Chinese police anti-terrorism drill to accuse the Chinese of detaining civilians with their heads covered. There is even a full-fledged assembly line for rumours or a chain of lies when they cover the Xinjiang cotton industry. Is this press freedom?
Another example is that, in February 2019, BBC Syria producer Riam Dalati dropped a bombshell on the Syrian crisis by tweeting that the hospital scene in video footage taken after a suspected chemical attack in April 2018 was "fake". But after he revealed the truth, his Twitter account was banned. Is this press freedom?
What's more, the US designated US-based Chinese media as "foreign agents" and "foreign missions", expelled 60 Chinese journalists and limited visas for Chinese journalists to a maximum 90-day stay. Is this suppression press freedom?
This list could go on and on. What I want to stress is that the Chinese government encourages oversight by media organisations in accordance with law, protects legitimate rights and interests of news workers, and the intellectual property of press and publication agencies. China has been open to, welcoming and providing convenience for foreign journalists covering news in China. What we oppose is ideological bias against China, fake news in the name of press freedom, and behaviours that breach professional ethics.
China's Internet is free, open and orderly. China has been ranked second in the world in terms of internet development in 2020. The number of China's Internet users hit 989 million by the end of 2020. China has also taken the lead in the world's 5G network rollout. It has built the world's largest 5G high-speed mobile network with 260 million 5G mobile connections. The Internet has injected great vitality to China's economic and social development.
Meanwhile it is justifiable for China, as a sovereign state, to manage the Internet in accordance with the law, in a bid to safeguard the just and legitimate rights and interests of citizens and companies and make sure that the Internet belongs to each and all of us. However, we note that certain countries like the US banned Chinese apps or Internet companies out of political motives, restricting the vast population accessing the Internet and services. So when they are questioning the Internet access in China, they are literally applying "double standards".
Editor's Note: Outside the 10 questions posed by the Express , Chinese Ambassador to T&T, Fang Qiu, spoke about why the Chinese people trust and support the Communist Party of China (CPC) and the government.
He said: "This year marks the 100th anniversary of the founding of the Communist Party of China. Over the past century, the CPC has always put the people first and navigated China, the world's most populous country,to build a new China out of invasion and wars, pave a path of socialism with Chinese characteristics well-fitting its national conditions, overcome various challenges and achieve admirable success that has earned global respect. Let me give you a couple of examples.
After the outbreak of Covid-19 pandemic,with the leadership of the CPC, China put people's lives first, mobilised all available resources and fight at all cost to safeguard the people. In about one month, virus spreading was contained. In around two months, the daily increase in domestic cases fell to single digits. In three months, a decisive victory was secured. 'I have neverseen, in my life, this kind of mobilisation,'said WHO Director-General Tedros Adhanom, 'China's speed, China's scale, and China's efficiency… is the advantage of China's system.'
Another fact is that, over nearly 40 years the CPC and the Chinese government have made every effort lifting 770 million impoverished rural residents nationwide out of poverty. This achievement was applauded as "mission impossible" in human's history. These are only two among many facts whichprove that the CPC serve the people wholeheartedly thus win the hearts of the Chinese people.
Numerous examples like these have demonstrated that the 100 years of the CPC not only depict extraordinary success but also a history of dedication. From "Two Bombs, One Satellite" to the Chang'e lunar mission, from the south-to-north water diversion project to the Qinghai-Tibet railway, from the Beijing Olympics to the Shanghai World Expo, the CPC's resounding leadership has radiated across all social sectors. Millions of CPC members even sacrificed their lives serving the people andcreating a better life for them.
The Chinese people are sure that they can count on the Party and believe in the Party's leadership in problem-solving, consensus building and social mobilisation, as well as its great resilience amid uncertainties and challenges.