Popular Chef Joe Brown and a BP employee Joanna Banks were killed on Saturday morning when a car ploughed through a group of bicycle riders on the Beetham Highway.
It happened at about 6.45a.m. on the east bound lane near the entrance to the Beetham landfill.
The two were among a group of cyclists from the Slipstream Cycling Club.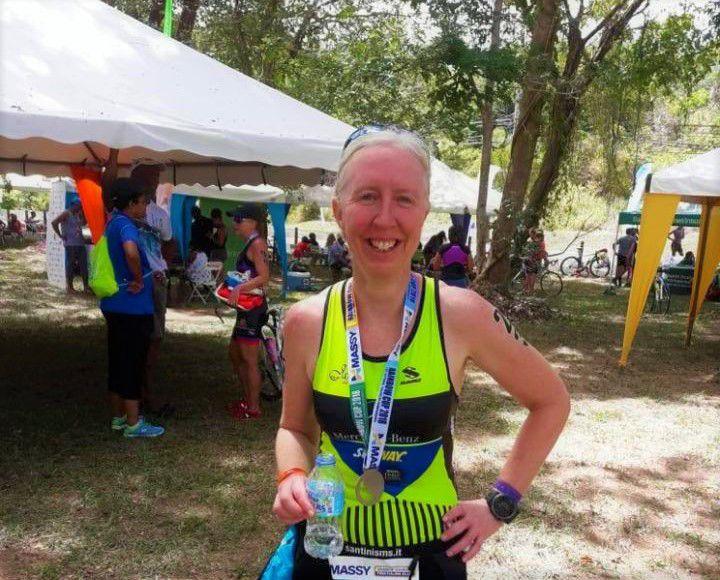 At least ten people were injured. Witnesses described seeing "bikes, blood and bodies everywhere".
Banks was found in a shallow pool of water. An autopsy will say if she died from the crash injuries or drowned.
Chef Brown and nine others were taken to the Port of Spain General Hospital.
Brown died while being treated.
At least three of the victims are in critical condition.
Among the injured are Adelino Perreira, and gynecologist Dr. Ajit Kuruvilla.
The driver of the car stopped to render assistance, Sunday Express was told.
The driver said one of his tyres blew out, and he was unable to avoid the cyclists.
He did not fail a breathalyser test administered at the scene.
Videos and images from the crash site show a scene of carnage, with uninjured cyclists helping their friends, ans multiple people record the scene on cell phone cameras.
One video shows a female cyclist being pulled from the vegetation in a flooded canal roadside the highway. Another shows an injured cyclist being given mouth to mouth resuscitation.
The force of the impact broke several of the bicycles into pieces, and the car bonnet, hood and windscreen were broken and bent out of shape.
A statement from ArriveAlive
Unfortunately, to our knowledge, T&T does not have independent trained crash investigators to analyses these types of FRTA. However, we have faith that the TTPS will follow the necessary procedures and conduct a thorough investigation to the best of their ability including breathalysing the driver, and examine all the cameras in the vicinity of this fatal collision. These Fourteen cyclists set out from the Oval this morning at 6.15 am with TTPS escort, for their weekend ride. One of the cyclists said he heard a screeching noise before the car hit the group, and tossed many of them into the nearby ditch.
Our condolences go out to the families of the loved ones lost on the Beetham this morning! Our condolences to the cycling fraternity! We are devastated by today's events. Our thoughts and prayers are wish you.
Our roads continue to be a dangerous environment and we all have a responsibility, more particularly, drivers to respect vulnerable road users like cyclists and pedestrians.
Joe Brown, Jaffa, has sponsored our World Day of Remembrance for Road Traffic Victims over the years and it's tragic he should lose his life on our roads.