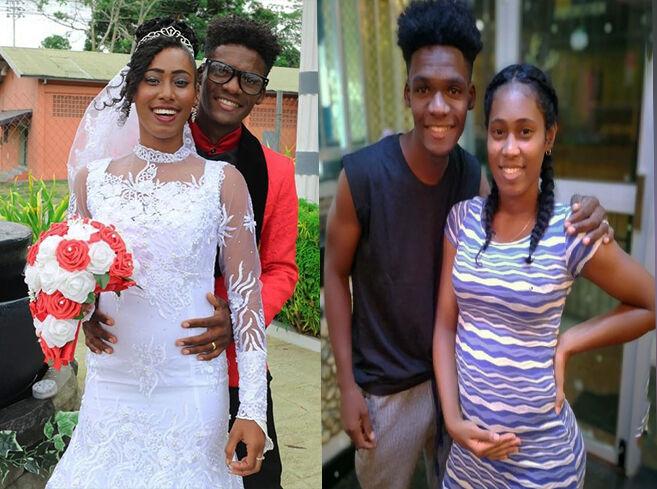 Newlyweds Vibert Campbell and his wife Adama have much to celebrate.
While the coronavirus has put a damper on many activities for the young couple ,including a honeymoon, the pandemic has not diminished their love for each other.
The Campbells would welcome their first child in 2021.
While they are not ready to reveal the exact due date of the baby, they have already picked out names for their bundle of joy.
The young couple gained media attention after they bravely tied the knot on March 28, just weeks after the coronavirus came to our shores.
The ceremony took place at a small church in Chaguanas, with only 10 people in attendance.
The Campbells told the Express it was one of the best days of their lives, and if they had to do it all over again, they would not change anything.
Campbell (V) said, "Married life has been wonderful. It is indeed a blessing. One of things that my wife and I have for each other is understanding. This helps us get through any challenges life throws at us."
Excited to share the news with their family and the rest of Trinidad and Tobago, who has shown an outpouring of love and support since the story broke on their Covid-nuptuals, the Campbells posted that they were expecting on social media.
At 27 and 18, the love birds say they are excited to start a family, and have already found out the sex of the baby.
Campbell (A) said, "We are having a boy. His name will be Archilles Anakin Campbell."
The couple says they chose the name because they wanted something that exuded strength.
Miracle of life
As countless die everyday, the Campbells say it is important to see and appreciate the miracle of life.
The newlyweds are furthering their studies, and are keeping God at the centre as they grow in Christ.
Campbell (V) said, "I am furthering myself in electrical engineering. My father is an electrician and he has over 40 years of experience. It is something he has passed down to me and my brothers, since we all have a passion for it. I am continuing the legacy with my business, Vibert Campbell Electrical Contractors."
Campbell (A) wants to be a policewoman, and is also a part of her husband's social media segment, Real Talk.
As the number of Covid cases and deaths continue to rise in Trinidad and Tobago, and around the globe, the Campbells stay informed, and say their faith in God gives them hope things will get better.
Campbell (V) said, "I am no expert on marriage, but the right thing will always be the right thing. Some young people think if you commit to one person and get married, your life is over. You can't be happy or go out and lime and have fun, but that's not true. Once you find the right person and in love, life gets better and better. It is an amazing feeling knowing that person has your back."
The couple however say they would very much like to buy a ticket and jet off somewhere for a honeymoon.
Campbell (V) said, "I love to travel. If money was not an issue, I would take my wife to Dubai. For now, I have set my sights on Barbados, once our borders open back up."