The Ministry of Education has launched an investigation into claims of discrimination at a school in Princes Town.
This, after a parent posted to social media that her daughter was being bullied by school officials because of her hairstyle.
Th girl's mother, Leiselle Taylor, told the Express that her 15-year-old daughter was constantly complaining about negative comments regarding her hairstyle by teachers at the school.
Taylor said she had visited the school on numerous occasions but her daughter was still being targeted.
The mother is now seeking legal advice on the issue as her daughter was simply wearing her natural hair.
Ministry officials confirmed that the matter was reported and school supervisors were advised to visit the school and file a report on the issue.
The school principal and parents were contacted and are expected to meet.
But Taylor is not convinced that the issue would be resolved.
She said the "last straw" came last week Thursday when the principal put her hand in her daughter's hair and said, "your mother couldn't find a better hairstyle for you then she quick to send letter to the school."
She said, "My daughter has natural hair, but the teachers are telling me they are making up the rules as they go along as to what hairstyles students are not allowed to come with. Certain teachers don't like certain hairstyles so they are dropping words for my daughter. This is done on a constant basis."
Taylor said he was not an absentee parent as she attends all Parent/Teacher Association (PTA) meetings. Her daughter, she said, was a high performing pupil who represented the school in sports.
She recalled that the verbal insults began when her daughter returned to school with a short hairstyle last year.
She said, "My daughter's hair was breaking badly. Years of chemical relaxer and her hair started to get thin and break off. I had cut off my relaxer previously for the same reason, but she was still trying to hold on. Cutting all your hair off to start afresh is difficult for any teenager, but my daughter decided to do it. She wanted to have a healthy head of hair. With only about an inch of hair on her head, my daughter could only wear her hair in an afro. As it began to grow, she would do twists or a simple afro-puff to go to school."
Taylor said she witnessed the attack on her daughter when she attended a PTA meeting recently at the school.
Flabbergasted and insulted about the disparaging comments made by teachers, Taylor said she wrote a letter to the principal hoping the matter would be resolved.
"Unfortunately, I think this added fuel to the fire. I don't want to say my daughter has been singled out and is now being picked on by staff, but I don't know what to think. On the same day the principal put her hand in my daughter's hair she took away my daughter's phone because she wasn't supposed to have the phone on the school's compound. Due to the tense situation at school I wanted to make sure she was ok and safe. I was on the phone with my daughter and could hear the principal in the background, and then the phone went dead. A few days before I was told by staff that my daughter needed a new uniform skirt since hers was a half-inch too short according to school rules," she said.
The uniform, she said, was measured by a teacher using a ruler.
Taylor said her daughter was traumatised by the incident and suggested that she straighten her natural hair for her duration at the school. But the mother dismissed this, saying her daughter should not be ashamed of her heritage.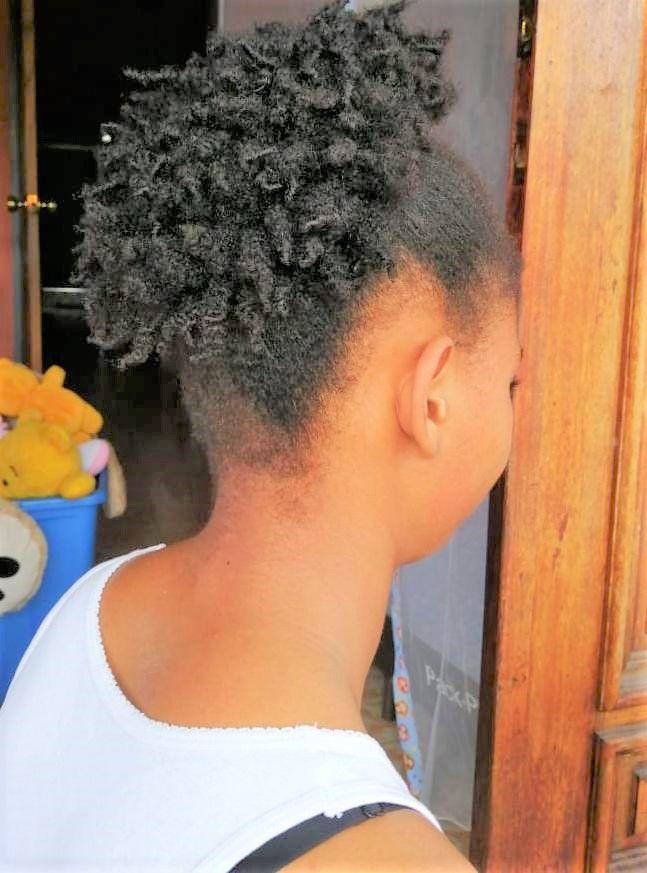 "My daughter is 15. She is preparing to write CXC exams. All of this is so demotivating and it is a distraction to her. During assembly one time a teacher told students wearing hairstyles like that attract bad man. I asked the principal if that was an appropriate comment to make to young girls, the principal whole-heartedly agreed," she said.
A school official told the Express that there were ministry guidelines and all pupils were reminded to follow the school's code of conduct as it related to the dress code.
"We cannot speak on the issue. But I can say that the matter was referred to the ministry and is being investigated," an official said.
Last week, disciplinary action was taken against a female teacher of Tranquility Government Primary School, who was heard in a viral voice recording berating and threatening her students.