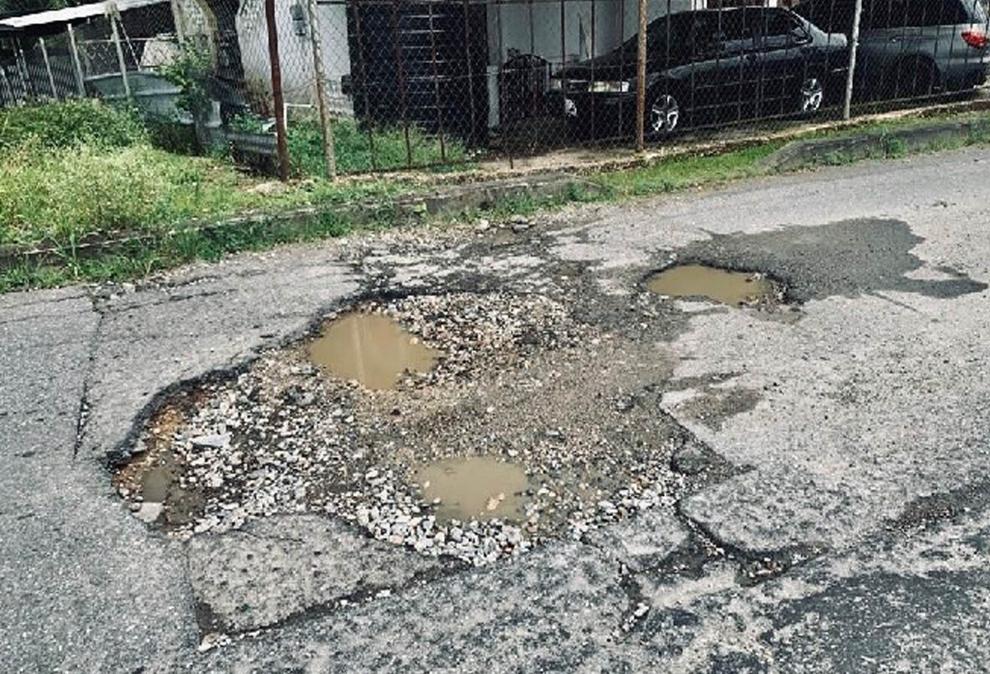 WHEN driving through the Naparima-Mayaro Road's main route from Princes Town to San Fernando, avoiding the estimated 1,500 potholes, bumps and sinks that dot its surface can seem like an exercise in futility.
To residents, the route has become more of an obstacle course than a reliable passage for the hundreds that live and commute through the area.
They say busted tyres, thousand-dollar repair bills and passing traffic have become part of the norm.
And now at a boiling point, many are calling for the intervention of the Ministry of Works and Transport in repairing what they say is a legacy of neglect on the ministry's part.
In several interviews with the Express in the last few weeks, residents spoke of their frustration with the deterioration of the roadway, some attesting that the road has not seen a full paving for at least ten years.
According to Main Road to Palmyra Taxi Association secretary Russel Mohammed, the 1,500 count was taken by drivers over the years and reported to several bodies, including the Ministry of Works and Transport. However, to date, he said, little, if any, lasting repairs have been conducted.
"The road is bad, bad, bad. Right now, from the link up to Princes Town there are over 1,500 potholes on the road. There are a couple landslides that are appearing now, and no one is doing anything for us. I have been to the Ministry of Works in Corinth two months before the general election and they said they would come to take a look at it. It has been more than one year now, and no one has come," he said.
In Iere Village, at least one homeowner, who asked not to be named, suggested that the road was no longer fit to be called a main road.
"It is no longer the main road, it is the Naparima Trace, it is no longer a road. Between Manahambre Junction and the Tarouba Link Road, Palmyra, I cannot estimate because every 50 feet you drive it has something. I cannot estimate how much, I would say hundreds. You cannot drive 50 feet without a bump, a big hole or a sink. It is really disgusting," said the homeowner.
"A couple years ago you could have picked and chosen which holes to go into, now you have no choice but to go down into the hole. Right near the mosque, a neighbour living there said that recently eight people's tyres burst going down into the sharp holes there. People who don't know about it go into it," he added.
And for both Mohammed and the homeowner, the cost of living and working along this route has been excessive, with repairs to vehicles costing thousands of dollars on a monthly basis.
"I just spent over $1,200 changing shocks and rubbers and everything and I still have to go back and do more. Every six weeks to two months you would have to buy new tyres. If it rains you can't see any potholes, so you have no choice but to go down into it," said Mohammed.
But the many holes and drops in this area are only one part of the problem, according to these residents who say that the continued damage in this region can be attributed to a series of land slippages that threaten homes and businesses.
One resident who spoke with the Express said that her home was saved by a retaining wall constructed by a previous administration.
However, her neighbour, whose home was not reinforced by a wall, met a less fortunate fate. Both living and running a business in this area, she said, each day she fears the outcome of the slipping land and its rippling effects on the roads.
Barrel of tar donated
Councillor for the area, Chris Hosein, last week told the Express that he has made countless requests to the Ministry of Works for repairs. He said he was made aware that the ministry had limited resources to attend to the roadway.
In August, he said, a barrel of tar was donated to the area by a businessman and this tar was used to conduct limited repairs.
"Work started in Iere Village and will continue. But it is unfortunate that we must rely on donations of businesses and private citizens to assist the Government in work that our tax dollars are supposed to be paying for," he said.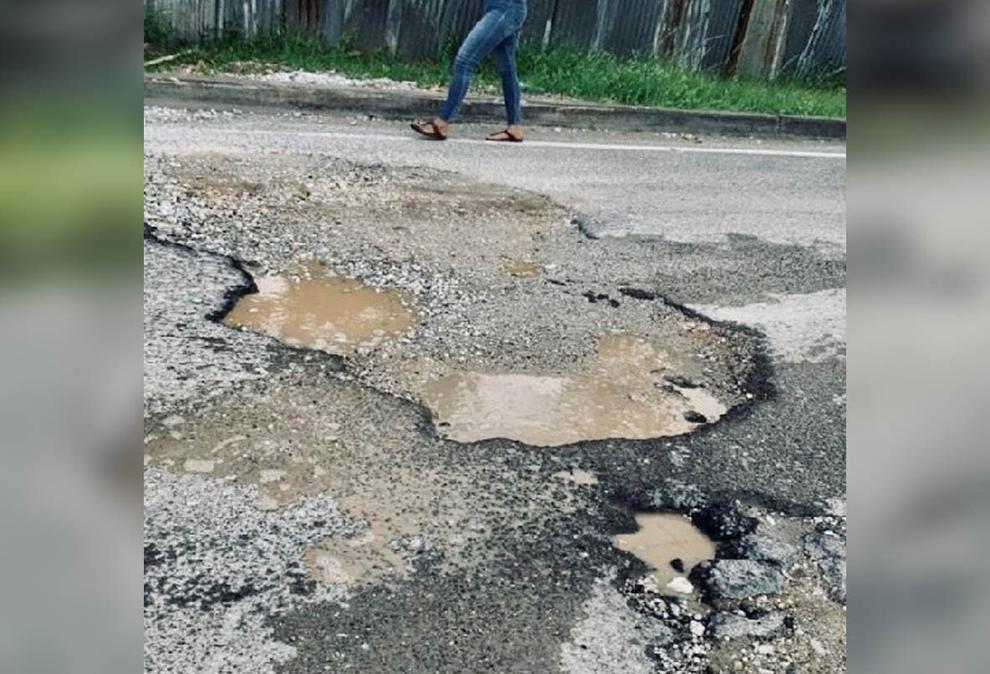 Hosein added that he had previously approached ministry representatives to address land slippages in the area. These slippages, he said, could potentially impact the integrity of the roads if unattended.
"At several points, particularly in Palmyra, Mt Stewart Village and Iere Village, there is significant land slippage which must be addressed. It severely impacts the structural integrity of the roadway. If left unattended, we may very well find ourselves in a situation similar to what is happening at Mandingo Road. I have also previously written to Minister Rohan Sinanan on the issue but to no avail," he said.
The Express also contacted members of Parliament for the Princes Town and Naparima constituencies to ask if any assistance could be given.
Naparima MP Rodney Charles told the Express that he stood with residents in their pleas for repairs. Charles said that he had raised the issue at every available opportunity since becoming an MP in 2015.
Several letters and releases written by Charles to the ministry within this timeframe were sent to the Express.
High cost of repairs
In August 2017, he said, Minister of Works and Transport Sinanan toured the constituency.
"He has made little to no efforts to comprehensively assess and repair these major arteries which are traversed by thousands daily. The taxi drivers' associations have lamented about the high cost of repairs to their vehicles due to the road conditions. To this date, no rehabilitation works have taken place except the paving of a small portion of the Naparima-Mayaro Road between the junction of Garth Road to Iere Village Branch Road," said Charles.
In November 2020, he said, Sinanan indicated that the ministry was conducting geotechnical investigations to design suitable roads.
And "in June 2021, he further indicated in Parliament that work in that regard had begun. However, we have seen no indication that this is actually the case," said Charles.
Princes Town MP Barry Padarath added that both he and Charles had followed up with the minister, who indicated that work had started but was prohibited by funding issues.
Padarath said: "As I am sure you are aware that MPs are at the mercy of the Government and ministers with respect to road paving. We continue to file questions and raise the issue in the Parliament, as well as make representation to the minister. Which we have all done."
The Express also contacted Minister Sinanan to ask about the scope and timing of the rehabilitation of Naparima-Mayaro Road. However, to date, no response was received.