Trinidad and Tobago and the region has been jolted by a massive earthquake.
The quake happened at about 5.31p.m. and lasted for almost a minute.
The country has been stunned.
THE regionand possibly Trinidad and Tobagoare still long overdue for a great earthquake and …
People have begun reporting buildings rocking and items falling off shelves.
Some people fled their homes, as car alarms sounded and water sloshed around in swimming pools.
Seismologist Dr Illias Papadopoulos says the city of Port of Spain is in grave danger of sin…
Several office buildings were evacuated, as ceilings fell.
Supermarkets suffered significant losses as a result of products tumbling off shelves.
Trees fell, and there were power outages in some parts.
Images of cracked walls at homes and businesses, and warped asphalt roads are being uploaded to social media.
Off Chaguaramas, a man recording the earthquake as it happened, captured part of Centipede Island breaking off and falling into the sea.
Minister Stuart Young told the nation that the country's onshore and offshore energy infrastructure was intact, and the Ministry of Works engineers were assessing any damage.
The Commissioner of Police Gary Griffith has called out all police officers, and the Office of Disaster Preparedness and Management activated its emergency response.
Initial fears of a tsunami proved unfounded, and there were no initial reports of serious personal injury.
The tremor, centred in Venezuela, also shook other Caribbean islands and parts of South America.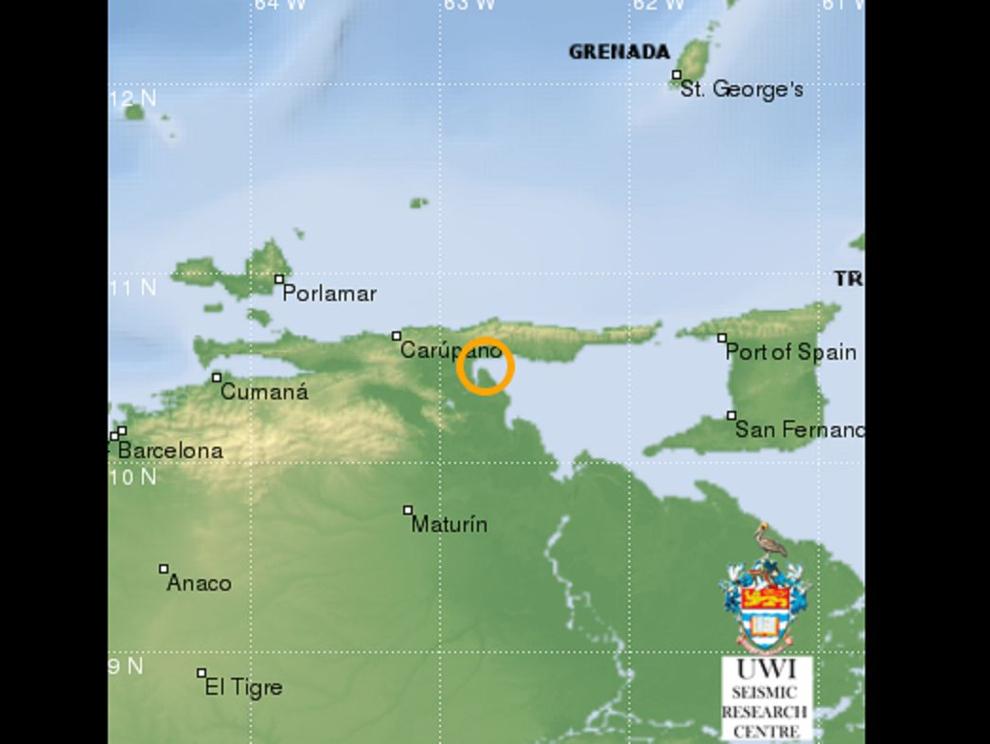 This is the initial report from the Seismic Research Unit
UWI, SRC - Automatic Earthquake Location
DATE AND TIME:
2018-08-21 5:31 pm (Local Time)
2018-08-21 21:31 (UTC)
MAGNITUDE:
6.8
LOCATION:
Latitude: 10.51N
Longitude: 62.76W
Depth: 73 km
NEARBY CITIES:
55 km ESE of Carúpano, Venezuela
95 km NE of Maturín, Venezuela
131 km SE of Porlamar, Venezuela