ACROSS the road from a church, and around the corner from million dollar homes, sits a plywood shack on the old railway line in Longdenville, where nine children live in squalor with their parents.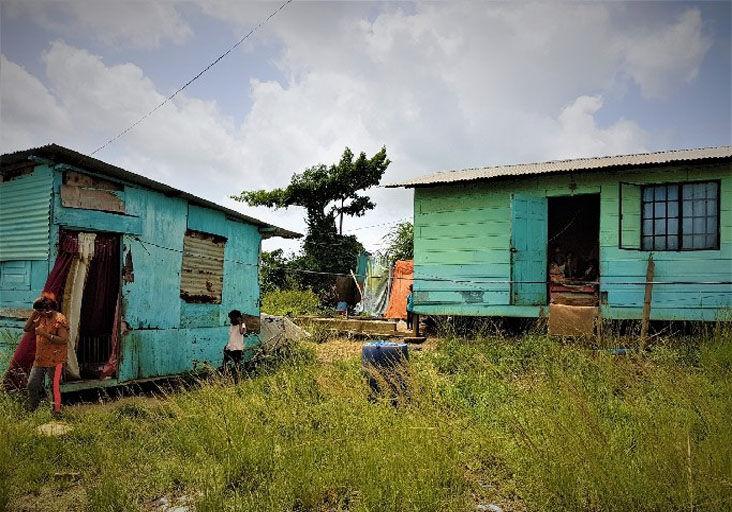 Eight of those children have no birth certificates. This means until it is fixed, the children will have little chance of escaping their already poverty stricken lives. They cannot be enrolled in schools and would face challenges in accessing healthcare or even to be vaccinated.
These children will not qualify for Government-issued grants nor would they be able to get passports or open bank accounts.
The Express visited the family's home last week and witnessed the family living in conditions that threaten their health and safety. It had rained for a few days before, and the land around the house was a muddy mess. Inside the house, where two puppies and two cats also live, every surface was covered with flies. No one seemed to notice it.
Mother Kissoondai "Camini" Jagessar, 42, said she knew a birth certificate was a passport to a better life for her children - ages 21, 18, 15, 13, 12, nine, seven, five and three. Her 21-year-old daughter, who is a mother of a four-month-old baby boy, recently obtained her birth certificate. Jagessar is now pleading for help to save her eight other children.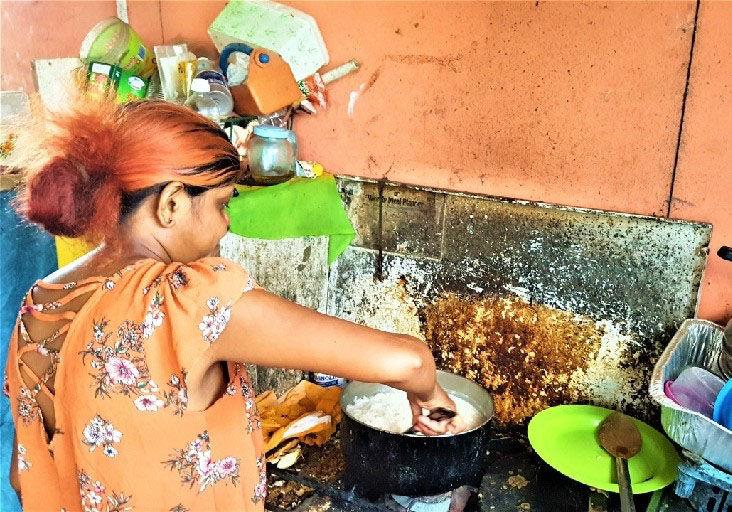 Jagessar said the children were all delivered at the Eric Williams Medical Sciences Complex.
The mother said she did not meet the deadline to registrar their births due to financial and other constraints. She sad she could not leave the children to go to register the births because she had no money left after buying milk and diapers.
The family's house is accessible by walking through a muddy pathway littered with old toys — some donated by good Samaritans — others their father Gangaram Ramcharan salvaged from other people's trash.
The younger children trailed behind their mother as she led the Express into their home.
Pointing to a one-room shack next door, Jagessar said her eldest daughter recently moved there with her husband and their baby.
The parents and eight children sleep on beds and mattresses scattered in two small bedrooms.
Jagessar said she moved to the location 21 years ago with her husband. "We had a one room house and about eight years ago we built this house. It is not suitable for the children but we make do with what we have," she said.
Simple treasures
Jagessar said the family survived on her husband's $900 weekly income and never applied for social services grants. But the 60-year-old man was laid off two months ago due to the coronavirus pandemic.
Jagessar said she had never applied for State grants as she "did not know how".
"It has been difficult and we are making do with what people give to us. People have dropped off hampers and that is how we are eating and living. I don't know how to apply for a grant," she said.
During the interview, the bright-eyed, well-mannered children interrupted to show off their little treasures – one a truck without wheels and a rubber ball.
The mother said her children were not greedy and didn't need a lot to be happy. "They eat whatever little I give to them and they help me around the house. They don't ask for anything really," she said.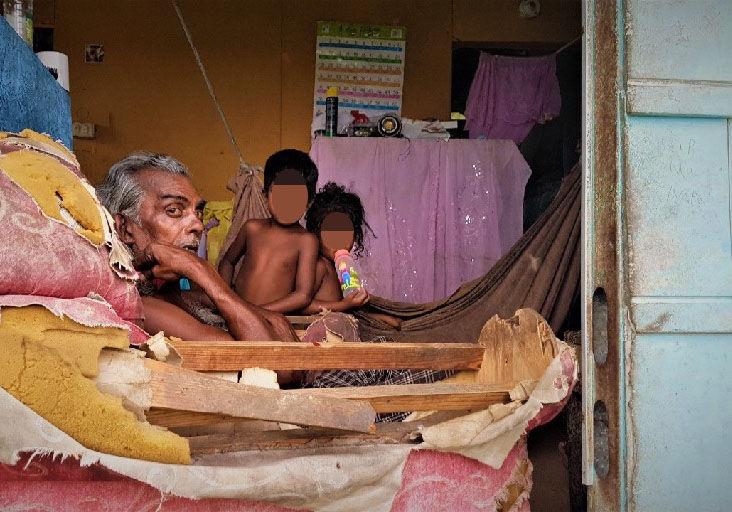 Jagessar, who left school in fifth standard, said she teaches her children basic reading and writing. The family has no Internet connection and when physical schools were closed because of government-imposed restrictions to stem the spread of the Covid-19 virus last year, these children were not affected.
"I buy copy books and I teach them to write and read. It is not a lot, simple things, because I left school in Standard Five. They never went to school and we have no Internet here," she said.
The family's kitchen is separated from the already cramped living room by a makeshift wooden table and a plastic barrel filled with drinking water.
Jagessar said she had no refrigerator and her husband had repaired an old stove which was discarded by someone in the area.
"I am cooking rice, lentils and stewed chicken. This is the first meal for the day. It is difficult but I try to give them at least one good meal a day," she said.
Ramcharan sat at the front entrance to the house and gazed outside as his little ones scurried around him.
He too said it was difficult to give his children a good life and he was worried about their future. Ramcharan said he was searching for employment and was willing to "do anything" for payment.
Refrigerator needed
Jagessar told the Express she was aware it was irresponsible to keep her children away from school. "But I tried to enrol the bigger ones and they were not accepted because they required birth certificates. I just did not know what to do or who to ask. I needed help," she said.
She said however she began the process of obtaining her children's birth certificates earlier this year.
This, after president of the Single Fathers Association of Trinidad and Tobago, Rhondall Feeles, stepped in.
"Mr Feeles asked what we needed and I told him about the birth certificates. He went with me to Port of Spain but we have to get a lot of documents and then there was the lockdown so we had to stop the process," she said.
Jagessar said she wants her children to have an education and to have a better life.
"Yes, I want my children to be better off. I feel sorry looking at them like this. They watch other children going to school and ask me. I feel guilty but I really did not know what to do," she said.
Jagessar pleaded with the authorities to listen to her cry and to help her children. She asked the public to assist in feeding her children until she and her husband can find employment.
"It is very hard to feed these children every day. I am pleading with anyone who is willing to help us. We would appreciate anything," she said.
Jagessar is asking for assistance in getting a refrigerator and any other appliances people would be willing to donate to her family.
"We have electricity and my son -in-law and eldest daughter help to pay the bills," she said.
'Fair shot at life'
The Express contacted Feeles who said he was saddened by the condition in which the children live.
He said, "I was called by the TTPS to visit a family in that area a while ago. While we were walking towards that house I noticed this family's house.
I noticed there were a lot of children in the house and I noticed they needed some assistance and I decided to go and have a conversation with them.
I realised we had to work with them because I found out the children were not going to school and had no birth paper. We were able to get some stuff, clothes and other items and come back and share with them later on."
Feeles said he stayed in touch with the family and continued to visit, distributing hampers occasionally.
"Before the lockdown started, the TTPS and myself accompanied them to the Office of the Attorney General to assist with the birth certificates. The intention was to get them registered and then into the nearby school which is walking distance away but Covid came and that plan ended," he said.
Feeles said he had even assisted in reconnecting the family's electricity supply.
He pleaded with the authorities to step in and assist the children. He asked that the Ministries of Social Development and Education move to get them into schools, giving them a "fair shot at life".
Anyone willing to assist this family can contact carolyn.kissoon@trinidadexpress.com