"Our future, the future of Chaguanas is in your hands. So, as we continue to celebrate our achievements, our progress, our development, I urge you all to remember that your present situation is not your final destination. Never stop believing in yourselves because the best days are yet to come."
In sharing these words with the 24 Secondary Entrance Assessment (SEA) standouts and the 42 Caribbean Advanced Proficiency Examination (CAPE) scholarship winners who were celebrated at the Office of the Mayor's Excellence in Education Awards Ceremony at the Chaguanas Borough Corporation last Tuesday, mayor Gopaul Boodhan told the awardees that their remarkable success has brought pride and joy not only to their parents and teachers but to the entire Borough of Chaguanas.
"The road to success is long and dark at times, sometimes challenging. But as determined individuals you must continue to shine your light through the dark pathway until you have reached the end. Today, as I stand before you, I want to remind you that nothing is impossible.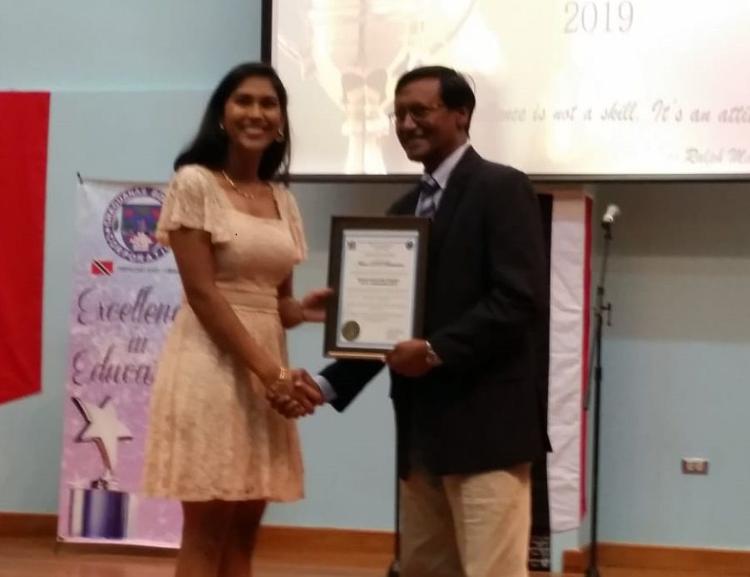 "We rejoice in the excellence of you our builders who are destined to make the Chaguanas of tomorrow, the Chaguanas of greater opportunities and the Chaguanas that lies in the heart of our dreams."
Boodhan also encouraged the awardees to speak up on issues, such as crime, that affect them and to let their voices be heard for what is right.
He said one of the Borough's proudest moment is the fact that Chaguanas continues to stand out in the area of education, producing 93 winners of national and open scholarship as well as the top 200 SEA students in 2016.
Meanwhile, Regan Rowans, principal and senior lecturer at the Institute of Law and Academic Studies, who also addressed the awardees, was encouraging, thought-provoking and philosophical in his discourse.
"Your achievement gives us hope individually, as a community and a country that our future is bright and it is in fact in your hands."
Your country needs you
Telling the awardees that the country's future is right here in the auditorium, Rowans said: "We need greater innovation, technological and otherwise. We need greater sensitivity towards climate change and action towards a cleaner and healthier environment. We need new ideas about the movement of people and for us to recognise and put into practice our humanitarian duty.
"We need new and youthful input to secure new energy sources. We need more inclusive laws and greater equality, equity and justice to help our people enjoy a better standard of living. We need to be able to compete internationally and have a say beyond our shores. We need you, my dear awardees."
Stating that he was sorry to place this burden with them in their moment of good cheer and excitement, Rowans said the importance of celebrating success must be accompanied by a duty and a responsibility to sustain our common heritage and our future.
A life of service
He added that this was an important moment for them to decide the kind of life they want to live.
"Do what you love, do what would make our country greater. Whatever career path you choose, do it to the best of your ability and respect others.
"This, awardees, is excellence. This is success, better the lives of others just as others have better our lives and enabled us to achieve greatly. What you have doesn't matter, it is what you do with what you have."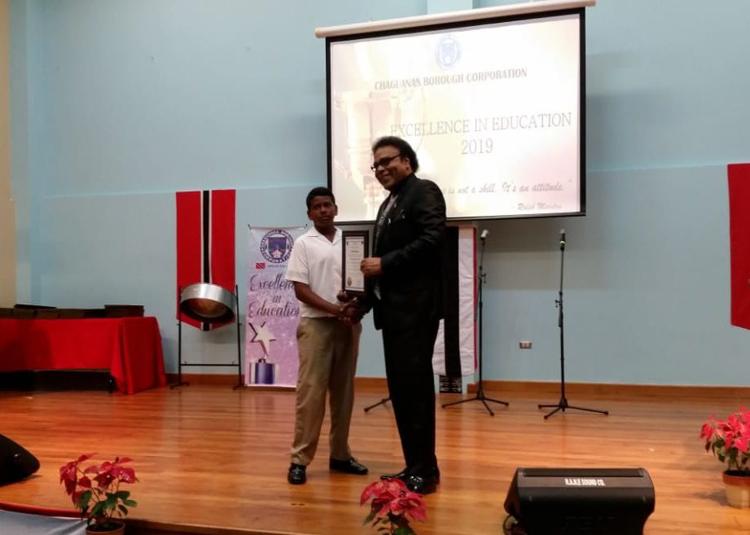 He urged the awardees to live a life of service.
"It is your decision to walk a path before life as you wish, and it is our hope that you would include in that beautiful journey the interest of others.
"May excellence be your way of life. Be disciplined, be organised, continue to persevere and make sacrifices. Remember that victory loves preparation.
"Remain an open book, become a critical thinker, embrace the ideas of others, challenge existing ideas, learn to work with others. Be thorough, be creative, show love, exude grace and remain humble. And whatever obstacles may come your way, remain faithful, remain strong, seek help, and at the same time, encourage others to do their best.
"Remember the worth of a life is not determined by any single failure or solitary success, and that excellence is indeed an attitude," Rowans said.
SEA awadees
Hailey Ali, Raed Ali, Madison Baiju, Jenna Bajnath, Jade Esareesingh, Jibriyl Gafoor, Ibrahim Ghany, Justin Gilbert, Aruna Harry, Jovan Jaggasar, Phoebe Jerome, Salil Lalbeharry, Vinai Pariag, Tylar Phillips, Matthew Ragbir, Reanna Ragbirsingh, Jael Ragoonanan, Aruna Rambally, Christophe Ramkissoon, Kaeda Ramnarine, Kayla Ryan, Chelsea Sammy, Soraya Seerattan, Joshua Solomon. 
CAPE awardees
Haddiyah Habiba Ali, Saleem Ali, Raydon Baboolal, Donteja Boodram, Amanda Chadee, Anjali Dadd, Maryam Emamdee, Siddiqa Emamdee, Kiran Goolab, Naqiyah Goolab, Amit Harrypersad, Fahad Hosein, Saadiqa Hosein, Rainah Khan, Nicholas Lennard, Alisha Mohammed, Fadil Mohammed, Jade Mohammed, Jason Mohammed, Maryam Mohammed, Saif Mohammed, Sarah Mohammed, Nishtha Mohan, Shrivraj Motilal, Aamir Nabbie, Nicholas Pragg, Vareena Persad, Meera Ramdhanie, Karishma Ramganesh, Anagha Ramgulam, Amir Ramharack, Nirvana Ramlal, Reeva Ramlal, Sonique Ramlal, Genevieve Ramnarine, Jelena Ramsaran, Anastasia Ramsook, Alyssa, Ripla, Krista Sahadeo, Akshay Seedath, Brittney Sidhooram, Shane Sinnerine.
Editor's Note: The Office of the Mayor annual Excellence in Education Awards Ceremony honours students residing in the Borough of Chaguanas and/or those attending schools in Chaguanas, who would have excelled at the SEA and/or awarded C.A.P.E Scholarships. 
In the period 2013-2019, The Office of the Mayor has celebrated 451 outstanding SEA and CAPE students, and has over that same period, distributed some 6,330 school supplies packages to student writing the SEA in the 24 primary schools in the Borough of Chaguanas.