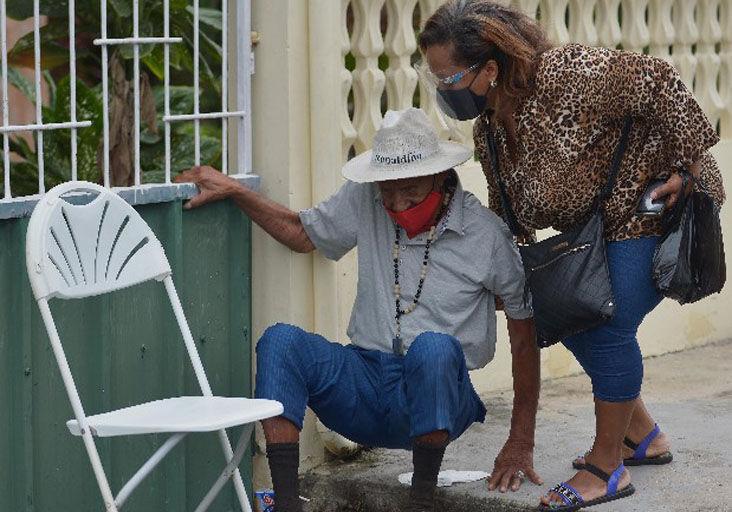 Ninety-four-year-old Lionel Duncan arrived at the La Romaine Health Facility at 6 a.m. yesterday, eager to receive the first dose of his Covid-19 vaccine.
He had followed the advice of Health Minister Terrence Deyalsingh that people over the age of 60, with surnames starting from A to E, would be facilitated at vaccine centres across the country.
The elderly man was assisted by his daughter, 51-year-old Caren Duncan.
"We arrived at 6 a.m. and my father was given number 51. Initially, we were told that the first 100 people will be facilitated this morning. My father is unable to stand for very long, so I asked the security guard if any provisions were made for people like him. I was told that no one was allowed inside. So my father had to sit on the pavement, in the sun. I stood at his side," the daughter said.
But after waiting for two and a half hours, Duncan said her father and hundreds more behind him were informed that the La Romaine Health Centre would vaccinate the first 40 persons only.
"We were told that everyone else had to leave. I was appalled that my elderly father would have to go through something like that. We went there to get the vaccine, in an effort to save his life, and they treat you like that. It is frustrating," she said.
Duncan said her father did not attempt to be vaccinated before Wednesday as he was concerned about the long lines and crowding at vaccine facilities.
"So when we heard the minister say that people over 60 with surnames A to E today, we thought it would be easier," she said.
Duncan said she was uncertain about her next move as she was informed by security guards that her father would now have to wait until the second cycle begins.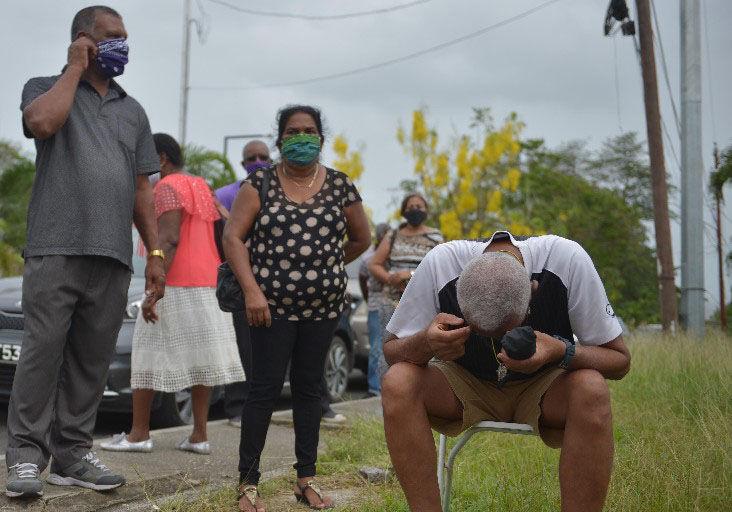 "I don't know what to do because tomorrow is another set of letters, and my father would now have to wait until they go back to the A to E names," she said.
Duncan said following the long wait, her father was exhausted and frustrated.
Failed second attempt
Nearby, Molly Boodoo was disappointed that she had not succeeded in her second attempt to be vaccina­ted. Boodoo said she and her husband were turned away on Wednesday.
"On Wednesday, I got number 70, but after waiting for several hours, we were told that they only giving 50. I came back at 6 a.m. today and they telling us that they only taking up to number 39. My husband was standing in front of me and he was taken in," she said.
Boodoo said she was not leaving the vaccination site as she believed it was unfair to separate her from her husband. "We came together, I cannot understand why they are doing this to people. It is unfair," she said.
There were similar reports at the 14 vaccination sites in the South-West Regional Health Authority (SWRHA).
In Siparia, senior citizens were outraged as many were turned away and told to wait until the second cycle begins.
Elderly men and women, some sitting on the pavement, pleaded for instructions from security guards at the health centre.
The line began minutes after the 5 a.m. curfew was lifted and by 8 a.m., hundreds of citizens were turned away.
The security guard shouted: "Come back tomorrow, or next week or the following week." He informed them the facility was processing only 100 people.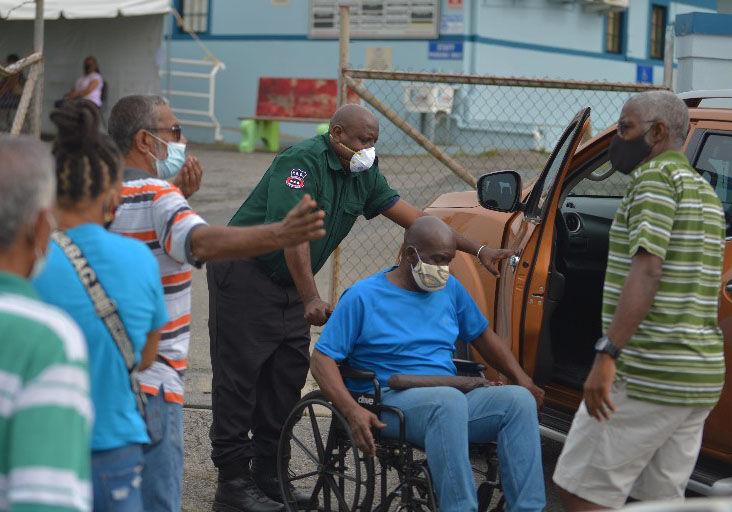 A 70-year-old man who had been waiting for three hours said: "Why didn't someone say that at the beginning? Put a sign so we will know to leave after they get the first 100. We are not 16 years old, we are elderly people.
Trying her luck
A dental assistant who arrived at the Princes Town District Health Facility for vaccination at 6.15 a.m. said over 60 elderly people were already standing in line.
The woman who is under 60 said she was issued a letter for consideration and "tried my luck" yesterday.
She said: "Prior to today, I applied for an appointment weeks now. I applied more than once, and I even stated that I am a dental assistant. As soon as I heard they are doing walk-ins, I got today off to receive it.
"As soon as I got to the health centre and I got in line, a police officer told me I would not qualify. I told him where I work and the tasks I have to do; I also showed him my letter. He proceeded to call the head doctor and he said I qualified, to just wait in line and they have 140 vaccines to be given out today."
The woman said she observed the elderly people were growing weary, but stood strong and waited in the sun. "There was even an elderly in a wheelchair, he was offered no assistance to even wait in a shaded area or to even be vaccinated first.
"After three and a half long hours, a rude official came out screaming and infor­ming us that we need to go home and listen to the news for further information on when to come back, that all the vaccines are finished and they only had 40 for today," she said.
Another woman said she accompanied her elderly mother at the Tabaquite Health Centre yesterday and received number 18. They were informed that 30 people will be processed.
However, the woman said around 8.30 a.m., they were told that only 15 people will be vaccinated. She was advised to leave and return another day.