Nicole Dyer-Griffith, the wife of Police Commissioner Gary Griffith, says she is "alarmed" by the absence of politicians at yesterday's Remembrance Day parade at Memorial Park, Port of Spain.
"The glaring presence of over 68 empty seats, which were specifically assigned for those selected and/or elected 'leaders' in our country, was a slap in the face to the dedicated and loyal men and women in our protective services who participated in the parade and to the tens of thousands of servicemen and women, both past and present, as well their respective families," she lamented yesterday.
"Leaders around the Commonwealth attend in their respective countries, as they understand that this is part of their duty, hence the reason for the seating for the diplomatic corps was packed to capacity, yet the leaders in our own country failed to attend. What adds insult to injury, when the excuse for this virtual non-attendance is because two major political parties are hosting their respective political rallies on the same day. This, of course, must take precedence in a country where we have now come to normalise party before country," she added.
In a Facebook post, Dyer-Griffith acknowledged that this year was the first year she was unable to attend the Remembrance Day commemoration as she was out of the jurisdiction.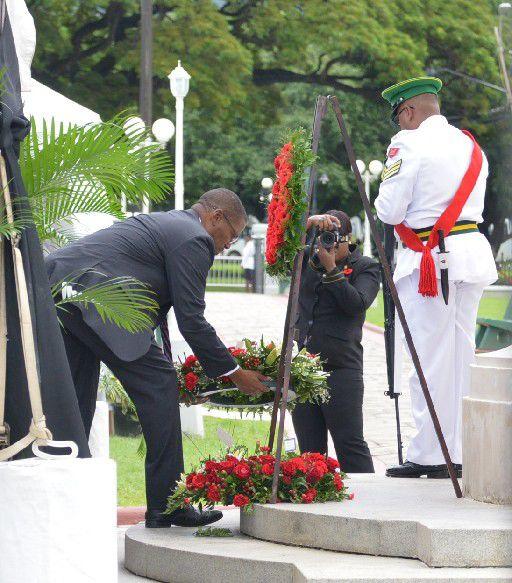 "That apart, I noted with alarm the usual absence of Members of Parliament at the parade held to mark the occasion," she said.
"The only attendance to this solemn occasion by any politician included the Prime Minister, Dr the Honourable Keith Rowley, and the Minister of National Security, The Honourable Stuart Young. There are currently 70 MPs, 41 in the Lower House and 29 in the Upper House, essentially signalling 68 out of 70 elected and selected Members of Parliament did not view this observance as being important enough to offer an hour or two of their time in remembrance of those who served and gave the ultimate sacrifice for their country," she pointed out.
Dyer-Griffith said, apart from Mayor of Port of Spain Joel Martinez, there was also a lack of representation of mayors, aldermen and councillors.
"In a period where our nation is seeking examples of leadership, role models and a sense of pride to country, and when we are trying to build morale within our protective services, I am indeed deeply disturbed that we have reached to a point that our leaders in this country do not understand, nor appreciate the relevance and importance of paying respect to those who lost their lives in battle whilst serving their nation," she said.
Port of Spain mayor disappointed
Martinez said he, too, was disappointed by the low turnout of parliamentarians and mayors yesterday.
Speaking to the Express via telephone, he said:
"The thing about it, when you have officers there who have come out in full regalia and former servicemen who have come out to pay tribute, and leaders of the country are not there it does show up," he said.
Martinez said other mayors were invited to attend the ceremony.
"Because I saw on the programme that a wreath-laying ceremony was supposed to have been done by mayors of the other jurisdictions and for them not to turn up, it doesn't look good," he said.
He said also missing from the parade yesterday were Independent senators and members of the Opposition.
"We need to take a closer look at things like this and show up because it is part of our duty. It is not an event that if we don't feel like going we don't because we have another event to go to. It would be welcoming to see our MPs on both sides there, just like when we have our Independence Day parade," Martinez stated.