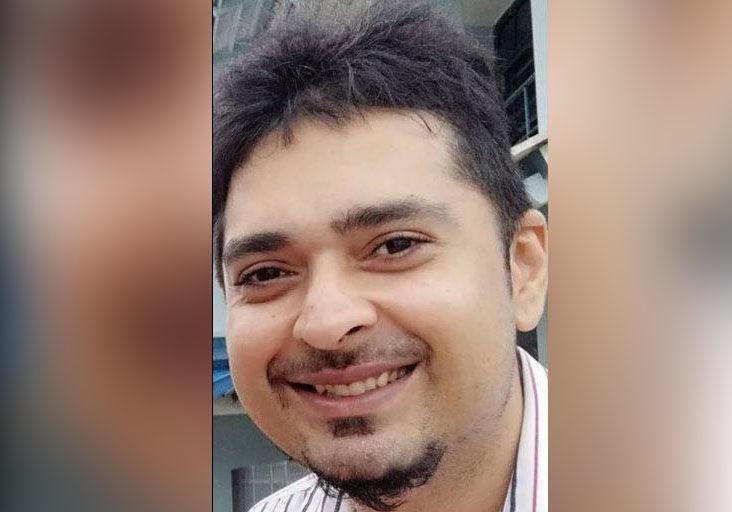 Dr Prem Naidoo, the man who knows what happened in the final moments of Dr ­Rudradeva Sharma's life, believes his friend saved him.
Naido and Sharma were said to have been taken against their will and placed in the trunk of Sharma's sports utility vehicle.
The vehicle crashed along the Solomon Hochoy Highway, near Macaulay, flipping several times. Sharma, 38, was pronounced dead at the scene.
Of the three kidnap suspects, one died, one is at hospital with life-threatening ­injuries, and one is in police custody.
Naidoo, 39, suffered minor ­injuries and was discharged within days. But the torment of that night remains with him.
Naidoo yesterday attended his friend's ­funeral service at the family's home at Sunset Ridge, La Romaine.
He cried silently as he watched the casket bearing Sharma's remains.
And as the bhajans were being sung, ­Naidoo clenched his fists, closed his eyes and shook his head.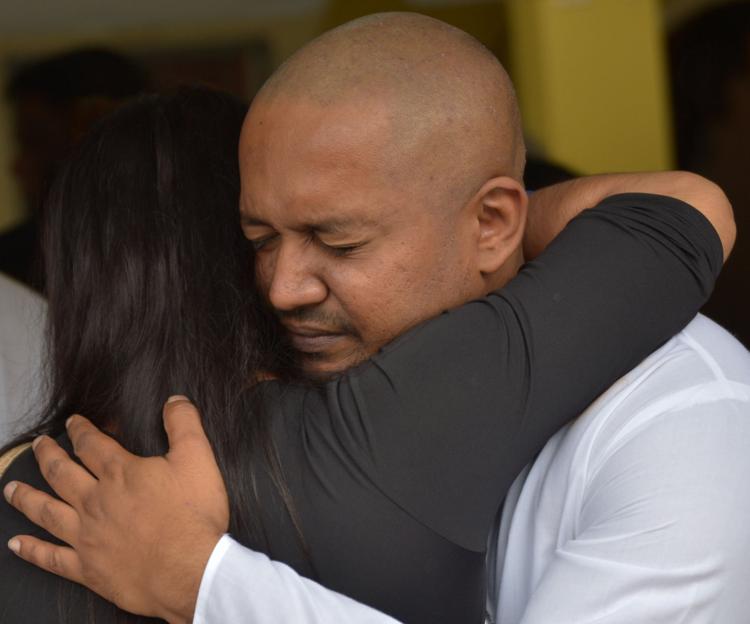 Naidoo did not speak at the funeral, but what he told relatives was repeated by Sharma's uncle, former parliamentarian ­Chandresh Sharma.
Sharma said: "The survivor in this accident said the vehicle flipped 12 times. The last phone call (Sharma) made was 12.45 a.m. and the video recorded (the crash) at 1.32 a.m. Dr Naidoo says it is Rudy (Dr Sharma) who saved his life.
"Rudy was on top of him, and when the van flipped he protected him. Rudra's body was removed from the trunk of his CRV."
The funeral was attended by Local Government Minister Kazim Hosein, Opposition Leader Kamla Persad-Bissessar, former prime minister Basdeo Panday, former president Justice Anthony Carmona, along with many past and present politicians.
Relatives spoke about the close relationship Sharma shared with his mother, Mayoree Sharma. His mother had returned from a trip to London ten days ago, relatives said.
Flowers from mom
"And as soon as she returned, he said, 'Mummy, don't ever leave me for so long again. I love you too much. I cannot live without you. But don't worry dad took good care of me'.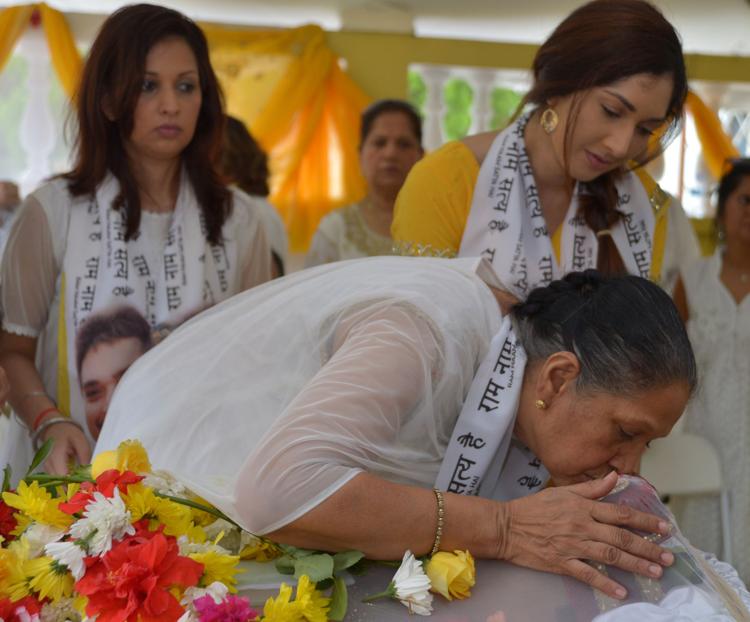 "His mother had a routine. She would wake him up every single morning, bring him downstairs, where she would make him eat breakfast and then pack his lunch because he was vegetarian.
"But Rudra would leave some of his food every morning for his mother to eat. Then she would walk him to his car, pick a flower and place it in his vehicle, as he was a devotee of Lord Shiva. So if tomorrow does not come, 'Rudra knows mummy loves him and mummy knows Rudra loves her plenty'," Chandresh Sharma said.
He said Sharma had worked at San Fernando General Hospital as a medical doctor for 15 years. And in the past five years, he had not taken a day off.
God will be the judge
His friend, Dr Aaron Partap, questioned what outcome Sharma would have wanted. He said Sharma would not want revenge, but forgiveness and peace.
"I ask you all to think what would Rudy's message will be. Rudra would not want hate, he wouldn't want revenge.
"Rudra would want understanding because as far as I know, he had a very good understanding of life, he was very spiritual, and being in the field of medicine he would often speak of life and death, and I know he would have that belief that God will guide him home.
"I know he would forgive any wrong­doings and leave it up to God. I want to ask you to bear in your minds and hearts love for others. No matter what the situation is, God will be the judge of everything," he said.
Sharma's sister, Renuka Sharma, said her brother was kind-hearted, humble, generous and gentle. "He never expected anything for his ­kindness and pure heart. Rudy mentioned on several occasions that his dream was to go to the Himalayas and meditate as a monk, as a means of enlightenment.
"This demonstrates just how pure he wanted his thoughts and actions to be, which would never have been accomplished in the real world.
"Looking down memory lane, it all makes sense. From birth, your destiny was never to remain on earth for a long time. You have done your duties, and have enlightened many through your spirituality," she said.
The Hindu service was officiated by Sharma's uncle, Pundit Karmesh Sharma. He said his nephew was a loving soul, who would give from his own pocket to the less fortunate.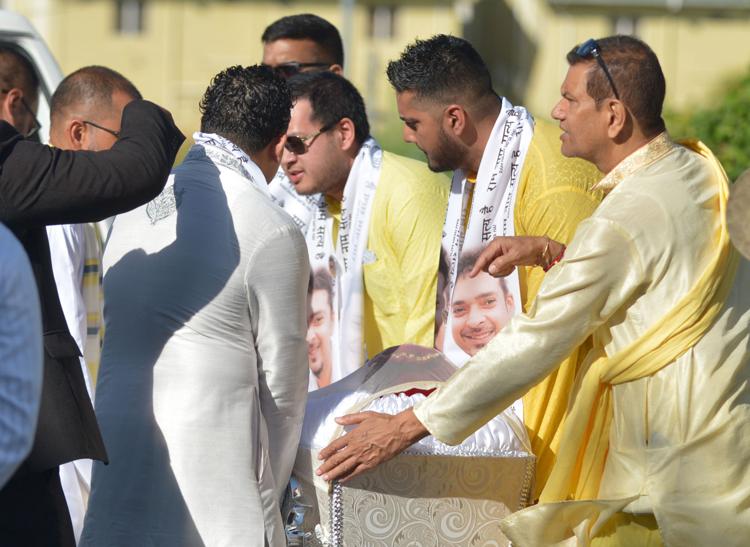 Sharma was cremated at the Shore of Peace cremation site.
The two doctors had completed their hospital shift on Tuesday night, and were said to have been hijacked two hours later at Rushworth Street ­Extension, San Fernando.
They had gone to the dead-end street in Sharma's Honda CRV, where Naidoo said they were held up at gunpoint by four men.
The doctors were allegedly robbed and forced into the trunk of Sharma's vehicle and were being taken north along the highway, when the vehicle crashed and overturned several times. Sharma received multiple neck and facial injuries.
When emergency responders arrived, they found Sharma tied up, his feet protruding through the shattered rear windscreen.
One of the three suspects—Akeem Marine, 19—died at hospital on Thursday. Marine lived at Lady Hailes Avenue, San Fernando, near where Sharma and Naidoo were taken.
Marine was flagged on Police Service ­criminal records as a firearm offender.
Another suspect in the investigation, an 18-year-old, remains in police custody at the San Fernando CID.