Here's the proof the Police Commissioner has asked for.
In a media release yesterday, top cop Gary Griffith stated categorically that he never approved Provisional Licences (PL) and Firearm User's Licences (FUL) to individuals before the courts charged with criminal offences and individuals who are also under current police investigation.
This denial contradicts documents in the Express' possession, however.
An 11-month investigation published in yesterday's Sunday Express revealed despite strong recommendations from officers tasked with probing whether individuals fitted the criteria to have a PL and FULs, Griffith ignored advice and affixed his signature approving licences to persons under active police investigation and currently before the courts charged with criminal offences.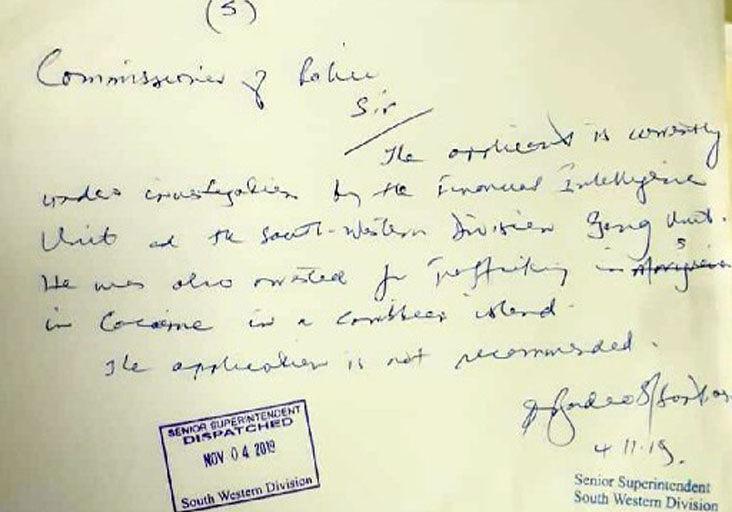 Additionally, the Sunday Express investigation, which is supported by documents bearing Griffith's signature and the TTPS official stamp, also uncovered instances where applicants did not have the prerequisites such as police Certificate of Character-which is issued by the T&T Police Service—but were issued PL and FUL.
One such instance reported by the Sunday Express showed that, on November 4, 2019, a recommendation attached to a file was dispatched by the Superintendent of the South-Western Division regarding a 53-year-old businessman who is currently under police investigation for marijuana and cocaine trafficking and money laundering.
The businessman is currently before the courts charged with the following offences:
1) May 15, 2010—Larceny;
2) November 8, 2019—Possession of ammunition
3) November 8, 2019—Unlawful possession of ammunition
4) November 8, 2019—Possession of a prohibited animal
He was also arrested in Venezuela in connection with cocaine trafficking and subsequently released.
The applications
Documents in the Express' possession on this case revealed that the businessman has been granted a Provisional Licence to discharge a revolver, shotgun, pistol. This was signed off by Griffith on September 4, 2020, despite a recommendation from the Senior Superintendent, South-Western Division, on November 4, 2019 that the businessman not be granted a PL.
The recommendation stated, "Commissioner of Police, The applicant is currently under investigation by the Financial Intelligence Unit and the South-Western Division Gang Unit. He was also arrested for trafficking marijuana and cocaine in a Caribbean island. The application is not recommended."
The businessman in question made an application for an FUL on August 10, 2019.
Additionally, in a letter dated October 16, 2019, his 35-year-old Venezuelan wife stated she was aware her husband of two months (at the time of application), "has applied for a firearm and I have no objections in him obtaining a firearm as it would be for our protection".
The typed one-page letter was signed by an acting corporal and dated October 16, 2019.
In five other separate instances, reports were made to police stations within the Western, Central and Southern Divisions by spouses of businessmen who alleged they were physically assaulted and threatened by their husbands in 2017 and 2018. All five businessmen were granted FULs in 2019, which were signed off by Griffith.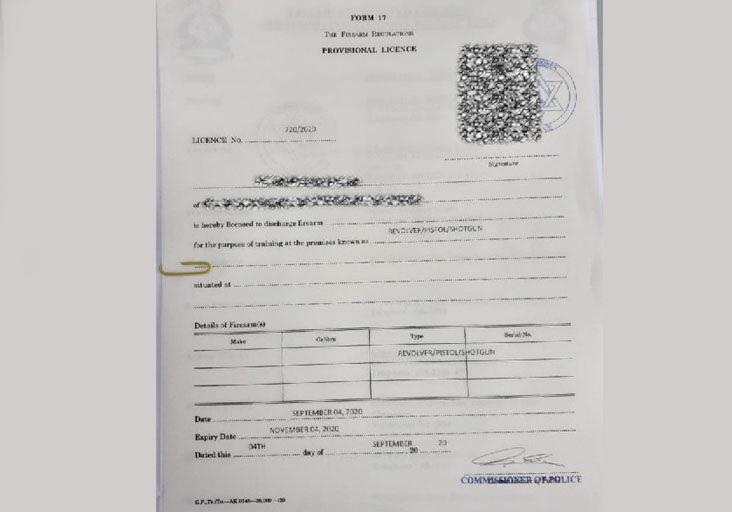 The Sunday Express investigation also revealed that several business owners had their FUL applications fast-tracked and these businesses are also donors who have signed on to the I Support Our Service (ISOS) initiative of the TTPS.
The ISOS, which was launched last year, is the brainchild of Griffith and his wife Nicole. It involves businesses pledging support for the TTPS such as giving police officers price discounts on items or providing tangible items to the TTPS.