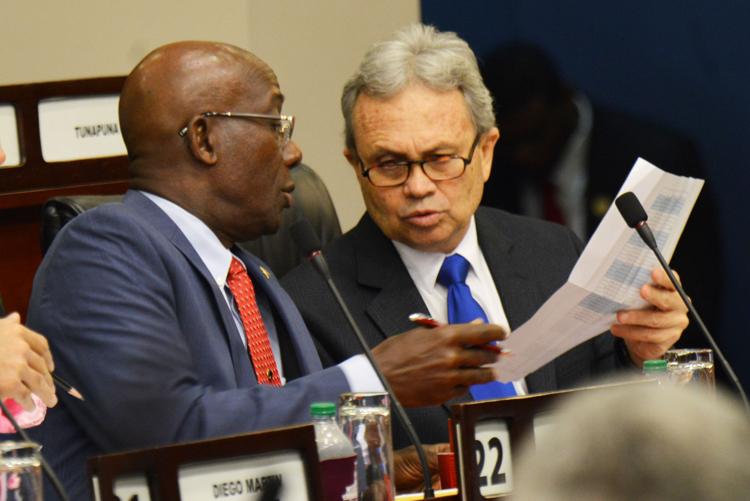 FINANCE Minister Colm Imbert said he believed Prime Minister Dr Keith Rowley was a "crazy" when the PM offered him the post of Minister of Finance following the People's National Movement (PNM) victory in the 2015 general election.
Imbert said the offer took him by surprise but he embraced the position, and based on his dedication to the betterment and development of Trinidad and Tobago, he was able to achieve what many thought he could not do.
Imbert made the statement on Saturday night while addressing supporters at the PNM's political meeting in Diego Martin in the run-up to next Monday's local government election.
"When I came into office Dr Rowley… Miss Hong, I too thought he was crazy. When Dr Rowley offered me the post of Finance Minister I said 'what?' But we are in this thing to do what we have to do so I embraced the position and I think I have done all right," he stated.
As chairman of the Diego Martin Regional Corporation Susan Hong introduced Imbert to the podium, she stated that many other people also thought Dr Rowley was out of his mind to appoint Imbert to the position.
"My other speaker is a gentleman who, when the PNM came back in power, that many people said that Dr Rowley had to be a mad man to put this as our Minister of Finance.
"What this man knows about finances and not only that, what kind of budget that man could bring for Trinidad and Tobago?" Hong said.
"But time... You know the old-time people say time will tell and time has certainly told, so this last budget was the best budget in Trinidad and Tobago ever," Hong said.
In his address, Imbert said under the People's Partnership administration, Caribbean Airlines was making consistent financial losses. But when the PNM came into office, it was able to bring the airline back into a position of making profits because of proper financial management.
"No longer do we have to prop up Caribbean Airlines, no longer do we have to bail them out," Imbert said.
He also pointed out that for years, the past government had only been promising pension for daily-paid workers but those promises never bore fruit. But it will under the present administration, he said. —RR
"There was a government, they said they were a labour government, they said they have trade unions with them.
"They called themselves the Partnership with a set of trade unions. They were there for five years and three months. In this entire five years and three months they didn't give daily-paid workers a pension.
"This Government is going to give daily-paid workers a pension. I am meeting with the National Union of Government and Federated Workers (NUGFW) next week (this week) to start the discussion on the mechanism for introducing a minimum pension for daily-paid workers in 2020," stated Imbert.