Rio Claro doubles man Khamchand Dwarika is living a second life after a close call with death on ­Sunday.
Dwarika was inches away from being crushed by a speeding vehicle whose driver was asleep at the wheel.
Dwarika and his nephew watched as their station wagon carrying the doubles was hit and pushed into a concrete drain by the runaway vehicle, which came to a stop almost 60 feet away.
"I escaped death and I am living a next life. I never got into an accident before. This is my first. I have been driving since 1980," he said.
The father of three and grand­father of three said he celebrated his 59th birthday last Wednesday, but after the incident on Sunday he had more appreciation for life.
Dwarika, of Fonrose Village, Poole, said he worked as a painter with the Ministry of Works.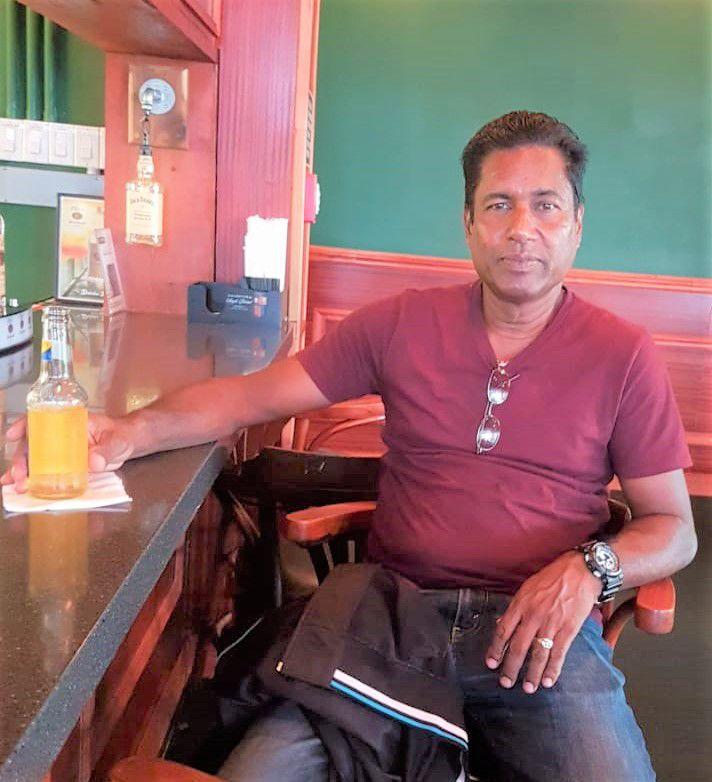 As a second income, on weekends and public holidays, he makes doubles and sells house-to-house.
The incident occurred around 9 a.m. at Main Road in Biche, where he had just made a sale to a resident.
He and his nephew were about to enter his vehicle to continue their sales, when Dwarika looked back and saw death coming at him head-on.
Video footage of the incident showed the vehicle speeding towards Dwarika's Nissan Wingroad as his nephew closed the trunk and walked to the left side of the station wagon. Dwarika was standing by the trunk.
"I looked back before I went into the my vehicle. I saw the van coming straight to me. I said to myself, 'But this man not pulling away,' and I just jumped back.
"And then it was bang, he slam into my vehicle. Thank goodness I was watching in the direction the vehicle was approaching, otherwise I would have died. I just made a jump and the vehicle passed next to me, very close, about ten inches way.
"The driver did not mash any brakes," said Dwarika. "He stopped about 60 feet away down the road."
'Asleep at the wheel'
Dwarika said he stood in shock for a while, wondering what could have happened in that split second.
When he spoke with the driver, the man told him he fell asleep at the wheel.
Officers of the Biche Police responded and interviewed the driver.
"I told him next time he should pull aside and take a sleep. Stop and take a rest instead of driving. You could kill people or yourself.
"He told police he was looking for a coffee shop and he never found one," Dwarika said.
Dwarika said his vehicle was considered "write-off".
The driver has given a statement to police. WPC Jack of Biche Police is investigating.