"Let's build bridges and not walls," said Miss World Trinidad and Tobago 2019 Tya Janè Ramey at yesterday's launch of her new foundation, named Esperanza.
The word means hope and it is the building block Ramey hopes would encourage others to help alle­viate the Venezuelan migrant issue.
The 21-year-old beauty queen will partner with the La Romaine Migrant Support Group (LARMS) to work with Venezuelan children and their families who are faced with a major humanitarian issue in their home country and have come to Trinidad and Tobago.
It is a cause which is very close to Ramey's heart and through her foundation, Esperanza, she will present a documentary to the Miss World Organisation at the competition in December.
Speaking during the launch at the La Romaine RC Church, La Romaine, Ramey said: "In an attempt to mitigate this issue, LARMS has made a pioneering move in provi­ding a child-friendly space for Venezuelan migrant children and their families. They have managed to create a model that allows this centre, that was so generously offered by Fr Pereira, to be a hub for love and safety.
"Project Esperanza, or Project Hope in English, is intended to be two-fold. First, with awareness and sensitisation and the other with the strengthening and expansion of this model.
"Our aim is to sensitise the public on the global migration issue, the realities of migrants in Trinidad and Tobago, and ways that they can help," she added.
Ramey and her team will be carrying out educational seminars in schools and community-based and non-governmental organisations.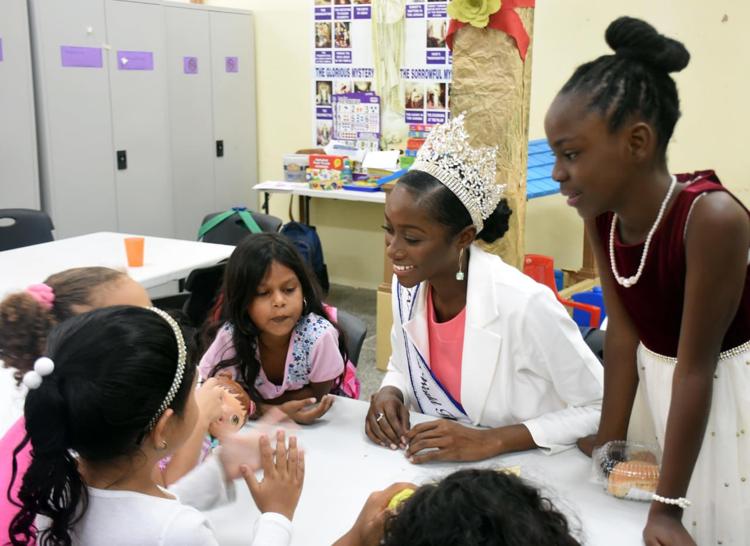 "Project Esperanza will be faci­litating interactive sessions between local organisations within the San Fernando/La Romaine area and LARMS that are aimed at the assimilation and acculturation of the students at LARMS and children/youths of Trinidad and Tobago. This will be carried out in the form of music, sport, theatre, dance and agriculture," she said.
For Ramey, it is a delight that her "beauty with a purpose" project is synonymous with the goals and activities of LARMS and her passion for working with children.
About the pageant
She will represent T&T at the 2019 Miss World pageant in Thailand in December.
The pageant will draw more than 120 countries and territories, and contestants will compete in various challenger events such as Top Model, Talent, Sports and its Beauty with a Purpose.
The competition is one of the oldest beauty pageants in the world and will commemorate its 69th anniversary in Thailand, which is also called the Land of Smiles.