The nation watched on Friday as Randolph Bharatt laid to rest his only child.
Andrea Bharatt, a 23-year-old court clerk at the Arima Magistrates' Court, was kidnapped on January 29 and her body found seven days later.
Her death sparked outrage as communities united in candlelight vigils and prayer services in memory of those we lost to violent crimes.
One of those candlelight vigils was held in Siparia last Thursday night.
It was in memory of Bharatt and one of their own—Radha Pixie Lakhan, whose short life, and violent death no one associated with it will ever forget.
Pixie, as everyone called her, was a 16-year-old secondary school pupil who was snatched, violated and strangled to death in 2005.
Her remains were found a month later. She was identified by her school uniform. Her school bag and books were found nearby.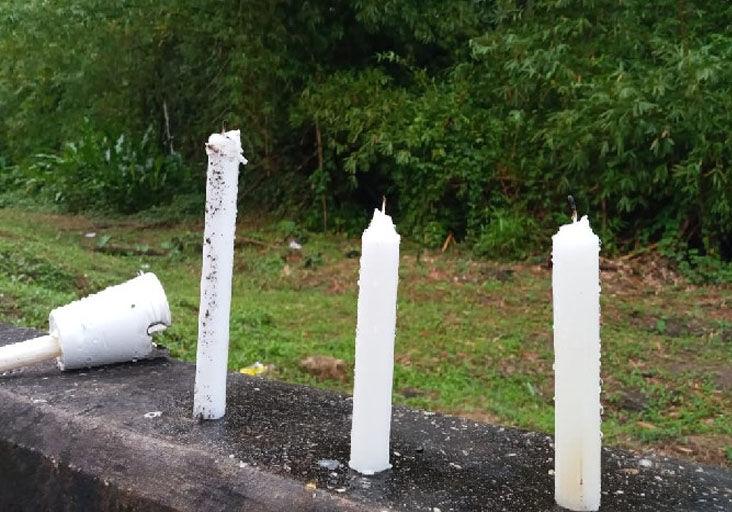 Pixie's father, Rampersad Lakhan, died two years after her remains were found.
He died without knowing that the man charged with murdering his daughter the same day she disappeared was found guilty and sentenced to death.
On the day of Bharatt's funeral in Arima, the Sunday Express went to Spring Trace, Siparia, in search of Pixie's mother, Surujdaye Lakhan.
We found her alone. She spent most of that day looking at the funeral, and remembering.
It was an emotional day, Lakhan said, as she watched Andrea Bharatt's funeral.
"This case is so similar to Pixie's because the same thing happened here. They (Pixie and Andrea) were both travelling home with friends. They were reported missing, and then their remains found," she said.
Lakhan said the pain she experienced 15 years ago when her daughter never returned home and was then found murdered, has never eased. And never will.
Nothing changed
Andrea's father will have to find a way to survive, she said. That feeling never really goes away, especially in a country where there is no time to heal, she said.
"Because there is always something happening. You see missing girls all the time and I think of Pixie. It hurts. But you see this one? This girl, Andrea Bharatt? This one really hit home," she said.
And on Thursday night, she and her two daughters (now married) attended the candlelight vigil in the village. The residents walked to the spot Pixie's remains were found and lit candles in her memory.
"It is something you don't really forget. And the villagers here never forgot Pixie. They would meet me and say 'ent you are Pixie's mother?' and I wouldn't get angry or anything because people remember her and I am accustomed to it. I can't run from it," she said.
Lakhan said she can still remember every moment of that day—March 22, 2005—when her daughter did not return home from school.
Pixie (given that name because of her petite size) attended classes and took a taxi to the junction of the road leading to her home, a few minutes' walk away.
It was something she had done many times before. She had followed her parents' instructions to travel with the taxi drivers she was familiar with.
She exited the vehicle along the main road and walked into Spring Trace towards her home. It was not a long distance and with relatives living along the street, her parents were convinced that she would be safe.
But a predator was lurking that afternoon and Pixie vanished without a trace.
"We knew something had happened when we didn't see her walking up the road. And then it was nightfall and she did not come home. That was not my Pixie. She was always on time. She did not even have a phone because she didn't want one. She didn't even want a watch," the mother said.
Pixie's father immediately went to her school in search for his little girl. She could not be found.
Lakhan said her daughters contacted Pixie's friend who confirmed she had left the taxi near her home. The family contacted the taxi driver who swore he had not hurt their Pixie. He had dropped her off at the usual place, he said.
"I knew in my heart my daughter did not run away from home," she said.
The family filed a missing person report. But instead of police searching for her missing child, Lakhan said, she was repeatedly told her daughter's case was not genuine—she was another runaway teen.
She recalled, "The police said she had run away. The senior officer would pass here and say I see your daughter Santa Flora or Palo Seco and her father would go crazy. He would say if you see her why you don't bring her home, you in charge."
Another officer told Lakhan her daughter had gone to Tobago with a man to spend the Easter weekend.
"The amount of things they say about this child, it not funny. But when you have your child, you know your child. The length of time she going to school she always travelling and was never late," she said.
Three weeks later, Pixie's aunt, Taramatie Toolsie, was also raped and murdered. Her decomposing body was found at the base of a precipice covered with bags and tyres.
Toolsie, 40, was walking to work when she was snatched and dragged into the forested area off La Brea Trace, police said. A suspect was held in connection with Toolsie's death.
That suspect, a 33-year-old man, confessed to Toolsie's murder and then led the police to Pixie's body.
Not far from the family's home, police found the teenager's remains in a bamboo grove a month later. Pixie was identified by her school uniform found near the skeletal remains. Her schoolbag and books were found scattered nearby.
"The child was right there all this time. The police failed my child. They never really searched for her. They allowed this man to go ahead and kill another person. This could have been prevented. My aunt would have been alive if the police had done their job," Pixie's mother said.
The country was outraged at that time, she recalled. But nothing changed.
Following Pixie's funeral, she said her husband fell ill and died.
"After Pixie's incident he would be in the hospital every Monday morning. He had a little heart condition and diabetes but I think he really could not deal with what had happened," she said.
Can women ever feel safe?
Lakhan said, "It is very difficult for women. You have people talking about pepper spray and other non-lethal weapons now. But would that really help our girls? Would she have time to reach into her bag and get a weapon? To me, it is the men who need to change their mentality. They need to learn to respect women."
Asked how she survived the torture of losing a child to a violent crime, Lakhan said, "My faith in God. I asked him for strength to live every single day. It was very difficult, it still is, but I find my peace in him."
And what advice she has for Bharatt's father, Lakhan said, "Everyone is different. Everyone deals with their loss differently. But you will miss your child. You will really miss her."
Lakhan said her daughter wanted to become a lawyer. She wanted to travel the world.
"She was preparing to write the CXC exam but she never got to write her first exam," she said.
Everyone loved Pixie, and she was fun to be around, her mother said.
"She would walk up the hill and call out my sister. She would ask what she cooked and would sometimes eat there before coming home. She was fun to be around. She had a bright smile," she said.
Lakhan was pleased with the High Court ruling in her child's murder trial.
"But it doesn't change the fact that I lost my daughter in the most brutal way. He took my child away from me. He destroyed my family. My life changed. I am living. That is all," she said.
The case
Paul Vincent, the man who raped 16-year-old Pixie Lakhan six times over four hours before strangling her with her school belt in a bamboo grove near her home, was found guilty of her murder and sentenced to death.
He was also found guilty of the murder of Pixie's aunt, Taramatie, which happened weeks later in Siparia in 2005.
The trial lasted seven months, and the court heard from 35 State witnesses, two of whom were deemed hostile, after they recanted some of the testimony they gave during the preliminary enquiry in the Magistrates' Court.
One of the State witnesses was a woman who said she was attacked, indecently assaulted and robbed by Vincent two days before Pixie's murder.
Previously, Vincent was found guilty of the offences and was sentenced to five years with hard labour for indecently assaulting the woman and three years hard labour on the charge of assault with intent to rob.
The testimony of the woman was part of the State's "bad character" evidence.
Part of the State's heart-breaking testimony also came from Pixie's mother, who was the first prosecution witness to be called in the San Fernando First Criminal Court.
Her voice broke while she took the oath to begin testifying and she later cried as she held her daughter's clothing and school bag.
Lakhan testified that she saw her child leave for school on the morning of March 22, 2005 wearing her school uniform and carrying her school bag.
The jury took three hours to return its verdict.
Paul said nothing before the sentence of death by hanging was passed.
Police failed
CCN's Multimedia Editor Richard Charan was a crime reporter with the Express in 2005 and remembers the Pixie case.
He says had the police acted professionally when Pixie's disappearance was reported, she could have been found alive, and her aunt may never have been murdered.
Charan said: "There were so many failures in how the police acted in this case. There was no reason to believe this was a runaway. Had the police profiled this missing girl and her family, they would have known this. But the police immediately made this assumption, and their entire investigation, or lack thereof, was based on this belief that Pixie was with a man. So no immediate area search was done and no real resources were dedicated to a search, although this child walked just footsteps off the roadway leading to her home, and her home was just a few corners away.
Charan said: "I remember calling one of the most senior officers in the South Western Division at the time, and asking about the Pixie case. He laughed, telling me that this was a girl-gone-with-a-man situation and she would come back after she was satisfied. That officer is retired now. I often think of how he lives with himself, after the other body was discovered and the killer confessed, in excruciating details, to sexually assaulting and killing Pixie."
Charan said: "I also recall the public outrage at that time, very similar to what is happening now with Andrea. The politicians were talking even then about the sex offenders registry, and there was hope that police procedure would change so that every missing-person case would be handled with priority.
"Those things never really happened, and there are countless girls and women, in those 15 years between Pixie and Andrea, who have paid the ultimate price for these failures."