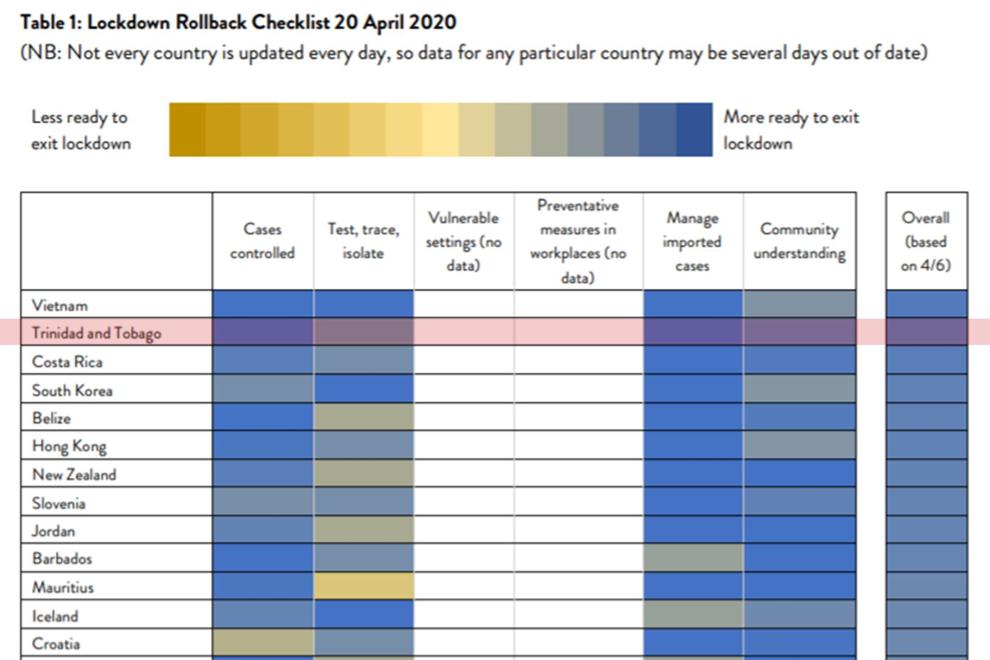 Health Minister Terrence Deyalsingh says Trinidad and Tobago's ranking as the second-most-prepared country to relax COVID-19 restrictions, according to an international study, should not lull the population into a false sense of security.
Deyalsingh made the comment during yesterday's virtual COVID-19 media briefing as he noted the report released yesterday by the University of Oxford and the Blavatnik School of Government in the United Kingdom, which ranked countries on how best they meet the criteria set out by the World Health Organisation (WHO).
T&T was ranked second most prepared to roll back COVID-19 "lockdown" measures, with Vietnam being ranked first.
Vietnam has had 270 confirmed cases, with 222 already recovered and discharged from hospital. The country has recorded no COVID-19 deaths.
The report listed Iran, with 93,657 confirmed ca­ses and 5,957 deaths, as the least prepared country to lift restrictions.
T&T has recorded 116 confirmed cases and eight deaths to date.
The report gave T&T good grades on its control of cases, management of im­ported cases, community understanding and how the country has tested, traced and isolated patients.
Speaking during yesterday's briefing, Deyalsingh said this was a positive en­dorse­­­ment of the Gov­ernment's efforts.
"I am glad that the University of Oxford put out this because there has been so much misinformation about testing, why we isolated and so on," he said.
"That is testimony to what we have been saying all along that our response to COVID, led by the Prime Minister, was a robust one. We will only get this type of recognition outside of Trini­dad and Tobago. What this speaks to is that the world is recognising that the decision not to flip a switch and open back the economy is the right way," he added.
Deyalsingh said the sole objective of the Government is to save lives.
"So the Oxford University report is a very good report. It paints us in an excellent light," he said.
However, despite the positive ranking, he said the population must still adhere to the regulations and restric­tions, and learn from the experience of other countries that are now facing a second wave of the virus.
The WHO guidelines, used as a basis for the report, require countries to meet six criteria in order to safely lift restrictions as follows:
1. COVID-19 transmission must be controlled to a level of sporadic cases.
2. There must be sufficient public health capacity to treat and isolate all cases.
3. Risks for outbreak are minimised in high-vulnerability settings.
4. Preventative measures must be established in workplaces.
5. There must be management of the risk of exporting or importing cases.
6. There must be sufficient education of the public to understand prevention measures.