Present and former government officials were taken to task yesterday by a St Mary's College pupil over their handling of youth ­issues.
Public Utilities Minister Robert Le Hunte and Public Administration Minister Allyson West were participating in a panel discussion on the 2020 budget, hosted by the school at its Frederick Street, Port of Spain, grounds.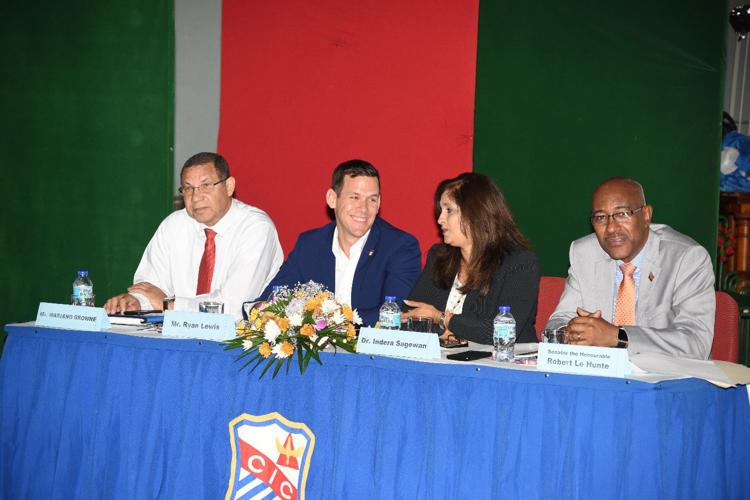 They were joined by former ministers of trade and industry Mariano Browne and ­Vasant Bharath, as well as Trinidad and Tobago Manufacturers' Association director Ryan Lewis and economist Dr Indera Sagewan.
The panel presented on the various initiatives announced in the 2020 budget, as well as other economic issues.
It was, however, during the question-and-answer segment that Upper Sixth Form pupil Stefan Lander questioned the usefulness of the discussion.
"Why bring a bunch of students to witness a discussion that's not benefiting us?" he asked.
Lander said the youth of this country are treated as the "tail" and given the least ­priority. A youth entrepreneur himself, Lander lamented there are barriers preventing young people from starting their own businesses.
He noted the panel had discussed at length the issue of job creation, but said young ­people want more than jobs.
"All you guys have done is reference to us getting jobs. I do not want a job, I want change. I want a future... you are ignoring our future... what are you doing to give us a voice?"
Lander's comments prompted ­applause from his peers.
For some 45 minutes, the pupils grilled the panel on various issues.
One pupil questioned whether the 2020 budget was an "election budget". Another questioned what the purpose of the CEPEP programme was.
"We were told that CEPEP was supposed to be a transitional job, not a permanent job. I'm not sure if that's changed," she said.
On the CEPEP issue, West said CEPEP was indeed intended to be temporary.
"What was set out was that you would hire these people for a short period and, while they were working, they were also provided opportunities so they could move on to bigger and better things. The training aspect of it fell by the wayside, but we re-introduced it so it continues to be temporary."