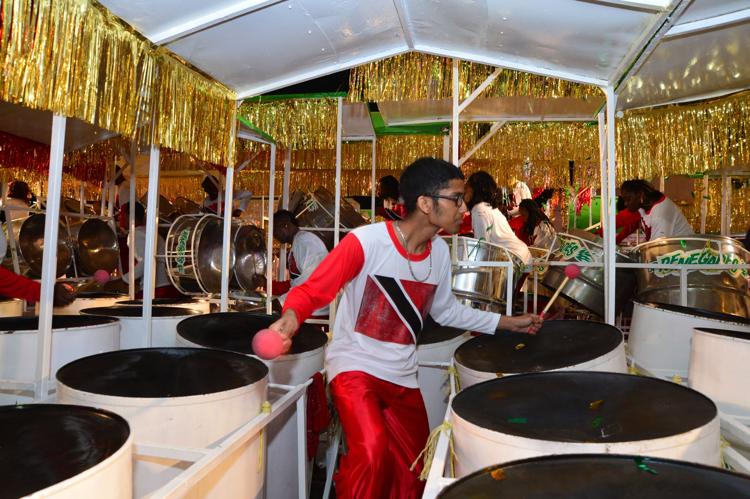 At 3:50 a.m. Sunday it was declared that the BpTT Renegades Steel Orchestra had successfully retained their National Panorama Championship (Large Bands).
Renegades scored 288 points with their rendition of, "Hookin Meh" arranged by Duvone Stewart who took them to victory last year. In fact, it was yet another night of double portions of joy for Stewart who also saw Pan Elders retain their National Panorama Medium Bands title, with their performance of, "The Will." They scored a total of 282 points.
Rounding out the top three in the Large Bands category were; Desperadoes in 2nd place with 285 points for their rendition of "Iron Love" and the Trinidad All Stars with a score of 284 points earned for a scintillating performance of, "So Long."
Exodus having created a stir two weeks ago when they changed their tune of choice from, "Rag Storm" following the semi-final round and went to Court against Pan Trinbago to fight for their right to make the change, placed 9th with their rendition of, "Savannah Grass." They tied with Tropical Angel Harps.
COMPLETE RESULTS:
LARGE:
(Place-Band-Arranger-Tune-Points)
1 - Renegades – Hookin' Meh – Duvone Stewart - 288
2 - Desperadoes – Iron Love – Carlton "Zanda" Alexander - 285
3 - Trinidad All Stars – So Long – Leon "Smooth" Edwards - 284
4 - Invaders – Hookin' Meh – Arden Herbert - 283
5 - Skiffle – So Long - Marc Brooks, Kendall Williams, Odie Franklin - 281
6 - Phase II – Party Start – Len "Boogsie" Sharpe - 280
7 - Supernovas – Hookin' Meh – Amrit Samaroo - 277
8 - Silver Stars – Rag Storm – Liam Teague - 275
9 - Exodus – Savannah Grass – Pelham Goddard - 272
10 - Tropical Angel Harps – Rag Storm Clarence Morris - 272
MEDIUM:
(Place-Band-Arranger-Tune-Points)
1 - Pan Elders – The Will – Duvone Stewart - 282
2 - Katzemjammers – Stranger – Terrence "BJ" Marcelle - 276
3 - Couva Joylanders – Fire In The Area – Stefon West 275
4 - Sound Specialists - The Phung-Uh-Nung Sweet - Seion Gomez 273
4 - Pamberi – Gyal Owner – Andre White - 273
6 - Curepe Scherzando – Yuh Looking For Horn – Yohan Popplewell - 272
7 - Melodians – Hookin Meh – Marlon White - 270
8 - Steel Xplosion - She Want Me To Sing In She Party - Akiba Joseph 268
9 - Valley Harps – Dingolay – Robert Tobit - 265
10 - Cordettes – "Professor Say" – Kion Robinson - 263