Although stores did not see the usual crowds of people rushing to capitalise on Black Friday sales as was the custom pre-pandemic, Covid-19 did not stop many Trinis from capitalising on the sales yesterday.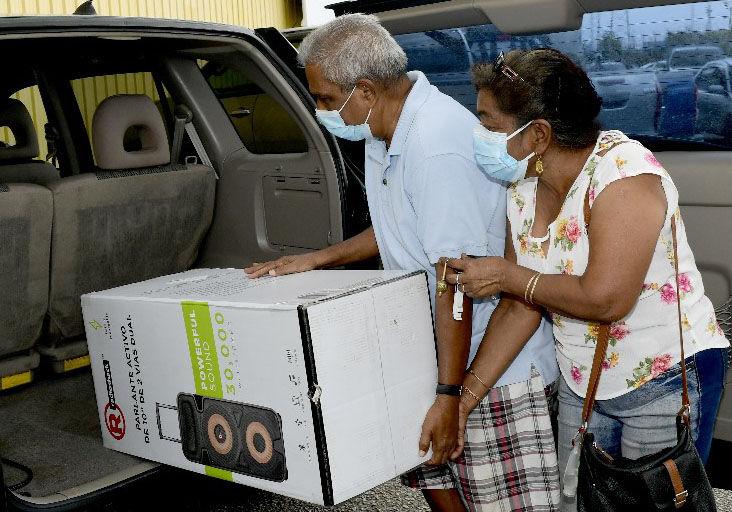 Stores such as PriceSmart, Courts, Ashley Furniture Homestore, Massy Stores, TruValu and Detour all participated in the Black Friday tradition of having a huge one-day sale after Thanksgiving in the US.
When the Express visited PriceSmart, Mausica, yesterday, the lines were not very long.
However, many people said they anticipated a crowd so they arrived very early, some even arriving as early as midnight.
Speaking to the Express outside PriceSmart after shopping yesterday, the first customer to enter, Brent Housian, said, "I came since midnight in order to avoid the crowds. People starting coming at 6 a.m. I was the first to enter."
Housian, a resident of La Horquetta, said he usually arrives very early at places that attract crowds such as banks and groceries in an effort to "get in and get out quickly" to avoid the risk of Covid-19.
And things were no different at PriceSmart yesterday as he grabbed an 82-inch smart television along with other items soon after the doors were opened.
Comparing prices, he said a television costing $32,000 at one establishment was considerably cheaper as PriceSmart had it on sale for $9,000 yesterday.
Housain added, "Since beaches are closed and you can't do much now I decided to make home as comfortable as possible so I got the TV to celebrate safely at home with my family."
Large televisions were definitely the crowd favourite at PriceSmart yesterday as the Express observed many people exiting with TVs in their trolleys.
Also speaking to the Express after shopping yesterday, Moruga couple Davanand and Donna Jaimungal said they purchased several electronic items, including a 50-inch television, a treadmill and multi-cookers as they felt the discounted prices made for a great deal.
Donna also said she and her husband were no strangers to the Black Friday sale as it was tradition for them to shop at PriceSmart on Black Friday for several years.
Davanand said, "We came here at 6 a.m. There were a lot of people this morning but things are managed inside so it's not crazy."
Shift to online shopping
The Express also observed heightened security as police officers were on foot ensuring customers maintained their social distance and only a limited numbers of people were allowed to enter PriceSmart at one time.
Similarly, with advertised discounts including "20 per cent off any small item", "Buy two get one free" and "30 per cent off living room sets", Courts Megastore attracted a considerable number of people yesterday.
Speaking to the Express yesterday, Courts' regional manager, Michelle Thompson, said, "We do expect as the day progresses that we'll see the increase in numbers and you're seeing the build-up outside already because we have to maintain the numbers.
"We get an alert that lets us know we've reached our max number of X so once the management team knows and there's the communication that's given... It's based on the square footage, so based on our square footage there are assigned numbers and each store in the network has that. It's done throughout to ensure that we could manage and of course our safety protocols, our guards managing as well just to make sure of that but we do expect to see a build-up," she added.
But by noon yesterday, the hype to shop big was interrupted by rainfall both in the East and North as malls and stores did not see many customers.
Some people also shared that they believe the reason there was little rush at stores yesterday was due to a massive shift to online shopping since the onset of the pandemic.
Others said people cannot afford to purchase the things they once used to because of the negative effects the virus has had on the economy.