WONDERING what you've done to deserve this suffering?
Fear not, some relief after a week of Saharan dust in the face is on the way.
But not before it gets worse.
The Trinidad and Tobago Meteorological Service warned yesterday that the annual and unwelcome visitor from across the world is likely to increase its presence this weekend.
Saharan Air Layer (SAL) is an extremely hot, dry and dust-laden layer of air orginating over North Africa's Sahara Desert, extending upwards from the surface for several kilometres.
The dust band is fed by strong, low to mid-level easterly winds that pull sand and dust particles into the atmosphere, generating the infamous annual dust haze.
Dusty, very dry and warm, this layer of air is pushed westward by easterly winds and on reaching the West African coast or eastern Atlantic Ocean, rides over the cooler, more moist surface air of the Atlantic Ocean, forming an atmospheric inversion layer or boundary: with warm, dry air aloft and cooler, moist air below.
When the SAL reaches the Atlantic Ocean, easterly trade winds carry the dust across at the lower and mid-levels, some of which, sometimes a lot, is dropped over Trinidad and Tobago and the southern Caribbean.
By Monday, however, the dust should lighten somewhat and offer reprieve.
Although the presence of the dust is currently considered mild by the Met Service, those afflicted with temperamental sinuses and respiratory problems are having a rough time.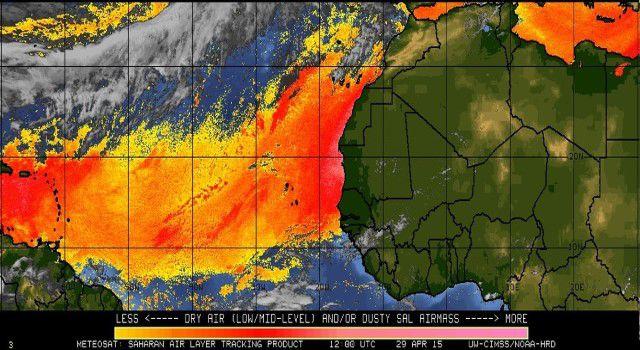 Over the past week, many have taken to social media to complain, wish the dust away or seek advice as to reducing its effects.
Until the dust plume diminishes, hopefully, on Monday, here are some tips on mitigating the discomfort:
- Wear a dust or medical mask
- Stay indoors with windows and doors closed
- Stay hydrated
- Change bedding regularly to prevent dust build up
- Flush eyes wth eye drops and wear sunglasses outside
- Keep dust out the house by using door mats
- Always keep relevant medication handy, particualarly where prone to asthma attacks