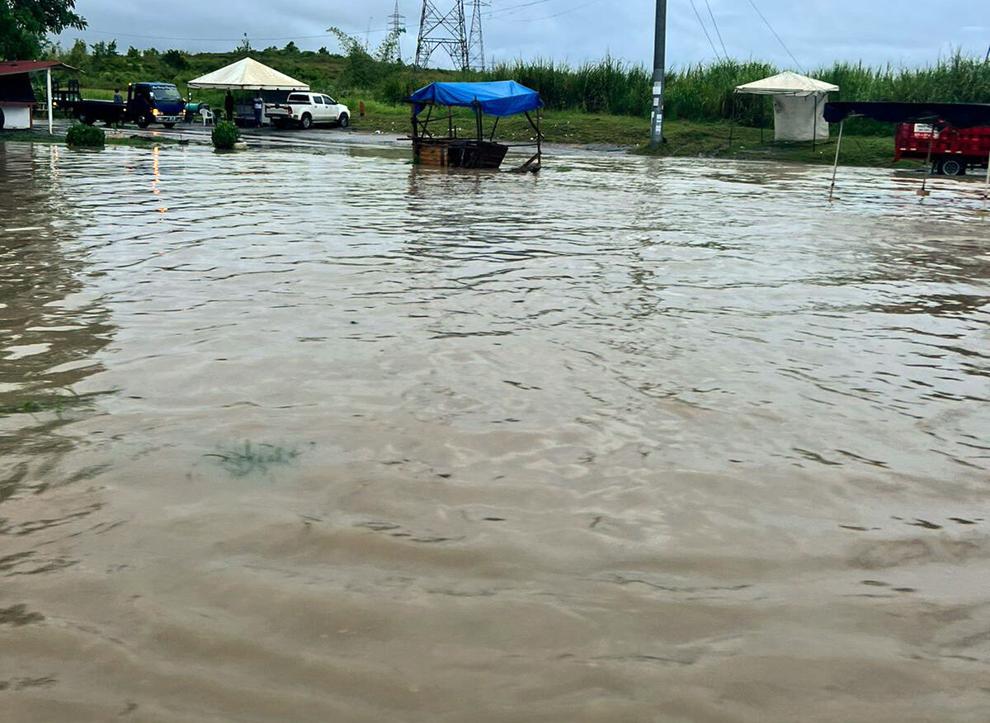 A Riverine Flood Alert - Yellow Level has been added to the weather watchlist for South Trinidad, as the passage of a developing tropical system has continued to bring thunderstorms and heavy rainfall over most areas.
The Trinidad and Tobago Meteorological Services (TTMS) on Wednesday issued the warning for Wednesday September 21, 2022 5:00 a.m. to Thursday September 22, 2022 8.00 p.m.
The TTMS has reported that the "South Oropouche River has breached its banks in some parts with water spilling into some communities in South Trinidad".
"There are reports of some smaller water courses being filled, with flooding in low lying areas. Other major rivers are contained at this time and are being closely monitored," the Met Services said.
The public and especially those in flood prone areas are advised to monitor weather conditions and river levels before venturing out.
Avoid areas with flood waters and monitor updates from official sources and plan safety measures, including emergency supplies of food and water, the TTMS said.
People are also asked to follow the instructions of government agencies. More information is available at www.metoffice.gov.tt/ ; www.odpm.gov.tt.
An Adverse Weather Alert #1 - Yellow Level also remains in place until 8.00 p.m. tonight for Trinidad and Tobago.
The TTMS stated in the alert, which went into place from Wednesday 21 September, 2022 at 5.00 a.m., that "showers and thunderstorms continue to affect T&T with most of the activity for today expected over marine areas".
Some heavy overland showers favouring the afternoon period, can still lead to street and/or flash flood events and landslips, the alert has warned.
Localized flooding can be exacerbated and impacts may include reduced access to areas due to flooding, with some damage to property.
The public is asked to be aware that gusty winds during thunderstorms could lead to tree branches and loose objects being displaced during strong winds.
Flooding, landslips and waterlogged soils can lead to infrastructure damage in areas so prone, the TTMS warned.
T&TEC in the field
The Trinidad and Tobago Electricity Commission (T&TEC) has in the meantime assured the public that its crews are "continuing work from overnight, responding to outages triggered as a result of the adverse weather conditions experienced".
In a media release Thursday, the Commission stated that "Overhead lines and other infrastructure have been damaged mainly due to trees and branches felled by the high winds. The largest affected area is on the north coast- La Fillette, Maracas, Las Cuevas and Blanchisseuse. Smaller outages also exist on singular streets in Belmont, Maracas, Laventille, Diego Martin, Tamana, Claxton Bay and Brasso Seco. Allandale Settlement in Cumana and Flagstaff, Charlotteville are also affected."
T&TEC said in Santa Barbra St in Maracas, St Joseph, some customers have already been restored but additional tree trimming work is required to restore all customers.
"Overnight, crews restored supply to over 25 communities between 10:00 p.m. and 5:00 p.m., the release stated.
"Additional Crews are currently being redeployed to northwest Trinidad to assist with restoration," T&TEC said.
"We thank affected customers for their patience as we work to restore their supply in the quickest possible time."