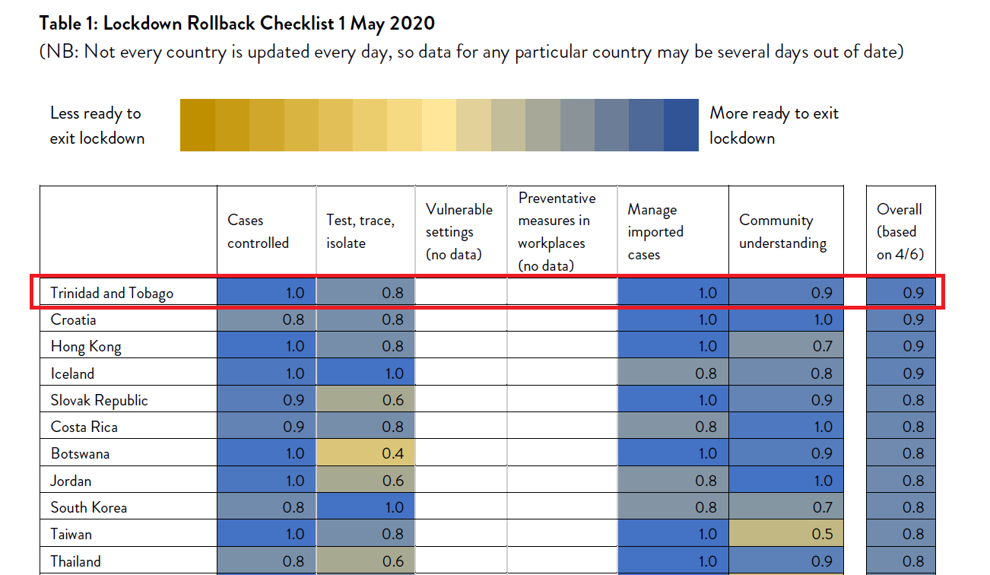 TRINIDAD and Tobago is now listed by the University of Oxford as the most prepared country in the world to lift its COVID-19 lockdown measures.
The university has released an updated version of its COVID-19 Government Response Tracker (OxCGRT), which lists T&T highest out of 152 countries.
Last week, the university's Blavatnik School of Government listed T&T as second most prepared, after Vietnam, having met four of the six guidelines outlined by the World Health Organisation (WHO).
Countries were ranked in four areas: cases controlled; test, trace and isolate; manage imported cases; and community understanding.
Vietnam, which was listed first in the previous listing, has now fallen to 64th.
Trinidad and Tobago received the highest attainable score of 1.0 for management of imported cases and control of cases.
The country received a score of 0.9 for community understanding and 0.8 for testing, tracing and isolation.
Croatia and Hong Kong were ranked second and third, respectively, while Iran was ranked least prepared, with a score of zero in all categories.
However, the university said the ranking should not be used as a basis for lifting restrictions.
"Because the data only measures four of six recommended actions, we should be cautious about inferring what countries are ready to roll back lockdown from this measure. Indeed, the data provides a better indication of what countries are not ready," it said.
"Moreover, we stress that the WHO recommendations are more specific and extensive than cross-national measures like OxCGRT can readily provide. The checklist should therefore be seen as a starting point for assessing a country's preparedness for leaving lockdown. In particular, we note that the OxCGRT data measure countries' stated policies, not how well they implement them."
The document notes that no country has met all the WHO criteria and only a few are close.
Last Tuesday, during a virtual media conference, Health Minister Terrence Deyalsingh was asked for his thoughts on T&T's then second place listing.
He said the ranking was a positive signal that the Government is moving in the right direction.
However, he said the report should not lull the country into a false sense of security.