If you want to understand the magnitude of Trinidad and Tobago's traffic nightmare, consider this.
If there was ever a catastrophic event where every single building was destroyed on the islands, every single person would be able to get into a vehicle.
This is because more than 1,000,000 vehicles are on the roads.
And for anyone caught in the mind-numbing traffic gridlock on highways and secondary roads, it sometimes feels like all one million vehicles are stuck in the front, side and back of you.
The worst of the misery exists from north to south
ONLY someone living in south Trinidad heading to north to earn a living or conduct business would understand the struggles of being held hostage to horrific daily traffic.
Many would leave their homes and families in the dark if they are to arrive on time to their destination. On any given day, an individual travelling from south spends over five to six hours travelling to and from Port of Spain to their homes.
Aside from having to deal with the constant flooding along the Mosquito Creek, for those coming in that direction, once this section is passed commute is usually delayed by accidents, people stopping to "maco" the accident, police operations, careless drivers overtaking others and drivers simply cruising along on the highway.
With over one million registered vehicles on the nation's roads and the figure slowly increasing concern of further traffic pile-up has been raised by members of the public, says acting Transport Commissioner Basdeo Gosine.
He said drivers usually face bottle neck traffic along the Mosquito Creek, the Claxton Bay flyover, in the vicinity of the Couva Children's Hospital, before the Freeport flyover, and from Chase Village leading straight into Port of Spain there is a gridlock traffic.
In a letter to the editor, Cedros resident Michelle Dymally Davis explained that it was baffling to note that many people working in Port of Spain come from southern communities. And that Central Government has not utilised effectively its powers to decentralise many of the government services which would result in lessened traffic congestion into the capital city, as well as make conducting essential business easier for the public.
"Here in the South most of us have to head north to earn a living or conduct business. If you do not leave in the dark you will never arrive to your destination on time. The dreaded Mosquito Creek literally holds you hostage as there is no alternative route without going completely out of your way. Once we pass the Creek, we then have to deal with the dreaded highway where a number of things can further delay your commute; accidents, police operations or people simply cruising.
What baffles me most is that it is estimated that a great percentage of the people working in Port of Spain actually come from the South. No one in power has thought to decentralize government services, thus reducing the traffic into the capital. Instead, the Government continues to build and rent offices in Port of Spain, further worsening our horrific traffic crisis.
We in the South can easily spend three to six hours commuting to and from work to earn a dollar, a great percentage of which is spent on gas or taxi fare. If the purpose of government is to benefit the citizenry, how come no one has a plan to release the citizens from this daily nightmare?
Why is everything in this country considered from a north perspective? What about the rest of the country? Again, the citizens of the South remain an afterthought when it comes to infrastructure and planning. And no, the Point Fortin Highway is not going to solve our problems.
Further adding to our commute problems are some of the worst roads in the country. So on top of the gas bill our car maintenance costs are high as we are forever hitting or dodging potholes. When will the authorities begin to think of the entire citizenry in this country instead of a few," she said.
A Ministry of Finance employee spoke to the Express about her daily struggles entering the Capital city and how it has adversely impacted her life.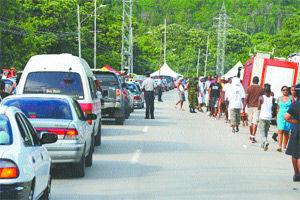 She said she leaves her Penal home as early as 4 a.m. to take a bus heading to Port of Spain each day. The woman has three children ages 14, 9 and 5 years old. She said she leaves her children with her in-laws to send off to school while her husband takes her to the San Fernando bus terminal each day.
She said there is a Public Transportation Service Corporation (PTSC) bus with a route in Penal but this is often full with many passengers left standing. She would take the Deluxe Coach bus as it runs more efficiently than the other buses. But this does not stop her from facing traffic troubles.
"Imagine that I am doing this each day for the last 17 years. I leave my children with my in-laws, my husband would drop me off the bus station, go back home to help get the children ready for school and send them off. I am leaving my children in darkness to get to work. The time I leave home to get the bus on average I reach to work before 8 a.m. but when it comes to the afternoon, I reach home in the night. On more than one occasion I reached home 9 p.m. So I have very little time for my family. The department I work in can have an office somewhere central to make it convenient for me and others from South coming to Port of Spain. Traffic is crazy and it has been so for years and no one seems to care enough about us," she said.
She said the traffic is usually at gridlock from just after Chaguanas on mornings, however, in the afternoons the traffic is from the City straight into San Fernando. Then, she has to take another transport in order to get home.
She added that taking a taxi into Port of Spain does not make sense given that the vehicle will be stuck in the traffic and the cost of $17 one-way is too much as a Coach bus ticket costs $10.
She said her sister-in-law also faces similar conditions heading to the City, and takes the Water Taxi ferry service often which costs $15 one-way. She said though the service is more better, there is a rush as it's a first-come-first-serve type of service.
Asked if she thinks the completion of the Sir Solomon Hochoy Highway extension to Point Fortin would ease her traffic struggles, she said no.
"Even though the highway is helpful and it does get us out in South faster to some places, the traffic from Chaguanas and Couva area going up is a major problem. There really needs some kind of better traffic management plan or having more government services Central and South. The department I work in can have an office maybe Central," she said.
Jesse Ramcharan, 29, a former Petrotrin employee, now an engineering consultant from Cedros described the daily commute as "terrible and exhausting."
Speaking with the Express, Ramcharan said he often conducts business in Port of Spain and has to cater for the commute by leaving home in the dark.
"That traffic is terrible and personally it's exhausting. You spend at least three hours in traffic one way. I live in a remote part of the country and I spend more time away from home because government services and businesses I engage with have not been de-centralised. Most people who do not have to endure this, does not fully understand what it is like to leave home at 4 or 5 a.m. to drive or travel all the way into Port of Spain and then have to make that journey back. You get that amazed or astonished look when you tell them about the traffic but it is exhausting. And imagine someone having to reach to work on-time or else they get bad performance reviews for poor work attendance.
Coming from Cedros I have to pass through the Mosquito Creek and that in itself is at least another hour in traffic. Then we have to look-out for flooding on the Creek and no one wants their vehicle to be damaged by salt water when the tide is high. There is a lot of wear and tear to vehicles because the roads are not properly maintained. When I know I have to go to Port of Spain I would check when there is high tide and if there is one the next day I would have to overnight at a relative's home in Trincity to avoid that delay with traffic. I still face traffic on that side but it isn't as bad as what we face in South," he said.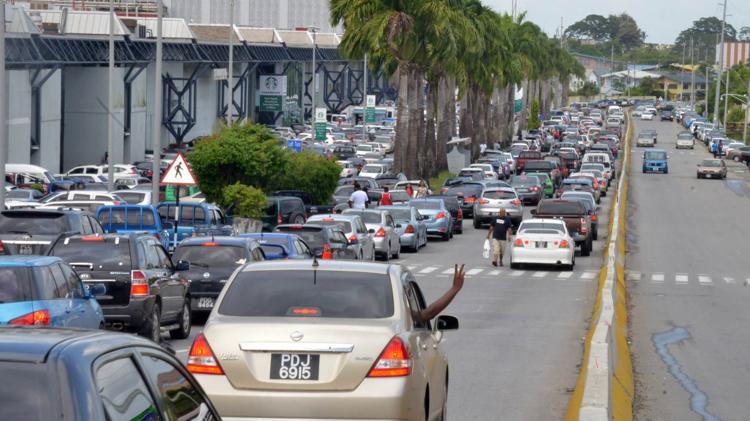 He said that people would seek alternative routes to avoid traffic and spend a longer time reaching their destination, however, this too is a problem given the poor road conditions and numerous potholes drivers have to face.
He added that before owning his vehicle he travelled for years from Cedros to Point Fortin, take a car headed to San Fernando and then finally another to Port of Spain each time.
Ramcharan said the PTSC service could prove valuable to the travelling public however, it is inefficient.
"Maintenance is a problem with PTSC. We recorded something like 1.1 million cars on the roads with a population of 1.3 million, that is crazy. If the PTSC service was functioning at an optimal level people would leave their vehicles at home and use the service. But when you take a bus now you have to worry if it's going to shut down and you would left stranded on the side of the highway and no one wants that," he said.
Ramcharan believes the completion of the Point Fortin highway project will benefit the country.
Matthew Kissoon said he regularly encounters traffic from South Oropouche to Point Lisas. He said he usually leaves home from as early as 5 a.m. to avoid the traffic but each day the commute is a nightmare. Kissoon said that if he has to head into Port of Spain for personal business he takes over four hours and with the afternoon traffic up to six hours.
On February 5, grandmother Tara Baboolal suffered mortal injuries as the PTSC bus she was on was hit by a cargo truck that came from the opposite side of the highway.
She was making her way to Port of Spain to conduct a land transaction because in 2019, this kind of business can only be done at the Inland Revenue office in the Capital. Her relatives said she was not supposed to be on the bus on that day, but her documents were not in order previously and it was the only time she had.
Judy Clarke of Diego Martin was another who died in the crash who was on her way to conduct business in the City. There were a number of other passengers who also suffered injuries sustained in that crash.
TTPS Road Safety coordinator Brent Batson lamented over the number of vehicles on the road. He said there was simply too many vehicles on the roadways creating the traffic pile-up seen each day.
Speaking to the Express via telephone interview, Batson said the increase in the number of vehicles recently has added to the traffic frustration and congestion faced.
"It (traffic congestion) is definitely linked to the exponential increase in motorization in the country. This is a global phenomenon that all developing countries is facing. The first sign of economic progress is motorization and as cars become more affordable people are going to purchase. So you find that the road network is simply dealing with capacity. For example when you have over a quarter of a million vehicles entering into Port of Spain alone you would need road network expansion to some areas, and in peak hours that is one of the main issues," he said.
Batson made suggestions for members of the public to consider ride-sharing to reduce the number of vehicles on the roads.
He said: "That is why you need to have flexible time, alternative transport, if people can do more ride sharing and leave their vehicles home, all that would help so that we can get less cars.
If people can work together and do a ride share that's less vehicles every day. We need to explore those options because there is only so much the country's roads can take with the traffic. At times you have a mix of vehicles of large and small moving on a two-lane highway and that's going to severely impact the flow and that leads to frustration and people take chances such using the shoulders sometimes and then given a ticket for that behaviour.
So it's something of a transnational level, so better marked transit, better options, even some cases encouraging people into cycling. A lot of people on the eastern Main Road can bicycle close by. The Police can only do so much to redirect traffic but it is all about capacity right now."
However, an official from the Ministry of Works said the ministry is aware of the traffic nightmare citizens face daily and told the Express there are plans and infrastructural projects in place to alleviate this.
With the completion of the various interchanges currently under construction, road widening exercises, road paving exercises and a new park and ride initiative, this will ease the burden of the traffic chaos, said the official.
According to the ministry employee, the park and ride initiative is a pilot project which is collaboration with the Ministry and other State agencies.
The official explained that those interested would be able to park at stadiums across the country and board a Public Transportation Service Corporation (PTSC) bus of shuttle to be taken to their destination. The car-pooling type of commute is expected to ease traffic, cut the cost of car maintenance and gas bill.
The pilot project is expected to be launched by the end of the year.