There is a tropical storm warning for Trinidad and Tobago.
And National Security Minister Stuart Young says the State is on full alert and all emergency response team agencies have been activated to prepare for any potential effects from Tropical Storm Karen.
Young says all ministries were in contact and monitoring the storm's path.
"I can't predict where Tropical Storm Karen will go and whether she will develop. The Met Office says we maintain the red level until we believe we are out of harm's way. At this stage it is impossible to predict," he said.
He was speaking at a media conference at the ministry's office in Port-of-Spain on Sunday morning. He was accompanied by Minister of Local Government, Kazim Hosein, Works and Transport Minister Rohan Sinanan and Health Minister Terrence Deyalsingh.
Young said the ministry was in contact with the National Hurricane Centre in Miami. He said the Meteorological Office of Trinidad and Tobago had now raised the alert level to red.
The Met Office warned, he said, of periods of heavy to intense showers and/or thunderstorms are likely.
But there was no need to shut down Trinidad and Tobago on Monday, he said.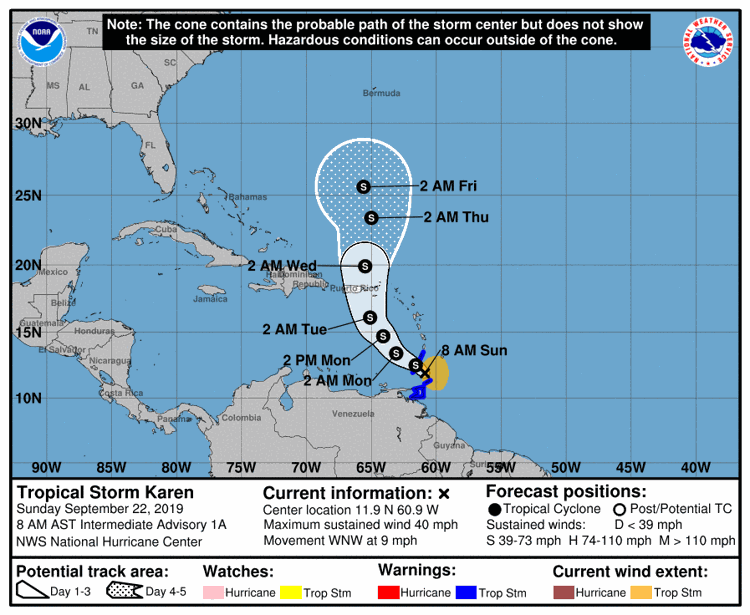 Young said should the weather deteriorate the state agencies were prepared to take immediate action.
"If it is necessary we are all prepared and we will deal with it as it comes. But at this time there was no need to make a decision as whether a shutdown was necessary. An announcement will be made during the day," he said.
MET OFFICE WARNING
A Tropical Storm Warning remains in effect for Trinidad and Tobago. The centre of TS Karen is located near 11.9N 60.9W. Tropical Storm conditions are expected. Periods of heavy to intense showers and/or thunderstorms are likely.
Heavy/intense downpours can result in street/flash flooding. Gusty winds in excess of 70 km/hr can be expected and the risk of landslides/landslips is very high in area.
Instructions
Shelter in place if needed until the danger passes. Find a sturdy place and remain there. Turn off electrical breakers if your home is flooded. Do not go outside unless given the all clear. Only evacuate if your safety is threatened. Listen to wireless radios for updates. Monitor updates from the official weather source, The Trinidad & Tobago Meteorological Service. For more information on in instructions and shelters: www.odpm.gov.tt
He said the Office of Disaster Management and Preparedness (ODPM) was coordinating with all ministries.
Young said Commissioner of Police Gary Griffith had responded and all security systems were in place to respond to any disaster. He said the T&T Defence Force and Fire Services have been contacted and put on the alert.
Young said auxiliary fire officers in Tobago have been called out as heavy rainfall began late last night. "There are outages in Tobago but the Minister of Public Utilities are aware and are monitoring the situation," he said.
The Ministry, he said, was informed that the National Hurricane Centre will send an aircraft into the storm later today for an assessment. That information will be shared with citizens, he said.
Young said he was also in contact with Prime Minister Dr Keith Rowley who left the country this morning to attend the United Nations General Assembly in New York.
Sinanan said his ministry had triggered protocols and was prepared to take on any effects of the bad weather. He said systems and equiopment were on standby to move into flooded communities. "We have identified some of these areas which can be flooded and we have equipment on standby," he said.
PTSC buses were also on standby to evacuate anyone in needed.
Sinanan said sailings on the inter-island ferry service were cancelled and the Piarco International Airport was now monitoring the situation to take action accordingly.
Citizens have also been warned to steer clear of flooded areas and to refrain from moving dead animals.
Deyalsingh said there was a high risk of contracting leptospirosis in food waters. "Do not go into flood waters to move dead animals. Call the regional corporations. And if you have to move domesticated animals like dogs and cats use proper gears," he said.
He said the Regional Health Authorities have checked backup generators and hospital pharmacies stocked to prevent shortages.
Hosein added that all regional corporations were ready and on standby.
He said sandbags were still being distributed at all 14 regional corporations.