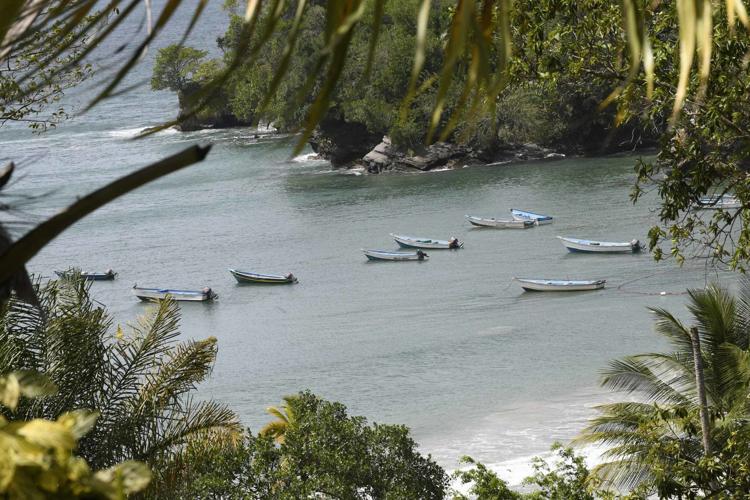 "Beach in the name of love".
That was the scene at Las Cuevas, on Trinidad's north coast, yesterday as three couples decided to visit and swim despite the Government's closure of all beach facilities in both Trinidad and Tobago.
One woman visiting from New York told the Express: "Well, they closed the borders so we can't return home. That's my boyfriend there in the water. We are sticking to ourselves and since there aren't people here we decided to come."
The couple said they also came with their niece and a friend.
The niece, said: "We actually called the Maracas police before we came. They told us there was no one on the beach, it's not closed off but you can come at your own risk."
Admitting that she was fed up with being stuck at home in self-imposed lockdown, Timothy also said: "The sun was hot as well."
Another couple said their reason for the visit had less to do with the weather and more to do with matters of the heart. They said they were celebrating their wedding anniversary.
According to the husband, they came all the way from Curepe to spend some time alone at Las Cuevas.
"This is the first time we have left the house since it all started. We have been practising social distancing. We came here today because it's our anniversary and since it doesn't have much people we get to celebrate and have time to ourselves," they said.
There were also some children swimming, along with residents of Las Cuevas.
Many cars were also seen driving beyond Las Cuevas in the direction of "100-step" beach further along the north coast.
Vendors closed
At Maracas Beach, all of the food vendors, including the popular bake and shark booths, were closed.
Joan Lalla, owner of Mam's Bake and Shark, said: "Being closed does affect my family and workers but it's for the betterment, I guess. I closed about a week now.
"Maracas Beach is a tourist attraction and so I know of the influx of people and tourists coming so it was my personal decision to close before the Prime Minister announced all beaches were closed.
"I decided to close because I am fearful of all of these people coming from abroad and being in contact with myself and workers.
"But all of the bake-and-shark stalls you see closed are limited liability companies, so it's hard on workers. The majority of the vendors made the decision to close as well."
The doors of Asha's, Sterlyn's and Uncle Sam's Bar were also shut tight.
And there were no vendors selling preservatives at the Maracas Lookout either.
And as an alternative to the beaches, some people visited the springs along North Coast Road.
An elderly woman who stopped to take a bath at a spring just before Maracas Beach said: "They close the beaches so we have to bathe by the spring now."
At own risk
Speaking to the Express via telephone yesterday, Tourism Minister Randall Mitchell said: "There are people on the beaches still. The police are making patrols as well.
"The lifeguards have indicated to us that they aren't taking up duty in light of all that's going on and as such when people visit the beaches, they are going at their own risk.
"There are currents at the beach as well, there are inherent risks. We can't close the beach itself, we've closed all beach facilities. However, the public is advised to adhere to the Ministry of Health's guidance and practise social distancing."