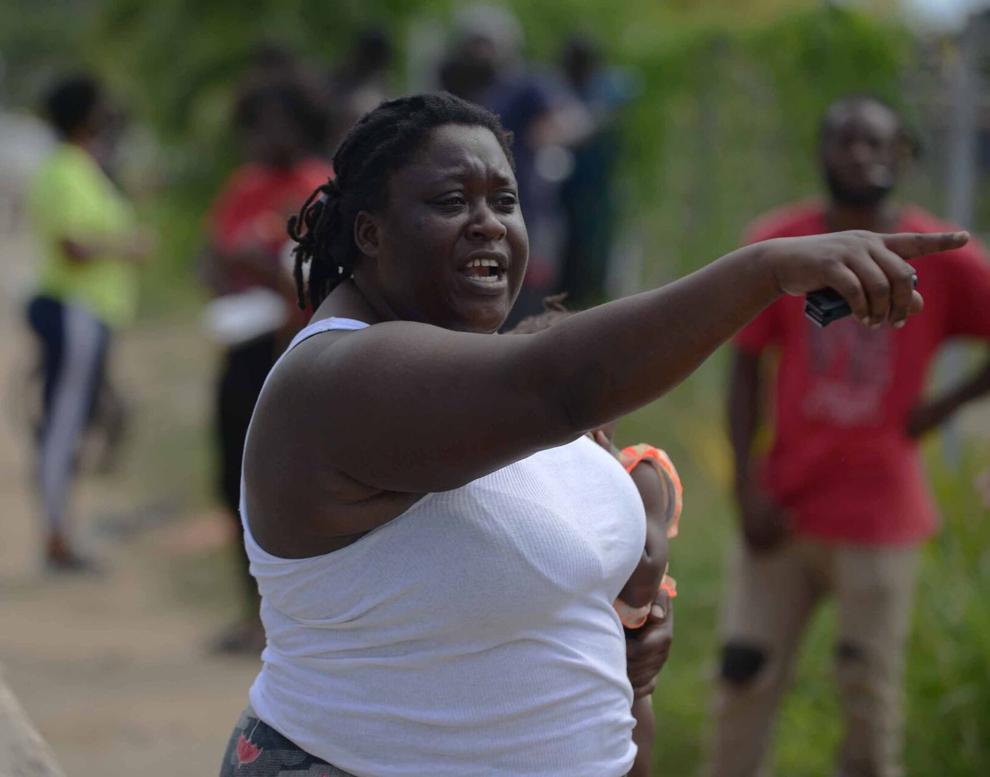 Police officers were called out yesterday to protect the woman who saw infant Kimani Francis walk away from his home, after vengeful residents stood outside her house, hurling bottles, rocks and obscenities.
The residents have accused Zoi Anicka Quan Kep of not doing enough to save the two-year-old boy when she saw him wandering along the street on Monday morning.
She was the subject of relentless verbal attacks since the boy went missing, with someone chasing after her to test whether she "could run".
And after the child's body was removed from the Guapo River yesterday, a crowd gathered at Quan Kep's home at Tenth Street, Techier Village, Point Fortin, within sight of the house where Kimani lived with his single mother and her extended family.
Angry women shouted at Quan Kep, asking why she did not get hold of the child and take him back home, when he walked past her house at 10.11 a.m. on Monday.
"You couldn't come out and bring that child back to his mother? I can't sleep, I hurting. I have a two-year-old child, too. We need to be our neighbour's keeper," a woman bawled.
Men threw boulders at the Quan Kep house, with one yelling "if it was another village, we kill everybody already".
At least three patrol vehicles pulled up at the unfenced house, with officers standing at the entrance.
Quan Kep's father walked outside, attempting to speak with the residents, but he was chased away.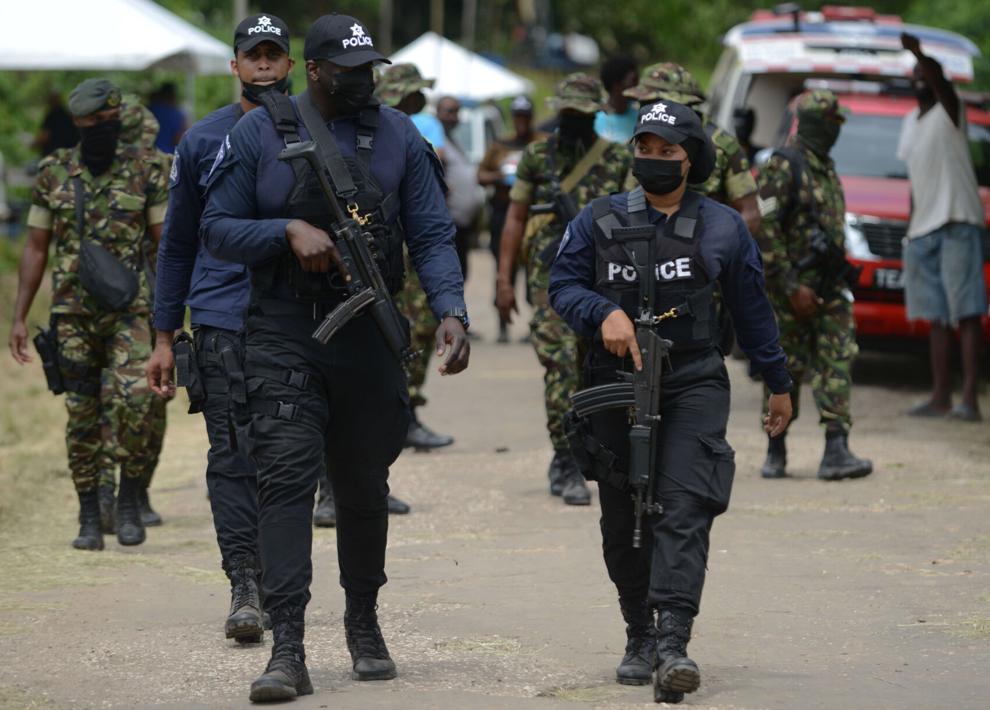 Medical condition
The Express tried contacting Quan Kep on her phone, without success.
However, in a video posted to Facebook yesterday, Quan Kep defended her actions, saying she was unable to get to the child, as she was overweight and had a medical ­condition.
Quan Kep said she spotted the child, whom she did not immediately identify, as she was walking along the roadway with a piece of paper in hand.
Quan Kep said she was cooking when she walked outside to check on her puppy around 10.11 a.m. She said her house is located off the main road, but she had a clear view of the roadway.
"I happen to watch up and that was when I see a child on the road, barely two years old. He was wearing a diaper and was barefoot. He had some kind of paper in his hand," she said.
She said it was unusual that a young child would be walking on the road without an adult, and she immediately took action.
"First thing I do, I take off my pot, then wake up my husband and find myself outside. My husband say it probably has a parent there, but I said no I not taking that for an answer, and I called the police while I was trying to follow him," she said.
Quan Kep said she was overweight and suffered from a medical condition which prevented her from running after the little boy.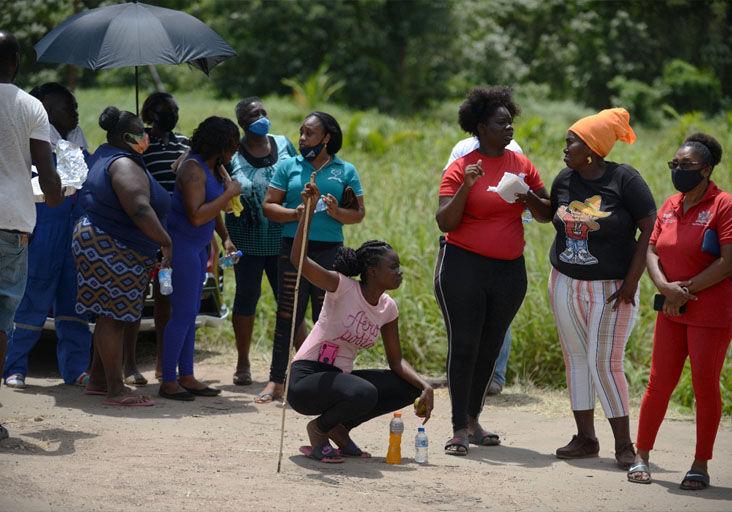 She was far behind him, but didn't take her eyes off the child, she said. "I try to catch up and keep up to him. But at the end of the road we were on, there is a T at the end of it. He made a right and by the time I made the right I was still a way behind him. When I reach the T and turned right, I couldn't see him but I didn't stop. I didn't know his name or who was and I calling 'boy' and looking. There is a river there and I checked both sides of the river, but he was not there," she said.
'Leave my family alone'
Quan Kep said she turned around and was walking back, when the police arrived around 10.27 a.m.
"I saw the police. They told me to go back home and wait and they will go ahead and search. They couldn't find him," she said.
Police went door to door, searching for the relatives of the child, she said. It was only then, Quan Kep said, the child's mother realised her son was missing.
"I live two houses away, but I did not know it was her son," she said.
Quan Kep said she knew the child's mother and worked with her two years ago. She admitted there were disagreements over "petty things" in the past.
"But I truly did not know it was her son. I apologised to the mother last night and I was very sincere. I feel guilty knowing I saw the child walking. I feel if I could have run I would have caught up with him. I feel like I didn't do enough. I am ­sorry," she said.
Quan Kep said she even joined the search for the child.
But on Monday night, she said a mob gathered outside her home, threatening her family.
"My family didn't do anything. The police came and asked them to leave my house, but they came back this morning.
"We are now fearful. I am sorry for what happened. I should have done more, but please leave my ­family alone," she said.
Quan Kep was at the scene yesterday when Kimani's body was removed. She was then returned to her home in a police vehicle, as she was being threatened.
Investigators said Quan Kep was expected to be interviewed but was not, at this time, a person of interest in the child's death.