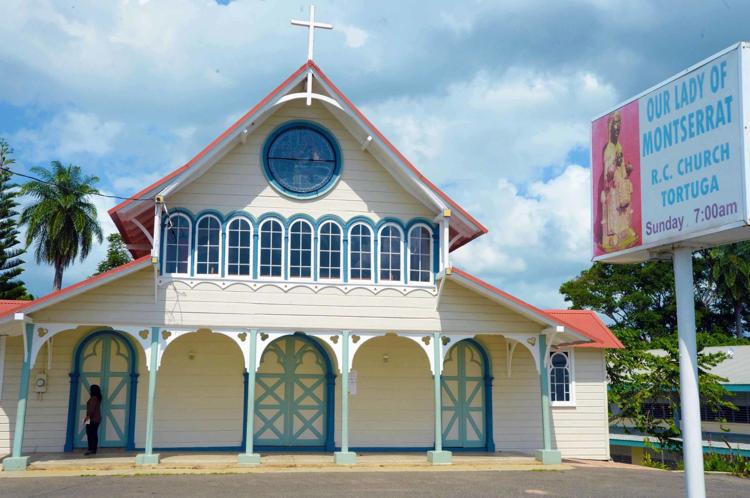 THIEVES demanding cash and valuables from a priest threatened to cut off his feet during a robbery at his home early Sunday.
Brandishing a knife and a cutlass the three criminals threatened father Jose Marie Thekkekutte, and accused him of lying when he told them he did not large amounts of cash.
Thekkekutte said although his hands and feet were bound and they held their weapons to him he was not afraid to die.
"I am thankful to God that I was not harmed. They were threatening to cut off my feet. I said 'You go ahead. They threatened me, showed me a knife and a cutlass. I said 'You want to kill me'. One said 'No we wouldn't kill you but we will cut off your feet'. I was not afraid. By God's grace I didn't feel anything at all. But I feel terrible now", said Thekkekutte.
The incident occurred in the priest's living quarters located near to the Our Lady of Montserrat Roman Catholic Church in Tortuga.
For over an hour and a half the thieves held the priest under siege as they ransacked the house in search of cash and valuables.
The incident occurred hours after the church's annual harvest, and it is believed the thieves suspected that large amounts of cash would be on the compound.
Thekkekutte, who is an Indian national, said he returned from vacation in India on Friday morning.
He said he was asleep on the first floor of the house when around 1.30 a.m. Monday he awoke.
"They broke the door of the ground floor and they burst open my door although it was locked from the inside. I woke up and they flashed lights on my face. There were two men inside the room. They had a cutlass and iron bars. They covered their faces, wore gloves and had torches in their hands. They asked for money for the harvest. They expected the money to be with me. I told them I don't handle the money and it is not in the house at all", he said.
"They said 'You are lying. You are a lying priest', and they searched for money. Since I had just come back from India I had about US$700 as well as some petty cash in the drawer and they took that. They pulled out all of my belongings, scattering all my clothes from the cupboards".
Thekkekutte said they ordered him to get out of his bed and using strings from hanging items from the walls, they tied his hands. He said he was forced into the garage where the church's Hyundai Tuscon was parked.
Also in the garage were bottles of alcohol which were from the church's harvest on Sunday.
The priest said the thieves even wanted to take a sacred item which is used during the mass because it is gold-plated.
"They found the chalice and pulled it out and asked if it was gold. I said it was not gold and they left it. They pulled my watch and chain, which were not valuable at all", he said. "They tied my hands and feet with a bedsheet and tied me to a sofa and searched more rooms", he said. "One (thief) was put in charge of me while two others continued looking. They took some chocolates which were in the fridge and began eating. There was one who was put in charge of me. I asked them how they came but they didn't answer me", he said. "They took the (SUV) keys and asked for the remote for the electronic gate. Then they waited for an opportunity to leave quietly", he said.
He said when they were about to leave with the vehicle and the loot a vehicle passed by outside.
"They panicked because they thought someone had come to me. They waited and watched and when that person went away, they locked me in a room which doesn't open from inside, and they left me there", he said.
The priest managed to untie his hands and broke out of the room.
He walked until he found a security guard nearby and told what had happened.
Thekkekute said he returned to the house and found his cell phone under a pile of his belongings, and contacted someone from the church who called police.
Officers of the Gran Couva police station responded and took a report from the priest, then dusted the crime scene for fingerprints.
"I am sure it was not our people. They were not professional robbers. They wanted money and drinks", Thekkekutte said.
He asked that police officers step up their patrols to deter criminals in the area.