ATTORNEY Odai Ramischand has come out in defence of his daughter.
Samantha Ramischand had recently posted on social media a video, saying that she was with her family on their private beach and was not risking people's lives.
During the Ministry of Health's press conference on Monday, Health Minister Terrence Deyalsingh said she was a reckless individual who "worshipping on the altar of stupidity." He also said she "characterize the worst of young people in Trinidad and Tobago."
In posts on social media hours ago, Odai Ramischand presented his daughter's educational background and said he presented it to show that she was not a fool.
He also used an expletive toward the Minister of Health and his family and told him to be prepared for a fight he had never before experienced. He added, "One of us shall be decimated, emaciated and pulverised and I am sure it will not be me … I do not mean any violence whatsoever but the pursuit of justice by the might wealth and the power of my family …"
The attorney added that he had submissions to file in court today but did not specify whether it was in relation to this issue.
The senior Ramischand also said one of his daughters was murdered and his children were still grieving. "The police have the requisite and necessary evidence but would not do anything do you really thing (sic) my children would have any respect for the police look my children zre (sic) still grieving for their murdered sister." He added that a member of the family has had to see a psychologist. "So every opportunity ican (sic) get all of them to socialise together to heal their wounds and alleviate the grief and pain.i (sic) encourage them ti (sic) do so." He said he had a duty and responsibility as a good father to engage his children in activities to alleviate their grief, pain and suffering because of the denial of justice to his family for his daughter's death.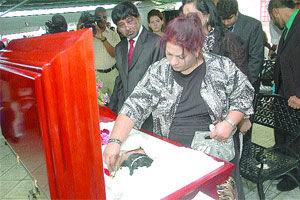 He said his family was at the beach to celebrate a relative's birthday. "It was not a frolic of their own kind of thing or any type of bizarre or uncivilised behaviour I was monitoring everything." Ramischand said he was also cautioning them to observe social distancing and also said that they were staying in different houses and did not exceed five people being together.
He said another of his daughter is a medical doctor. "If my daughter Dr Ramona Ramischand do provide health care services to the people of Trinidad and Tobago dont you think she would have cautitioned (sic) her sister about her conduct on the private family beach and beach houses."
Ramischand also spoke of the professions of members of the family and also of his own as he added, "I have some knowledge of the law of the sea and what constitute a public and a private beach or private property."
He said the property his daughter was on is over 600 acres and privately owned. "The hotel chain that wanted to build a hotel in Tobago in fact wanted to purchase this expansive area of land to build a hotel on this parcel of land I was the lawyer dealing with this transaction the owner built Wrightson road among other substantial projects in Trinidad and Tobago He has huge excavators and equipment and built his private beach Members of my family inversted (sic) in same and has acquired interest in same In short my daughter was on private property."
On Monday the police visited Samantha Ramischand and she was interviewed. Her cellular phone and laptop computer were also seized.