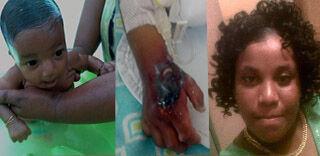 A Biche family is calling for an investigating into the events that led to a two-month-old baby girl suffering burns to her right hand after receiving IV treatment.
Two-month-old baby Britney Maya Francis was admitted to the Sangre Grande Hospital last week, because of a high fever and she was not feeding.
Her mother, Christiana Flores, said the IV was placed into the infant's right hand and the hand was wrapped in bandages.
"My daughter had a high fever and she was not feeding so I took her to the Rio Claro Health Centre and was told that she had an infection and needed to be admitted to hospital," she said.
Last Sunday, Flores said, she observed that her daughter's hand was swollen. The infant was uncomfortable and cried throughout the night, she said.
Flores said the nurses were informed but the bandage was not removed until Wednesday morning.
"My daughter was screaming and this never happened before so I knew something was wrong. When they opened the bandage it was the most painful sight. My daughter's hand was severely burnt and I am very worried," she said.
Flores said she pleaded for an explanation and questioned whether her child's hand would heal. "All they said was that it was not unusual for the child to get IV burns," she said.
Flores, 32, said she was devastated as baby Britney was her first child. "It has been two days and I really don't know if this is going to heal. No senior doctors have spoken to me and I need some answers," she said.
Flores said she has requested a meeting with the senior paediatrician to discuss her daughter's condition. "I noticed that she is not really moving her hand so I don't know what is happening," she said.
The Express contacted the Eastern Regional Health Authority (ERHA) corporate communications manager, Lisa Daniel-Charles, on the issue. She advised that the family follow the Authority's procedure to request an investigation into the incident.
In an email response, Eastern Regional Health Authority corporate communications manager, Lisa Daniel-Charles, stated that she was unable to release any information due to patient confidentiality.
However, she stated that relatives of "the client" have brought the matter to the attention of the Authority, and "the client is receiving proper care".