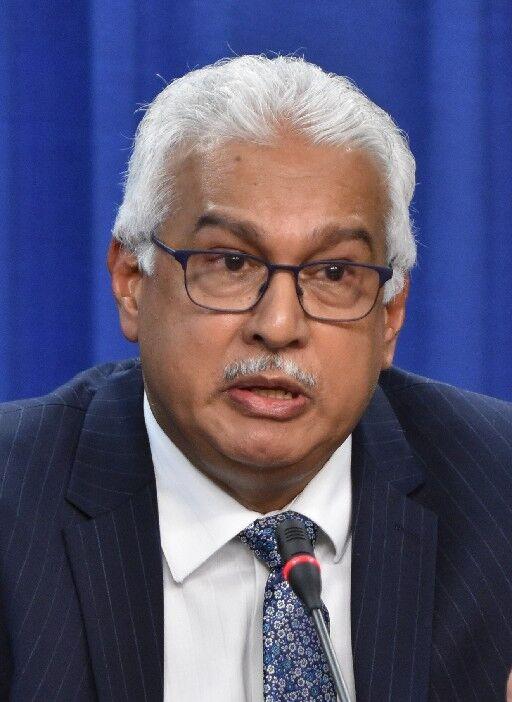 The people have the power to curb the Covid crisis gripping Trinidad and Tobago.
The solution to preventing our hospitals from being totally overwhelmed and reaching above capacity in days is to simply stop moving and stay at home to prevent the deadly virus from spreading says Health Minister Terrence Deyalsingh.
Principle Medical Officer (PMO) Dr. Maryam Richards said on Wednesday that ward occupancy rates across seven hospitals in the parallel health care system is 60 per cent while the Intensive Care Unit (ICU) is at 40 per cent.
She said hospitals can run out of space within a week.
The Express contacted Deyalsingh and asked what will happen when these seven hospitals are full, where Covid patients be placed, especially those requiring ICU care.
He said a back up plan is being worked on but the solution lies in reducing the Covid numbers.
The Minister stressed that at this juncture the country should not be talking about creating more space for sick people but imploring the population to stay at home to avoid the spread of the virus.
"The solution is not necessarily creating more hospital space that is finite, the solution is the population has to understand that they have the power to lessen demand for hospital space by adhering to the public health guidelines," he said.
Deyalsingh noted that measures have been taken along the way, prior to the latest lockdown to prevent hospitals from reaching breaking points.
"On April 1, 2021 which was more than a month ago we announced a ban on recreational team sports in an attempt to make sure there was no demand for hospital space, asking people to behave," he said.
He added that on April 14 he announced Government had taken a decision to roll back restrictions on public gatherings from 10 to 5.
He said in house dining at restaurants, cinemas and bars and the use of beaches were suspended.
"All that was in an attempt to stop the spread which would mean less hospitalisation," he said.
"On April 21, 2021 we announced no public gathering for entertainment and concerts, public service to function at 50 per cent, places of worship to be reduced from 50 to 25 per cent and eventually we even closed places of worship all this was in an attempt to dampen demand for hospital space but certain sectors of the population felt that this did not apply to them," said Deyalsingh.
The Minister reiterated his appeal reminding that health care workers are also being overwhelmed.
"Hospital beds and hospital workers are a finite resource as we have always said and we have pleaded with people from the start of the year not to congregate, to keep on your mask, stay home if you are ill, social distance so that we can reduce the demand for hospital space," he said.
Deyalsingh said the hospitals have enough space "for the next couple of days," and focus must be on reducing Covid numbers.
Current bed capacity for Covid care in the parallel health care system:
Caura hospital -100
Couva hospital- 206
Augustus Long hospital- 48
Arima hospital- 72
St Ann's hospital- 10
Scarborough hospital- 106
Total- 542