Last year, the "woke" crowd in Trinidad spent a considerable amount of time and effort making a case for the destruction of statues of historical figures across the island.
It was part of the global support for the Black Lives Matter movement that caused chaos in the United States, where protesters defied Covid restrictions and rioted and ruined business districts, before a favourable presidential election result quieted them.
By then, hundreds of monuments and memorials associated with America's slave and confederate history had been defiled, removed or ­relocated.
In Trinidad, activists petitioned for the renaming of streets and highways, and the removal of the statues of Christopher Columbus in Port of Spain and Gran Chemin, Moruga.
Replace these monuments with heroes of our own—First Peoples, political, cultural, sporting, many urged.
A whole lot of nothing happened in the end, except that Columbus lost an arm, someone got away with spraying a "f... Gary" sign on Cipriani's statue, and the Mayor of Port of Spain brushed off the 8,000-strong petition as a matter for national debate.
There was no national debate.
But if we ever agree to celebrate our own, we already have the sculptures, more than a hundred.
They are sitting in the bushes outside a tapia house in a back road at New Village, Point Fortin.
The pieces are the work of Samuel Walrond, who died seven years ago this month.
When the Express spoke with him four months before his death, he was 94, blind, and still creating.
And when we visited a few weeks ago, all the things he created were still there, waiting.
Time stands still
The place is like a time capsule.
Nothing appeared to have been updated or moved since the 1980s, when his eyesight began failing.
Walrond was primarily a ­sculptor and his medium, concrete on wire forms worked with hand-made tools. He also did metal work, and built electrical ­gizmos to bring to life creations that have impressed those who have seen them.
So massive was his accumulation of work, from life-sized to minia­ture, that it has spilled into the front yard, earthen ground floor, living room, porch, bedroom, dining room and kitchen.
His work traced important events, both local and international.
He had busts or statues of American actor Sidney Poitier, United States Presidents John F Kennedy and Ronald Reagan, and boxer Mike Tyson, all made at the time these people were in the news.
(SEE MORE HERE: https://trinidadexpress.com/multimedia/photos/)
He sculpted parang queen Daisy Voisin, Sir Solomon Hochoy, Hasely Crawford, Gary Sobers, Papa Bois and Mama Dlo of folklore, and the murtis of Lord Ram, Mother Lakshmi, Sita and Rawan.
The statues share space with stick-fighters, Dr Eric Williams and a headless figure of hero of the Baptist faith late Archbishop Elton Griffith. They are all overlooked by a soucouyant and guarded by concrete dogs mating, and by monkeys and chickens. There are at least 60 pieces around the house.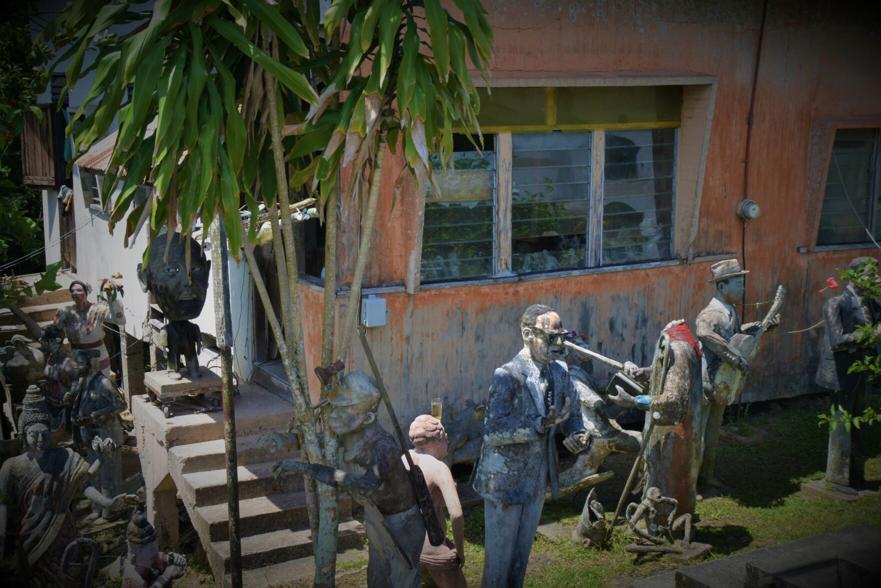 There are dozens of miniatures on a table in the porch—his workshop.
The figures trace the history of pan, from tamboo bamboo in the '30s to where it is today (he has a scene where the Pope is listening to pan).
Among Walrond's finest work was the "Caribbean Man", a huge head atop a tiny body, containing motors and gears (mostly scavenged from a bicycle) which allowed the eyes to light and the figure to move.
The body represented the small size of the Caribbean territories; the head symbolised that we were big thinkers with much to give the world.
'Something always erupts in me'
Of his talent, Walrond told us: "I had no formal training. I feel like a fairy struck me with that. All along my life, I have been making my creations. I cannot be at peace. Something always erupts in me. Something volcanic. Do this, do that. If I don't do something for today, I feel I ain't do nothing. It is in me."
A man could be rich, but without a sense of purpose would always be small, he said.
Walrond said he first began making figurines at age ten in his hometown Ste Madeleine, at a time when his parents and grandparents were farmers living near what is now the Usine Ste Madeleine sugar factory.
He fashioned Christian saints, in between running the railway lines dressed in his father's old shirts, tending to the family's donkeys, sheep and goat at a time when a pair of alpagat (shoes) cost 36 cents and you were rich if you wore shoes to school.
He settled in Point Fortin to follow the oil, working at United British Oilfields of Trinidad (UBOT), then at Shell as a machinist, moving from one facility to another until his retirement at age 64. But sculpting was more important than anything else, and many artists would agree.
Walrond's last big project before darkness closed in was the bust of himself and of Barack Obama.
And in his final days, he made wall plaques shaped like fish "because I have to continue work. I cannot stop".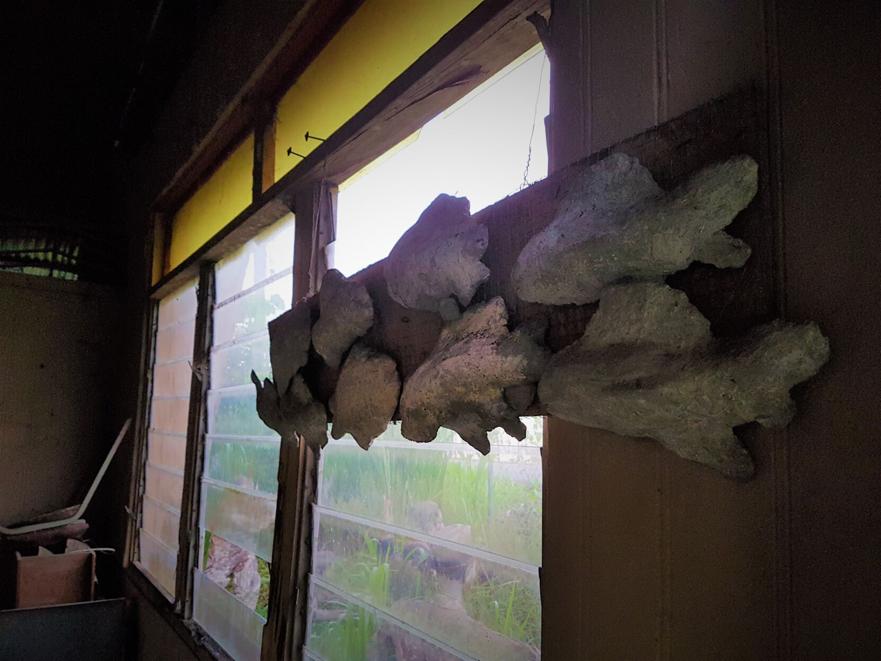 One of Walrond's four children, son Rex Bobb, is in charge of what has been left behind. Bobb, a Petrotrin fire fighter (who along with deceased brother Renroy Bobb acquired some of his father's talent), has been cataloguing the items left behind at the house. It was a home Bobb, his three siblings and mother lived in until he was ten, when his parents separated, and his father became immersed in the work.
Said Bobb: "My father saw art in everything, in every scrap of metal. And he disposed of nothing. There were things I found I never knew he had done.
"He has a bead curtain made from seeds he found in the backyard. Containers to store flour and salt and sugar for the kitchen done so well, you would think it was from a store.
"He was also a tailor so he had clothes stored away he never wore, and bolts of cloth stuffed everywhere. The electric lamp we used growing up, he made from milk tins. He did his work with tools he made himself. And each piece had a story."
Bobb said his father was able to sell some of his work. There was an exhibition in 1997 at Long Circular Mall in St James. But sculptures and busts would often be commissioned, then forgotten.
And there is also a letter kept by Walrond from the San Fernando municipal council in 1974, telling Walrond that while they had been happy to display his amazing work, they had no money to buy anything.
One was addressed to the Siparia Regional Corporation in 1973, where he noted his sculptures of TUB Butler, George Weekes, famed Barbadian writer George Lamming and Sir Frank Worrell, which, Walrond suggested, would look great on a pedestal in the area.
And correspondence from 20 years ago, when he pleaded that the Point Fortin politicians help him develop a museum at the site.
Leaving a legacy
"So you are welcome, my dear gentlemen, to my paradise of art," said Walrond that day we visited, before he effortlessly gave a history of who we were; our Carnival; lost culture; showing the characters once played by masqueraders; the ass in the lion's skin, or the race horse Rastafari, the first West Indian-bred horse to win the Governor's Cup, in 1940.
Then Walrond cried.
He said many pieces of art were being preserved in Port of Spain, but not his work. He said the works of others were being placed on pedestals and walls in the capital. But people had forgotten that he made the statues of the panman at the junction of Coffee and Cipero streets, San Fernando; Marcus Garvey at Harris Promenade; or the Butlers in Fyzabad.
The politicians had sent many people to his home to catalogue and question. More came from The University of the West Indies, art instructors and students all amazed by his work.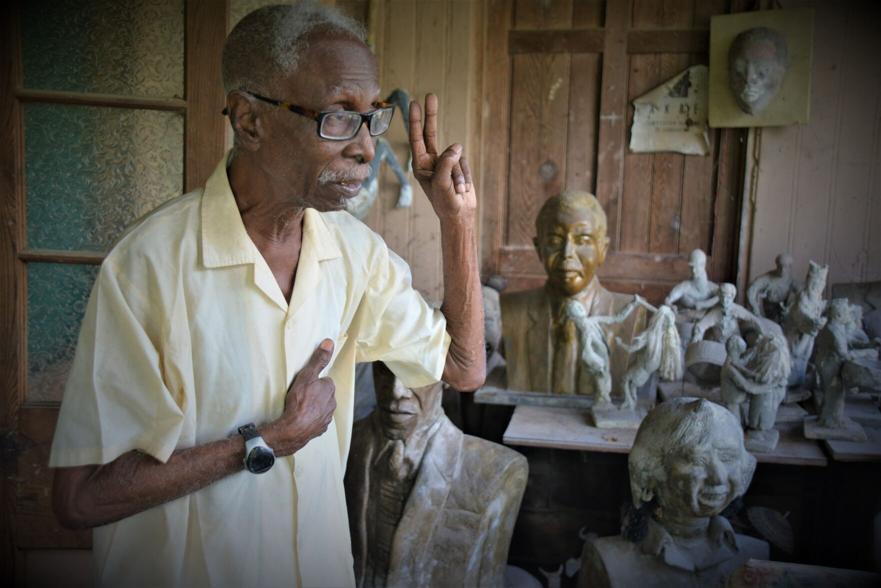 In the dining room is Dwight Yorke, in his Soca Warriors uniform from the World Cup finals of 2006, and Yorke's partner in life, Russell Latapy (I have his head and limbs. I just need help now to assemble everything) and ­Brian Lara poised to hit one to the boundary.
"This shouldn't be hidden. This should be exposed. Tourism could have had this in Tobago and it would have attracted other people to see," said Walrond.
Asked what he wanted for his art, Walrond said then: "The glory that is Rome. Tell them what you saw here. This should be shared. It is time. Let me live to see my sacrifice."
NOTE: The Walrond family has been speaking with the Point Fortin Borough Corporation for years for the property to be preserved as a museum. They believe it a fitting tribute to one of our own.