The County of Victoria is responsible for housing 30.1 per cent of all COVID-positive patients in Trinidad and Tobago that are currently under home isolation.
This was the declaration made by Chief Medical Officer Dr Roshan Parasram during a graphical presentation at Wednesday's virtual COVID-19 daily update.
Following on the heels of Victoria were St George Central - 15.5 %, Caroni - 12.5%, St David/St Andrew - 11.2%, St George West - 10.2%, St Patrick - 9%, St George East - 8.1%, and Nariva/Mayaro - 3.6%.
Parasram also shared some statistics relative to positive patients under home isolation in the county of Caroni.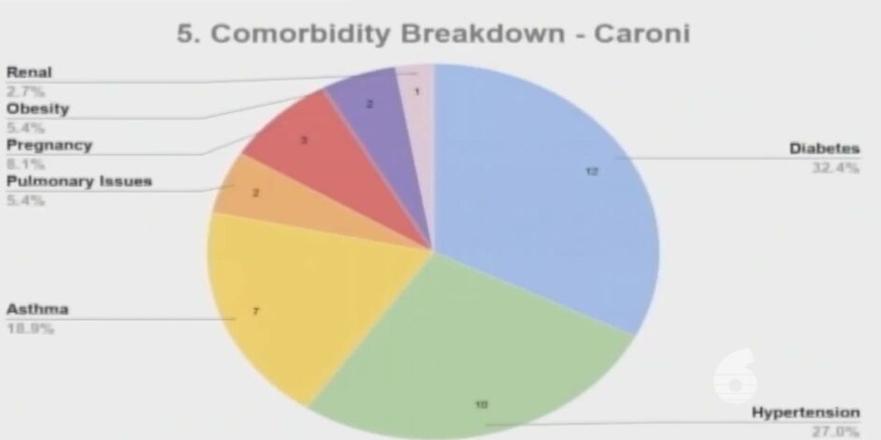 The figures presented revealed 52.8% of the 212 patients are asymptomatic.
"More than half the patients in County Caroni under home isolation have no symptoms at this point in time," Parasram said.
He noted these patients would have had symptoms prior to testing positive, but now shows no signs of the symptoms associated with the virus.
Additionally, 37 patients, representing 17.5%, are symptomatic (have symptoms) while 16 patients (7.5%) have been recommended for hospitalization because of the escalation of their symptoms.
There were 19 discharges from hospital (9%), while Caroni experienced 28 new cases of the virus, representing 13.2% of the county's affected persons.
Parasram said that in looking at the percentage of COVID-positive patients in Caroni with co-morbidities, there were 32 patients or 16.1% that had existing co-morbidities, while 83.9% (167 patients) did not.
And in breaking down the 16.1% of patients with co-morbidities, 32.4% were afflicted with diabetes, 27% suffers with hypertension, 18.9% are asthmatic, 8.1% have pregnancy related issues, 5.4% displayed pulmonary issues such as chronic obstructive pulmonary disease 5.4%, another 5.4% have obesity issues, and 2.7% had renal problems.