Drugs Sou Sou (DSS) founder Kerron Clarke is hospitalised at the Mt Hope Accident and Emergency Adult Hospital after being detained by police.
This as police seek advice from the Director of Public Prosecutions on possible charges.
Speaking with the Express a short while ago, a senior medical source said Clarke was transferred to the hospital last night from the Arima Medical Facility.
An Electrocardiogram (ECG) which was performed showed there is a bruise to his heart muscle, possibly caused by blunt force trauma, the source said.
The medical source further said a directive has been given by police to staff that Clarke not be allowed any visitors , including his attorneys.
The Express understands that Clarke was taken into custody by detectives of the Financial Investigations Branch after lunch yesterday on suspicion of money laundering.
Two of his attorneys arrived and were told by officers present that Clarke will be interviewed and then instructions will be needed from the DPP.
The attorneys waited for several hours again demanding to see Clarke.They were told he was no longer in the building and was taken to his home where a search would take place.
The attorneys then left and headed to La Horquetta.
Video footage - Yard Camera
The Express understands that around 7.18 pm Saturday police officers accompanied by a handcuffed Clarke entered his La Horquetta premises .
Several officers attempted to open the front door which was locked
Clarke was leaning on a wall, handcuffed to the back, and was asked for the keys to his home. He indicated they were not in his possession.
The officers attempted to break open the door again. They are successful.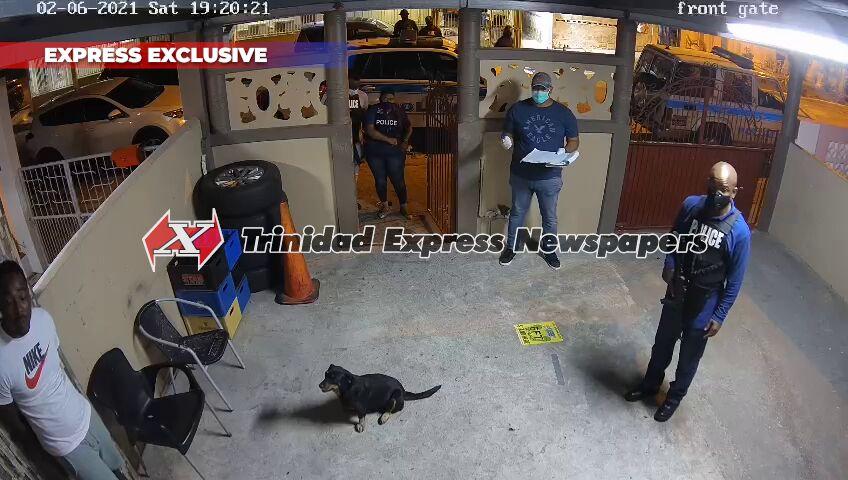 One officer is seen pulling Clarke towards the door. Clarke indicated he will not be entering the house without his attorneys present.
The officers attempted to pull him inside but he resists and is pulled by his jersey.
More officers intervene and he is placed face down on the gallery floor.
Gallery Camera
The gallery camera shows one officer attempting to pry open the front door, while others assist him. The time stamp at 19.20 shows the door opening and officers indicating that Clarke be brought. A commotion takes place and Clarke is dragged into the gallery. One office holds his legs while another officer places his leg on Clarke's neck. A third officer gently taps the officer whose leg is on Clarke's neck, indicating he should ease up.
Clarke, who is still handcuffed, continues resisting and yelling at officers that he wants his lawyers and will not be entering his home without them.
More officers arrive and attempt to subdue him.
The Express was told that shortly after Clarke's attorneys arrived, they observed he had been stamped on and kicked about the body. Clarke said he needed medical attention and was placed into a police vehicle and taken to the old Arima Health Facility . His attorneys followed, but were not allowed to speak with Clarke.
It was then decided that he be transferred to Mt Hope.
Background
DSS is currently under investigation by senior arms of the Police Service led by Deputy Commissioner of Police McDonald Jacob. The controversial matter involves the seizure (and return) of $22 million found in a house at Kathleen Warner Drive, La Horquetta, on September 22. Nine people were initially detained in that investigation.
However, the following day, the money was returned to the company, and the nine people were released from custody.
This was allegedly done without the knowledge of senior officials in the Police Service and, as a result, an investigation into how this came about was launched.
This culminated on October 16, with four police officers being suspended and another 11 transferred on October 16 , under orders from Commissioner of Police Gary Griffith.
On October 27, police returned to the La Horquetta branch of DSS' business and seized over $7 million during a four-hour police operation that began at 10.30 a.m.that day.
No one was arrested.