Eleven years ago, Carrera Island convict Andy Downey walked into the sea and swam away.
He made it to mainland Trinidad, becoming only the second inmate to have survived an escape by water.
Of course, every prisoner longs for liberty.
Andy did it for the love of a woman. That love fueled him all the way to the Pacific coast of South America in search of Annie. And he found her, fathering a child while a fugitive.
But Andy would be recaptured five months later, in Trinidad.
And went back to jail, this time at the Maximum Security Prison (MSP), Arouca.
So Andy did his time, four hard years, and hoped against all odds that Annie would wait.
How it turned out for Andy and Annie is one you may be interested in knowing.
This is what happened.
Andy was 42 years old in 2010, with little to show for it, except a string of convictions ­dating from when he was in his late teens.
Born in Reform to a Caroni Ltd labourer/truck driver and a mother who did jobs for the wealthier residents in the village, Andy still did not want for anything, recalls sister Ann Marie.
He grew up spoilt and was the ­favourite of his father, who also had two daughters and another son.
The family lived near the abandoned train track that once transported people and produce from San Fernando to Princes Town.
The tracks, like so many other ­areas in Trinidad, would become squatter settlements and hotspots for crime and poverty.
Dad Ken Downey died at age 52 when Andy was 17 years old and he was never the same again, say relatives. Petty thefts led to bigger ones and Andy (alias Bandy) became well known to the police.
A few months in jail led to a year, then two, and the cycle lasted well into his 30s.
His mother, Molly Nash, died in 2001 and, by then, Andy was a member of the recidivism gang in a country where more than 50 per cent of offenders are released from prison, to do it again.
Finding Annie
Then Andy found love.
Not any Mills and Boon version here, but love just the same, fast and late at night at the Marabella nightspot where hundreds of women from Colombia, Dominican Republic, Vene­zuela, Guyana, Suriname—desperate beyond anything a Trini customer would care to consider—worked their bodies to send money home to suffering families.
A few were rescued, men ­paying the owners of these women to ­return the passports, buying them out of bondage to make them wives or ­mistresses.
Andy's woman was one. She was 16 years old when she came to Trinidad.
Her name is Annie. Hometown, Buenaventura, Colombia.
Andy also found steady employment as a contract worker along with hundreds of others on new facilities being built on Petrotrin's Pointe-a-Pierre refinery compound. And it was for a crime there that he was arrested and charged.
Police said the industrial tools valued at more than $100,000 had gone missing. Andy went to court, charged with the offence, and pleaded not guilty.
The plan was to get bail, get out and fight his case, while he helped his woman, now back home in Buenaventura and relying on him.
Andy had given his money to a trusted relative from the village to keep, so he wouldn't blow it all. But when he made contact with the relative to use the money to bail him out of jail, the man made excuses.
Christmas 2009 and Andy, from Remand Yard, Arouca, begged the relative to send Annie something. The relative promised to "handle it up" by Carnival. Carnival came and went. Andy kept going back and forth, from prison to court. There would be no bailout.
It was a desperate time for Andy thinking about nothing else but Annie, frustration growing to the point where, in court in February 2010, he decided to plead guilty and do his time, thinking he would get "small jail" and be back with Annie in a year or so.
Big Jail
He got seven years in prison, big jail like that making him eligible for incarceration on "the rock"—Carrera Island.
A prison "year" with good behaviour can be as little as eight months. For Andy that meant no less than four and a half years, earliest release date some time in 2015.
Andy thought about Annie. It was unlikely she would wait. He kept contacting family back in Reform, pleading that his money be "westerned" (sent by Western Union Money Transfer) to his girl.
But told by the man in charge of his cash "don't study she", that the money would be waiting when he came out of jail.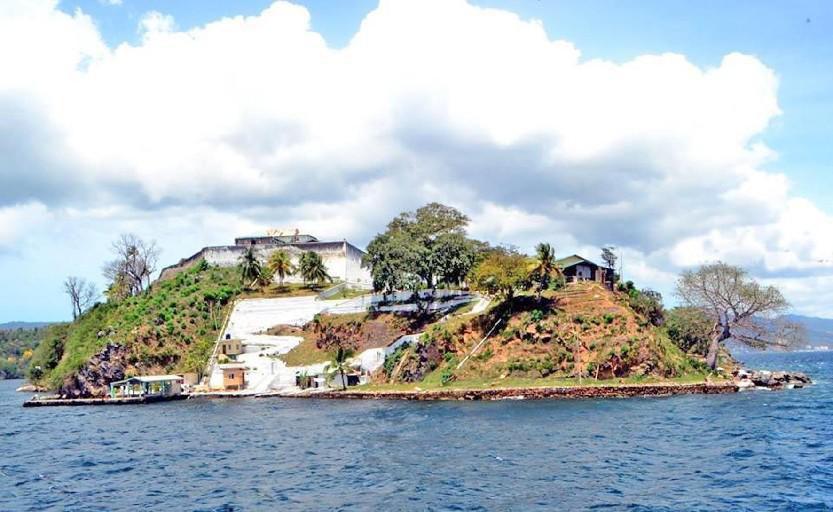 So he began to plot his escape. On Carrera Island, prisoners are locked into a walled compound at night. During the day, the island's shoreline is the invisible wall.
Andy shared his plan with inmate Trevor Hospedales.
And on the afternoon of July 5, 2010, as it rained, Andy and Hospedales slipped off the path and to the beach, waded into the water and pushed off.
Andy, who never swam more than the length of a sugar factory pond, trying to make it to the mainland, 1,800 feet away, a little more than half a kilometre, with Annie on his mind.
The Great Escape
Andy would later tell his tale to disbelieving relatives and friends.
He said a kind of madness took over, so it was just to keep going, one arm over the other, feeling nothing, fearing nothing, never looking back.
Within minutes of the escape, guards spotted the men as they slapped the water towards mainland Trinidad.
The alert sent a Coast Guard fast patrol boat to the scene.
By then Hospedales was floundering and was happy to be saved. It may have given Andy the time he needed.
Then a little luck — Andy reaching out to lay his hand on a log floating by and using it to keep his head above the swells.
The "Jesus Log", he would call it. Andy estimated he spent 35 to 45 minutes in the water, before touching the coast, and scrambling into the bush.
When he turned up at the home of a relative down south, no one was surprised. But they were afraid, telling Andy his face was just shown on television and his photograph was in the newspaper. All that time, the police in Princes Town were getting word from informants that Andy was back in their jurisdiction.
But Andy kept outrunning his pursuers, the abandoned cane fields around Reform proving the perfect hideout.
Meantime, he began making contacts to get to Annie.
Trying to board an aircraft to Colombia would be suicide. The only chance would be to cross over to the "Main"—South America. Andy made a "link" and went down to Icacos on Trinidad's toe. Several boatmen agreed initially, then backed off. Too dangerous to take a man who everybody was supposed to be looking for. Until one relented and asked for $5,000 for Andy to be taken to Tucupita—a town more than 100 miles upriver in Venezuela.
The journey
Before leaving, Andy stocked up on the goods scarce or too expensive for the poor of Venezuela and Colombia — garlic, baby milk, pepper, curry, cherry brandy, things he could buy and sell for a profit and make a business of, if things worked out. Andy was taken out to an abandoned oil production platform near the border between both countries. He was transferred to another boat and taken to Tucupita. Time meant nothing then. All Andy cared about was that with every mile moving west it was one less mile to Annie. The towns in the Orinoco Delta region are only accessible by boat and peopled by the native Warao and an ethnic mix flavoured by more than a few Spanish-speaking Trinidadians. But there is a regional airport in Tucupita and paved roads leading west to a network of impressive highways.
And that's the route Andy took, sometimes aboard logging trucks, sometimes by bus, a Trinidad and Tobago passport in his backpack, without immigration entry stamp, in a country with prisons that would make Carrera Island feel like a paid vacation.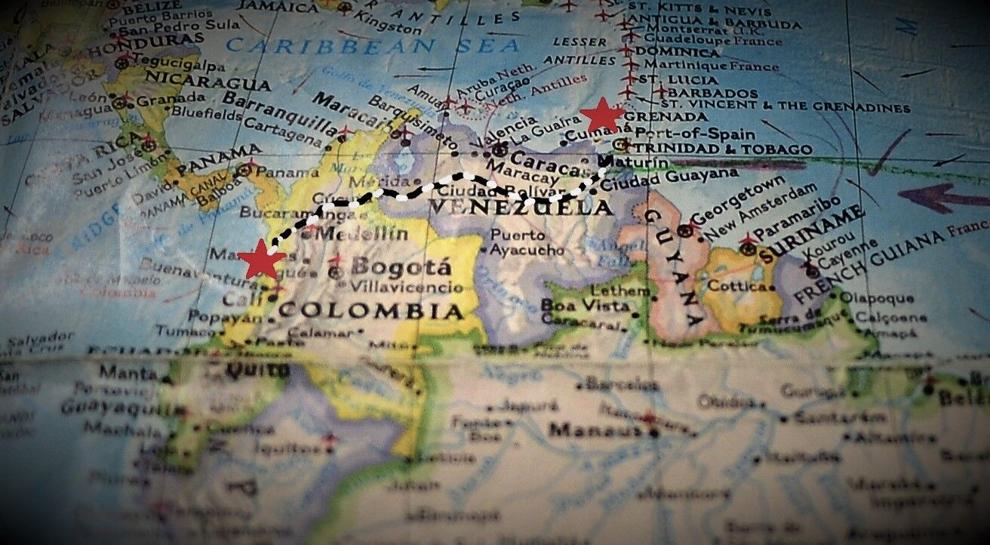 Andy would later tell of nearing the border in the Venezuelan town of San Antonia del Tachira and taking the bus across to the Colombian town of Cucuta, dangerous places visited by only the bravest outsiders. No one stopped the bus. There were no border guards, Andy would claim. He was then almost a thousand miles from his Carrera Island prison cell, with another 600 to go.
From bus station to bus station, Andy, his colour and facial structure helping him blend in with the locals, using the little Spanish he picked up from Annie, moving west, passing towns and hamlets, caring nothing for what he saw through the window, because it was all for Annie. Eventually, Andy would arrive in the city of Santiago de Cali, location of the one-time infamous Cali cocaine cartel.
By then, he knew he would make it. No doubt then, he said, for he had come too far to fail. It took him more hours still to navigate the maze of roads and lanes in Buenaventura, a city of more than 350,000, but he had an address, and it was accurate.
Eventually, Andy would arrive in the city of Santiago de Cali, location of the one-time infamous Cali cocaine cartel.
By then, he knew he would make it. No doubt then, he said, for he had come too far to fail. It took him more hours still to navigate the maze of roads and lanes in Buenaventura, a city of more than 350,000, but he had an address, and it was accurate.
"She was real happy to see me," he would later tell family.
"She didn't know I escaped. I told her I got bail, and I jump bail to come."
Andy's reunion with Annie happened one day in September 2010, the exact date he never knew. By then dates were not important. Dates and time are only important in prison, Andy would say—court date, release date, time served, "airing" time, meal time, time until freedom.
So Andy settled in. "Her family treated me real good," he said, and he did anything he could to help. The family lived out of a bare concrete floor enclosed by galvanised roofing sheets. Twice he was stopped and searched by the joint army/police patrols, asked for his passport.
Andy, sure that Interpol would have his criminal details, let Annie talk and he was allowed to go both times. And Annie took him to the site where the remains of her drowned child were kept, to place a wreath and remember. And here's where the story should end. With whatever passes for a happily-ever-after in real life.
Back to Trinidad
But Andy could not stay. Buenaventura's unemployment rate was then about 50 per cent in a city considered the deadliest in Colombia, on a continent with no English-speaking country, except Guyana, in a world of more than seven billion souls, and few doing anyone a favour.
So Andy, now an international ­fugitive, came back home.
He told friends: "I would come and go... through Cedros, spend a few days, buy garlic pepper, things in short supply there, powdered milk because it have so many children, then going back to Colombia and retailing, making a small profit, just to survive."
All the while dodging patrols by police getting information that he was around his hometown—the former sugarcane estate village of Ben Lomond, a couple hills from the Brian Lara Cricket Stadium.
By then Andy had learnt that he, at 41 years old, was to become a father, Annie becoming pregnant not long after they reunited, the baby on the way sealing the deal, because Andy, despite his past, wanted to do good by his child, just like his father did.
Money became even more important. And Andy wanted to spend Christmas in Colombia with his love. It would be money that would cost Andy his freedom. He was recaptured.
Recaptured
The official police version of events is that around midday on December 7, 2010, police officers were on a routine "road block exercise" at Railway Road, Princes Town, when one officer noticed the back seat passenger of a car slink down, with the passenger's hat low.
The police officer asked the passenger to step out, thought he resembled the face on the wanted poster on the station's charge room wall. The man was detained, but insisted he was not Andy. He was fingerprinted and when the prints were compared, the game was up.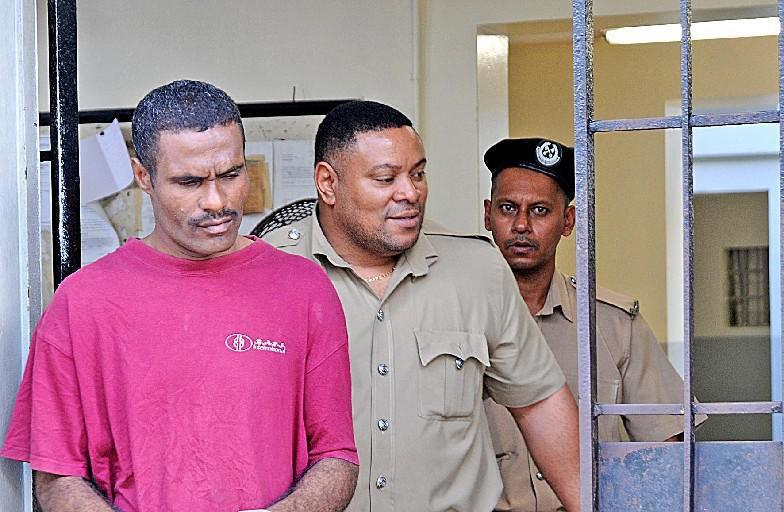 Andy told relatives a different story: yes, he was in that car. The driver was someone he asked to go to a bank in Princes Town to buy United States currency. He gave the man his money. A US dollar in Colombia then was worth almost 2,000 pesos. The money was meant for ­Annie.
Andy claimed the man went to the bank, but never returned. The man instead made a call to CrimeStoppers. And that's how the Princes Town ­police came to know where to find Andy, who suddenly found officers with guns swarming the car.
Andy, who swam, ran, boated and bused more than 10,000 miles, was recaptured two buildings from the police station and courthouse where he would appear the following day, before heading back to prison. There would be no Carrera Island return for Andy.
Prison authorities sent him to the most secure section of the Maximum Security Prison in Arouca, reserved specially for escapees. And that is where he was in July 2011, when his daughter was born. Annie named her Andrea and sent word to Andy through his family.
Andy, a store-breaking and larceny convict, told those around him the child has changed everything. Time was again important, release date in 2015 and a chance to wipe the slate clean and find a way to bring his woman and child home to Trinidad and make a life. No chance of escaping this time, so it was just to survive.
And hope that Annie, who knew he was back in prison but not that he escaped because he loved her, would wait for him.
She waited
Andy was released on March 31, 2015. But it took some time before he would agree to speak with this writer. Behind bars, you learn that a wrong word can make prison life very painful. So you trust no one, exa­mine everyone's motive, and expect the worst outcome. But he shared his ­story in the end, because, well, ­redemption comes in many forms.
Andy says he has no pending court cases, so he's free as a bird. He found some labouring jobs paying a survival salary. Whether he chooses the honest path in the long run is entirely up to him.
But he has incentive like nothing he had before—a woman and children... because Annie waited for him.
Andy said a day after his prison release, he made phone contact with Annie and told her he was coming. Aboard a fast fishing boat, he headed to South America once again to meet Annie and his infant aughter.
By then, they were living in the slums of Guiria, a Venezuelan port city located on the Paria peninsula extending to Trinidad's Bocas Islands.
Annie, then in her 30s, was scratching out a living with her mother, siblings and their children. When he arrived, Andy's woman was waiting at the boatman's house with their daughter, Andrea. The meeting, said Andy, was everything he imagined it would be. He told Annie the whole story of why he escaped Carrera Island.
It took a few days, he said, and "bribes" of chocolate and Coca-Cola, but his daughter accepted him. Since then, Andy has gotten down to the task of improving the lives of Annie and her extended family. Venezuela's failing economy has left the poor in a desperate cycle, jobless, living on rationed supplies, with little opportunity to climb up.
Then he brought them home to Trinidad. This reporter was there when they arrived.
The 100-kilometre trip from Guiria to Trinidad usually takes three hours. On that day, the travellers (all documented visitors) took eight hours to make the trip. Three of the four outboard engines failed on the fishing boat. The storm conditions across North Trinidad stirred swells in the normally calm Gulf of Paria. Nauseated and exhausted, the passengers didn't complain. Not even five-year-old Andrea. She stepped off that boat with purpose, ready to explore "paradise". Andy and Annie want this child to be the one to make it, to experience none of what they did. They expect no help. The odds are against them... again. Escaping their past was the easy part.
Update
Richard Charan kept in touch with the Downeys these past years. They married in 2016—a civil ceremony at the Victoria District Revenue Office in San Fernando. They would have three children. And they tried hard to find a way up.
But issues arose at the Immigration Department in San Fernando, with Annie and two of the children deemed as illegal residents and threatened with deportation. Their passports were seized, and they were unable to complete residency applications.
The Downeys did not have the financial means to challenge the ruling, but Guyana-born, Trinidad-based attorney Randy Depoo, who specialised in immigration law, stepped forward to represent the family.
He wrote to Chief Immigration Officer Charmaine Gandhi-Andrews and the National Security Minister, asking for their immediate intervention.
Depoo asked for nothing in return for his legal advice and actions. And it worked. Annie and the children were allowed to stay and became legal residents.
"Good sense has prevailed," Depoo had told us. "Andy and his family went to Immigration this morning and they encountered a completely different attitude. They dealt with a different officer who was apologetic, returned their passports, and gave them extensions and advice on how to proceed further. I guess once your article was brought to the attention of the Chief Immigration Officer, the situation was rectified."
Depoo was 63 when he died in June of pandemic year 2020. His life's work was celebrated in Guyana, Trinidad and Florida, where he died.
In the end, Andy could not defeat his demons. Work was infrequent. Labouring jobs only paid so much. And like so many others trapped in the cycle, the pandemic sealed his fate. He was convicted again last year of larceny, and got three years in prison—the MSP. He should be out in 2022.
There would be more anguish for Annie. In May 2019, a fishing boat bringing Annie's sister and at least 29 others to Trinidad capsized in Venezuelan waters. Nine are known to have survived. Annie's sister was never found. She had a five-year-old child.
But Annie never failed her children in Trinidad. She has found work at a department store in San Fernando, and with that minimum wage is finding a way to survive—while she waits for Andy, again.
NOTE: If you want to help the Downey children, you can contact Richard at richcharan@trinidadexpress.com.