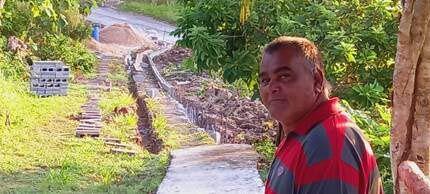 Work has begun on the construction of a walkway for 54-year-old disabled man, Chris Heeralal, a double amputee previously trapped a-top a lonely hillside in Iere Village, Princes Town.
"I am so grateful, I could shed tears," Heeralal said in a telephone interview last week, days after the project began. "I am so grateful to everyone who came together to do this for me. Everyone is so caring to take time and be concerned with me. I am so thankful," he said.
When the Express visited Heeralal in October, it had been less than one-year since he underwent surgery at the San Fernando General Hospital to remove both his legs. A lifelong battle with diabetes and a hereditary illness had crippled and isolated him from society.
His only access in and out of the hillside was a path of loose cinder blocks, that he crawled across on hands and knees. Heeralal said that he felt less than human while crawling, but there was no other option than to descend the unpaved hill in a pair of worn kneepads, in order to enter and leave his home.
"This is what my life has become. It is hard, it really makes you feel less than human. I am a man with no feet, and I know that doesn't entitle me to any special treatment but I have been begging for some assistance with this road, because it isn't easy. I have been begging for months for someone to help me with that."
"I have to get out of my wheelchair and crawl in order to leave this house, put on my knee pads and actually crawl down the hill. When it rains, I have to wade through the mud and carry a change of clothes down the hill because by the time I am done, I am completely dirty," he said.
Heeralal, who lives alone in a one-room concrete addition to his former ply-wood home, said that he was only fed by a visiting nephew. Unable to reach the height of a normal stove, he said, his food was stored in the outdoor fridge that bordered his new home and warmed in a faulty microwave.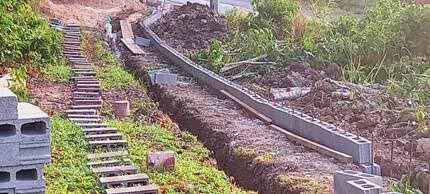 Surviving on a $2000 disability cheque, he said that he remained deprived in some ways, at times lacking enough funds for utilities, blankets, food and toiletries. And though grateful for the help afforded to him, all his needs, he said, were trumped by the incomplete walkway.
"I can't afford to finance a full walkway so there are blocks and I have to climb from block to block in order to leave the house. I have been begging and asking everyone I know to help with this walkway to the bottom of the hill but nothing has come of it," he said in October.
Less than one month after Heeralal's story was highlighted by the Express, work began along the muddy slope in 2nd Corrial, where a group of ordinary citizens pooled together to build the walkway.
An account was opened by the group at the Banymadho's General Construction hardware store in Buen Intento Princes Town. Funds from donors are sent directly to this account to facilitate the purchase materials for construction of the said walkway. And thus far, they said, at least $33,000 of the necessary $40,000 in material was paid for by these donors.
By November 23, the Express was told by the group that laying of steel and excavation was completed. Last week, they said, paving of a wider walkway with rails and a retaining wall was expected to begin.
Though the group is still $22,000 short on labour and material to ensure the project's completion, members say they remain optimistic.
"Money wise we have paid the Hardware $33,000 out of $45,000. We are doing our best to keep the materials below $46,000. On the labour cost we have $19,000 out of the $28,000. We expected donors for the material we proposed to pay labour. We are optimistic that the math will work out and it is possible. We envisaged the residual to come up with may be under so yes every dollar received is closer to the goal," said a group representative.
The group told the Express that without these funds they have been trying to adjust prices and cut costs for the project. But members say they are hopeful that more support will come.
"I met with the contractor to do the same job in a different way citing cost and since the cheques have already been made out to the Hardware, I will speak with the owner so in the event we take less material we will get back some money. I trust God he will work it out if we do our part," said the representative.
In addition to the walkway, Heeralal said assistance continues to pour in from other avenues.
Since the article's publication, he said, he has received a new mattress and box base, a new wheelchair and two new portable stove tops. Additionally, he said he was promised a new microwave, washing machine and refurbished refrigerator to replace the rusting outdoor fridge in which his food was stored. He said that he was also contacted by the United Nations and offered a food voucher.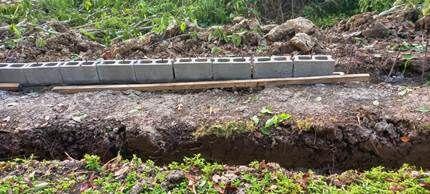 Heeralal said he was visited in November by the National Self-Help Commission and assessed for aid. The Commission later informed the Express that it would assist Heeralal in repairing his home, though no timeline was given for this project. Heeralal said he was also visited and assessed by the Ministry of Social Development for his eligibility to receive a food card.
"It is so amazing that people are doing this for me. I just want to thank everyone again for seeing my story and reaching out to help me. My life has changed, and I am grateful," he said.
For those who can offer assistance in providing material and labour for the completion of the walkway, Heeralal can be contacted at 263 4179. Banymadho's Hardware can be reached at 225-9540.